Student Support Services
We want our students to succeed in the classroom, in the clinics, and in life. And we want them to enjoy their experience at UT Southwestern Medical Center and their life in Dallas. That's why we offer a number of support services and facilities to meet students' academic, physical, and emotional needs.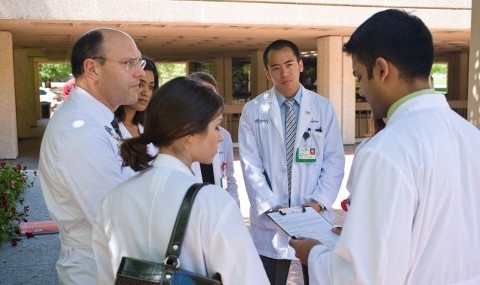 We're also there when it comes to housing needs and financial assistance. And we didn't forget the kids, either.
Academic Support
The Office of Medical Education is a resource for both students and faculty that promotes the quality of the instruction and the curriculum provided and helps students in successfully completing their coursework.
The Student Academic Support Services Office is staffed by educators and psychologists trained in learning skills and learning disabilities.
The Office of Student Affairs offers career advice and counseling, a particularly valuable resource when it's time to plan for residency.
The Office of Student Diversity and Inclusion promotes services that will improve medical practice in underserved areas and enhance minority students' success in their medical school curriculum.
Student Health Services
A Student Health Clinic is located on campus and is open Monday through Friday, with office visits by appointment. Staffed by a provider, medical support staff, and psychiatrist, the Student Health Clinic handles physical and mental health issues. All students are required to have health insurance, but office visits to the Student Health Clinic are free.
Among the services provided at, or arranged through, the Student Health Clinic:
Evaluation and treatment of primary care medical problems
Mental health
Immunizations
Lab tests
Prescriptions/refills
Radiology tests
Referrals
Women's health care (exams, Pap smears, birth control needs)
Yearly physicals
Student Center
Students can maintain wellness and physical health through activities and exercise options at the Bryan Williams, M.D. Student Center, located in the middle of the South Campus. Here students can congregate, interact, learn, and enjoy a sense of campus community.
The Center features a weight room, cardiovascular exercise equipment, elliptical trainers, a three-lane jogging track, basketball, and racquetball courts. There are also areas to relax, read, watch television, or play the piano.
Campus Housing
UT Southwestern offers on-campus apartments for students, clinical and research trainees, and junior faculty. One- and two-bedroom units are available in a gated community, along with a pool and shuttle service to the UT Southwestern campus. Units are unfurnished, but include washer/dryer, refrigerator, and dishwasher.
Financial Assistance
The Office of Financial Aid is an excellent resource for all things related to financial aid – sources of aid, how to apply, even budgeting.
Child Care
UT Southwestern's child care facilities are open to children ages six weeks through kindergarten at two campus locations – one on the North Campus and one on the South Campus. These services are available to students, staff, faculty, postdoctoral fellows, and clinical residents.