United to Serve is a nationwide volunteer initiative sponsored in conjunction with National Volunteer Week. It was adopted by the UT System in 2004 to challenge each campus in the system to develop a unique service activity.
Each year, as part of the United to Serve campaign, UT Southwestern Medical Center holds a health fair at Thomas J. Rusk Middle School in Dallas, which benefits students and their families in the surrounding community. Students, faculty, and staff from all UT Southwestern Schools participate. Mission Statement
UT Southwestern's Annual Health Fair offers services that cater to the health care and educational needs of the local underserved community. Students have developed a rapidly growing and widely encompassing health fair that aims to accomplish the following goals: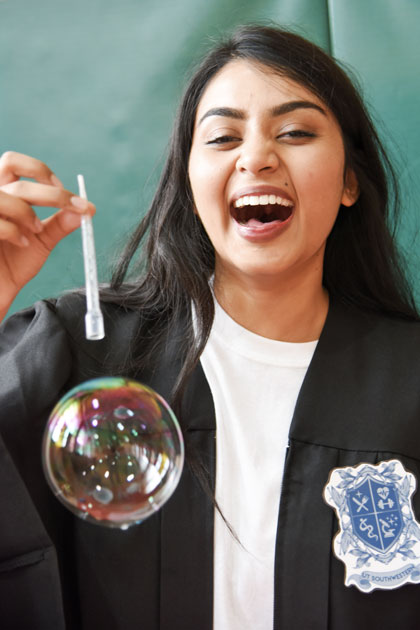 To provide an opportunity for the local underserved community to participate in valuable and free health screening, including, but not limited to, blood pressure measurement, cholesterol measurement, body mass index (BMI) calculation, Snellen visual acuity check, and general dental examination
To create a comfortable environment that provides important health information in a format that is both engaging and easily understood
To introduce children to the general functions of the human body, as well as the importance of good health and hygiene in an exciting and interactive setting
To present and discuss topics pertaining to the local demographic
To provide an avenue by which attendees may access local health care resources in order to voice their concerns or have their questions answered
To ensure that an effort toward better health becomes, and remains, an important priority of the individuals in our community in both this generation and the future generations
To promote participation in healthy lifestyle through community support and involvement
To demonstrate healthy recipe ideas and explain how food and nutrition can improve overall health and wellness
To bring together the UT Southwestern community to volunteer for a common good and to interact with the surrounding community in an educational and fun environment.