Library and Learning Facilities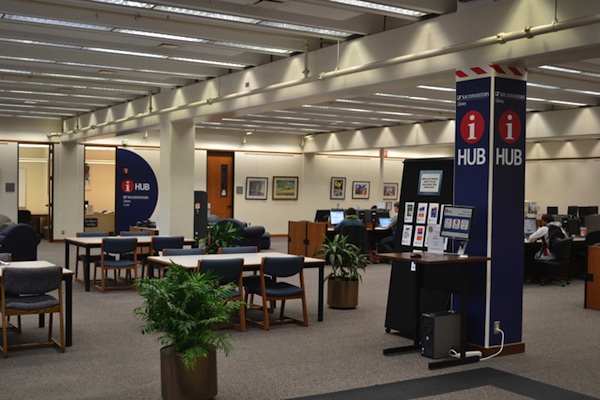 The Health Sciences Digital Library and Learning Center supports the information needs of UT Southwestern's research, educational, and clinical activities. The Library and Learning Center maintains a large collection of electronic information resources, print archives, rare books, and materials concerning the history of medicine. It also offers assistance and training in using these resources.
The main facility (nearly 65,000 square feet) is located in the middle of the South Campus, while a small branch (4,750 square feet) is located on the North Campus.
The Center is available 24/7 to authorized ID badge holders (e.g., UT Southwestern faculty, staff, and students as well as residents and clinical faculty from Children's Medical Center and Parkland Health & Hospital System). Access for nonbadge holders will be available on a limited basis by appointment only. To request such access, please complete the Ask Us form. The appointments are primarily intended for research assistance or group tours.
Electronic Resources
Electronic resources are freely available to on-campus individuals, whether in their offices or visiting the Center. UT Southwestern students, faculty, and staff may also access electronic resources from off-campus through EZproxy or virtual private networking (VPN) software. Remote, phone, and email assistance is available.
Due to licensing restrictions, most electronic resources can only be accessed from off-campus by individuals who are directly affiliated with UT Southwestern.
Book distribution ended on Aug. 19, 2013. Affiliated members may request items through the Center's interlibrary loan (ILLiad) system.
Digital Media Production Studio
The Digital Media Production Studio (E2.306) on the Main Floor of the South Campus Library & Learning Center is available for all UT Southwestern clients. Library staff is available for consult by appointment. The Media Production Studio houses the following equipment for use:
Two PC workstations:

Station No. 1 has audio and video editing software.
Station No. 2 has Camtasia, Adobe Creative Suite 5 software (including Photoshop, Illustrator, and InDesign), and Morae usability software.

VHS to DVD converter
BluRay Player and high-definition monitor for viewing
3D Printing Resources
The Health Sciences Digital Library and Learning Center is the proud recipient of the National Network of Libraries of Medicine, South Central Chapter 2017 and 2015 Emerging Technology Awards. The purpose of the award was to encourage 3D printing literacy to our campus community through access to a 3D printer, supplies, and electronic resources, including the NIH 3D Print Exchange. This NIH website provides 3D printed models, tutorials, and a learning community discussion board for troubleshooting.
Other Facilities
Simulation Center
Academic facilities include the technologically advanced Simulation Center, a small group teaching center where students can learn and practice skills in a safe, realistic clinical environment. Students have the opportunity to put into practice their medical knowledge, patient care, communication skills, professionalism, and leadership skills on high-fidelity simulators using carefully constructed scenarios.
Center for Minimally Invasive Surgery
Also available is the hands-on UT Southwestern Center for Minimally Invasive Surgery. Students in their surgery rotations and electives learn and practice surgical skills such as knot tying, suturing, and video-endoscopic techniques.
Clinical Skills Clinic
Students learn patient interviewing and examination skills by interacting with standardized, trained "patients" while being digitally recorded. The interaction can be reviewed later by the students themselves as well as by their Academic College mentor.