Neurocritical Care Division
UT Southwestern Medical Center established the Neurocritical Care program in 2006 to provide multidisciplinary intensive care for critically ill neurological patients at both Zale Lipshy University Hospital and Parkland Memorial Hospital.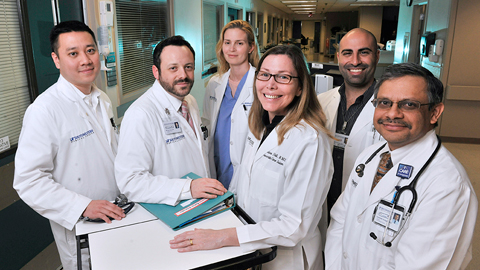 Currently, we have seven full-time faculty members and three fellows, as well as a large team of mid-level providers and research coordinators.
Research
Our faculty members, fellows, and faculty associates participate in a large number of clinical studies and randomized trials in stroke, head injury and delivery of care in the Neurocritical Care Unit. All ongoing and upcoming studies are reviewed at the monthly Neurocritical Care/Neurotrauma research meeting. Research is supported by a team of managers, research nurses and research coordinators. A full listing of our ongoing clinical research studies can be seen on our research page. We have several clinical research networks including the Texas Institute for Brain Injury & Repair, Lonestar Stroke Network and the NIH-supported Neuro NEXT network. We are also involved in translational research in the Neurorepair Laboratory and with neural engineering and cortical plasticity at UT Dallas Neuroscience.
Education
The Neurocritical Care Division at UT Southwestern Medical Center was the first to offer a United Council of Neurological Subspecialties (UCNS) Accredited Neurocritical Care Fellowship program in the state of Texas and surrounding regions. The two-year program is co-sponsored by the Departments of Neurological Surgery and Neurology & Neurotherapeutics. More information about the fellowship can be found here.
Residents from neurology, neurosurgery and emergency medicine rotate through the Neurocritical Care service. This has not only exposed residents to the specialty but has also fostered an excellent relationship between Neurosurgery Service and the Neurocritical Care team and produced long-lasting positive effects on patient care and education.
Neurocritical care faculty also offer a four-week, acute care sub-internship for fourth year medical students with special interest in acute neurological illness.
We have weekly didactic conferences attended by faculty, fellows, residents and NP/PAs that include journal article exchange, lectures on neurological and general critical care, interesting case presentations and M&M. Additionally there is a multidisciplinary Neurovascular conference.
Clinical Programs
We offer a 20-bed Neurointensive Care Unit at Zale Lipshy University Hospital. Our facilities include ORs and angiography suites with a respiratory therapy hub and a clinical laboratory services within the unit. Diagnostic services including CT scan and MRI are on the ground level. Continuous EEG monitoring is available for the evaluation and management of seizures.
Other available technology includes intracranial pressure monitoring, arterial pressure monitoring, central venous pressure monitoring, continuous ETCO2 monitoring, noninvasive cardiac output monitoring, bronchoscopy, bedside critical care ultrasonography, transcranial doppler ultrasound, GlideScope® video laryngoscope, surface cooling and ICU telemedicine.
Our team also provides neurocritical care services to critically ill patients with neurological disease at Parkland Health and Hospital System. Parkland Hospital is a Level I Trauma Center and one of the busiest public hospitals in the nation.