Neurocritical Care Fellowship
UT Southwestern is one of the largest regional centers for cerebrovascular diseases and neurotrauma in the country. It has outstanding neurosurgical, neurological, and neurointerventional services with Neuro-ICUs at both Zale Lipshy University Hospital and Parkland Memorial Hospital.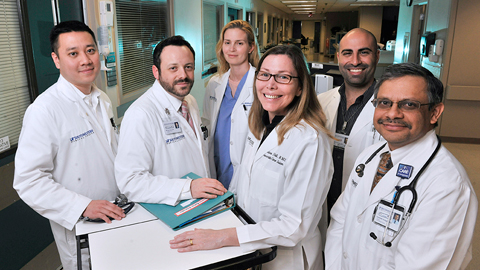 UT Southwestern Medical Center invites applications for two, two-year Neurocritical Care Fellowship positions. The Fellowship is sponsored by the Departments of Neurological Surgery and Neurology and Neurotherapeutics. Training consists of rotations in neurocritical care, vascular neurology, critical care medicine, and/or airway management. Electives in clinical research and other areas of clinical neuroscience can also be arranged.
The Fellowship received accreditation from the United Council of Neurological Subspecialties (UCNS) in 2009, the first year that UCNS accreditation was offered.
How to Apply
Interested applicants should send a CV and three letters of recommendation to:
Christiana E. Hall, M.D.
Fellowship Director, Neurocritical Care
UT Southwestern Medical Center
5323 Harry Hines Blvd.
Dallas, TX 75390-8855
Phone: 214-648-8513
Fax: 214-648-0341
christiana.hall@utsouthwestern.edu