About CRI
Children's Medical Center Research Institute at UT Southwestern (CRI) is a nonprofit research institute built on the clinical expertise of Children's Health System of Texas and the scientific excellence of UT Southwestern Medical Center. Under the leadership of Sean J. Morrison, Ph.D., CRI has created a world-class research and training environment that is collaborative and inclusive.
We are located in the heart of Dallas, Texas, and are home to an interdisciplinary group of scientists and physicians from all over the world. Our research is focused at the intersection of stem cells, cancer, and metabolism because we believe these areas hold uncommon opportunity for discoveries that are changing the way we think about important scientific questions and yielding new strategies for treating disease.
Mission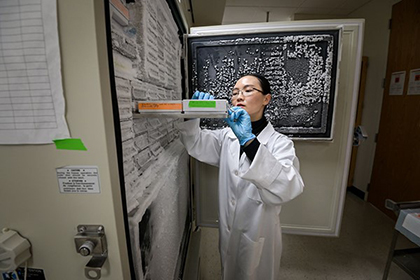 CRI is improving our understanding of the biological basis of disease by focusing at the interface of stem cells, cancer, and metabolism.
Our ultimate goals are to:
Make discoveries that change the way we think about important problems.
Cure people who would not be cured otherwise.
Train the next generation of scientists.
Promote diversity, equity, and inclusion in biomedical research.
Research Areas
Research requires commitment, vision, and a relentless determination to push the boundaries of knowledge. Our scientists and physicians are working in the fields of stem cells, cancer, and metabolism.
CRI researchers study the ways in which perturbations in metabolism contribute to diseases such as cancer and to conditions such as inborn errors of metabolism. Inborn errors of metabolism occur when children are born with genetic defects that impair the function of metabolic pathways. CRI established the Genetic and Metabolic Disease Program (GMDP) to integrate patient care and research to advance the diagnosis and treatment of genetically determined metabolic diseases.
Researchers in CRI's Tissue Regeneration Program are identifying the cellular and genetic basis of tissue healing in a wide range of organs. Elucidation of these mechanisms will advance our ability to repair tissues damaged by age, disease, and trauma.
Cancer is a complex group of diseases characterized by rapid and uncontrolled cell proliferation and metastasis to other parts of the body. CRI researchers use a variety of approaches to identify the mechanisms that drive the formation and progression of several cancers in order to find new treatments.
Learn More
Please visit our website for more information about our faculty members, research programs, and latest discoveries.