The Department of Neurology and Neurotherapeutics at UT Southwestern Medical Center conducts multiple clinical trials as well as having a large and active group of researchers investigating problems such as autism, Alzheimer's disease, and stroke.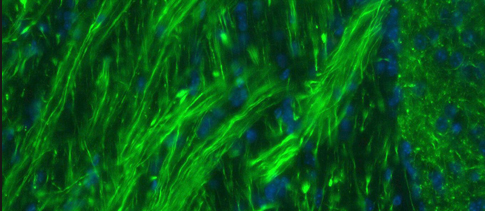 Under the leadership of former Chair Mark Goldberg, M.D., the Department launched a new initiative in 2010 to seek effective treatments for brain diseases. In conjunction with the redefined focus on neurotherapeutics, the Department is building state-of the-art facilities for drug and device testing, and bringing together current and new faculty for collaborative research on brain disease therapy.
"Our goal is to accelerate the process of therapy development by providing leading scientists with well-validated animal models and testing methods," Dr. Goldberg said. "At the same time, neurological clinicians will have opportunities to quickly bring the most promising treatment approaches to initial trials in human disease."
The Neurorepair Lab focuses on the investigation of mechanisms of injury and recovery from damage to the central nervous system after stroke and perinatal hypoxia. The Department also recently established the Neuro-Models Facility, which provides on-campus resources for scientific research into nervous system function and enhances the development and testing of novel therapeutic strategies for the treatment of nervous system disorders.
Scientists will leverage the historic institutional strengths of UT Southwestern in molecular biology, genetics, and neuroscience as they seek to advance therapies for neurological disorders through scientific discovery.
Bench Research
Researchers in the Department of Neurology and Neurotherapeutics are conducting investigations in a variety of areas including neuroimmunology, neurodegenerative disorders, ion channels and cellular excitability, and muscle metabolism.
Research in the lab has led to ground-breaking developments in neurology at UT Southwestern. In 2018, Marc Diamond, M.D., and his team discovered the precise point at which a healthy protein becomes toxic but has not yet formed deadly tangles in the brain believed to cause Alzheimer's disease. Researchers also recently created an experimental vaccine that could be used in the fight against Alzheimer's disease. Roger Rosenberg, M.D., and other researchers developed the vaccine which eliminates beta-amyloid, a small protein believed to contribute to the development of Alzheimer's.
Clinical Research
Clinical research in the Department has led to cutting-edge innovative treatment opportunities for patients and helped define the standard of care for stroke, MS, myasthenia gravis, neuropathy, epilepsy, Parkinson's disease, brain tumors, spinal cord injury, and other neurological disorders. Clinical research is underway in a variety of fields:
Dementia and cognitive impairment
Acute and preventive management of stroke
Immunotherapy for MS
Drug therapy in Parkinson's and other movement disorders
Outcome measures in epilepsy
Rehabilitation after spinal cord injury
Treatment trials in spinal muscular atrophy and muscular dystrophy.