More than 300 attend research symposium
By Julie Kirchem, Department of Neurology and Neurotherapeutics
DALLAS - Feb. 22, 2012 - The Alzheimer's Disease Center hosted more than 300 attendees at a symposium on Friday, February 10, that highlighted research being conducted at UT Southwestern into the mechanisms of neurodegenerative diseases.
The symposium was geared toward students, residents, fellows, and junior faculty in neurology and psychiatry.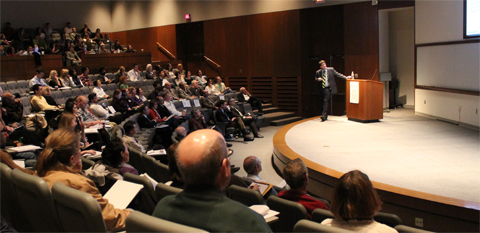 "We tapped into a deep reservoir of great interest in research into neurodegenerative disease," said Dr. Roger Rosenberg, Director of the UT Southwestern Alzheimer's Disease Center.
"The symposium was a great step forward to raise awareness on our campus about neurodegenerative disease research, and especially research on Alzheimer's disease, and to demonstrate definitively that in-depth research in these areas is alive and well at UT Southwestern and that it is a great time for trainees and faculty, junior and senior, to get involved."
Greg Fitz, M.D., Dean and Provost of UT Southwestern Medical Center, opened the symposium and talked about the university's commitment to developing neuroscience and neurodegenerative disease research at UT Southwestern.
Bruce Beutler, M.D., Nobel Laureate in Physiology or Medicine in 2011 gave the keynote address, "How Inflammation Begins."
"It was a brilliant lecture and one which was of central importance to understanding Alzheimer's disease, as inflammation is an early and major factor in the causation of disease onset and progression," said Dr. Rosenberg.
Mark Goldberg, M.D., Chairman of the Department of Neurology and Neurotherapeutics, chaired the morning session. The presentations emphasized therapeutics currently being developed by UT Southwestern faculty.
Joseph Takahashi, Ph.D., Chair, Department of Neuroscience, chaired the afternoon session that focused on basic science.