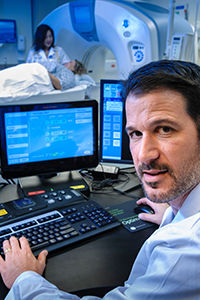 Through the years, the Department of Radiology relied on the exceptional work of its staff, which included nurses, physician assistants, technologists, administrative support personnel, laboratory technicians, postdoctoral researchers, accountants, analysts, schedulers, creative professionals, research study coordinators and data specialists, and more. Their ability to work as a team, constantly back each other up, pitch in to help out on larger projects and initiatives, and support the faculty in its clinical, educational and research endeavors helped build the department.
At the time of the department's 60th anniversary, more than 100 staff provided the support structure necessary to deliver professional radiology services to three major hospital systems: UT Southwestern's Hospitals and Clinics, Children's Health, and Parkland Health & Hospital System.
The following pages contain a sampling of the many dedicated professionals who served in the department, some for many decades. A distinguishing factor for these staff members was that they all shared a direct link to the longest-serving chair, Robert Parkey.
"I have watched support staff throughout the radiology department work together as a team to transform the culture through standardization, best practices, and quality initiatives, while also working every day to improve communication," said Dan Crawley, M.B.A., a radiologic technologist who became the department's administrative director in 2012. "As we focus on recruiting, training and retaining top talent, we continue to rely on our staff to be true collaborators in education, research and clinical care.
"The radiology staff is the foundation of this great department," Crawley added. "They will not only help to sustain the department but also continue to bring positive change and growth."
Dinah Barrilleaux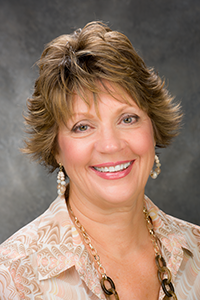 IN 1999, Dinah Barrilleaux became part of the radiology department at UT Southwestern Medical Center. A graduate of the University of Texas at Arlington and Northwood University, Barrilleaux assumed the role of administrative manager of business operations. The department was then embarking on expansive growth, which included the medical center's acquisition of St. Paul Hospital and construction of the Bill and Rita Clements Advanced Medical Imaging Building.
"It was an exciting time and I was attracted to the department's reputation of being a big family," Barrilleaux said.
"Dr. Parkey strengthened that philosophy with his generous personality and I experienced it firsthand when I received a breast cancer diagnosis. The department was incredibly supportive during both my treatment and recovery. I will always be grateful for the kindness shown by Dr. Parkey and my colleagues."
One of Barrilleaux's favorite memories involved Jack Reynolds, M.D., whose office had been located across the hall from hers. Reynolds was known for taking walks and picking up pieces of "junk" that would actually become materials in art sculptures he created. Following his death, Barrilleaux received one as a gift, which she greatly cherishes.
At the time of the department's 60th anniversary, Barrilleaux remained exceptionally busy, ensuring smooth operations for a department of more than 300 UT Southwestern employees. In addition to her duties in radiology, Barrilleaux was elected by her peers to serve an inaugural term on the newly formed Employee Advisory Council. Started in 2010, the council sought to enhance communication, promote employee commitment, build community, and improve medical center operations. She was also a member of the Executive Women in Texas Government.
Curtis Chaney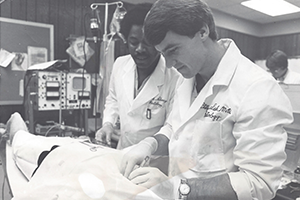 Curtis Chaney made thousands upon thousands of images at UT Southwestern, first as a technologist and then as a research assistant. In discussing his nearly 40-year career, two unusual imaging tests he was involved with came to mind.
The first was of the prehistoric woman "Lee Ann," believed to have died 10,000 years ago; the second was of the fossilized remains of a 90-million-year-old shark in shale rock.
"The X-rays we did showed a spine and shark teeth in two pieces of the shale, which came from a creek near Coppell," Dr. Chaney said. "It was quite different pinpointing bone surrounded by shale, instead of soft tissue, but it worked and the folks from the Dallas Museum of Natural History knew exactly where to chip out the fossil."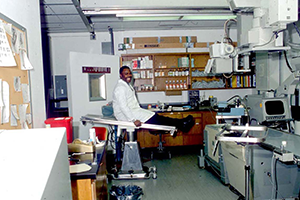 As a young man, Dr. Chaney's first job was in the Department of Internal Medicine. In 1974, Robert Berk, M.D., the Department of Radiology's second chair, recruited him as a radiology technician. It was a decision he's grateful to have made, especially when discussing Robert Parkey, M.D., who became the Department of Radiology's third chair following Dr. Berk's departure.
"Looking back, I wouldn't change anything now," he said, with a chuckle. "Dr. Parkey has a way of inspiring you to do things you didn't think you could. I worked hard because of my respect for him and he treated everyone throughout the department equally. I was really fortunate to have worked with so many great people."
Dr. Chaney added his years at UT Southwestern flew by. At the time of the department's 60th anniversary, he was enjoying retirement with his wife, children and grandchildren.
Madeline (Dolly) Christensen
When Madeline (Dolly) Austin met her future husband Edward Christensen, M.D., at the University of Wisconsin in Madison, she had no idea their story would bring them to Dallas. He would go on to earn his medical degree and complete residency training at Temple University Hospital in Philadelphia. He then joined the Air Force for five years, which took him and Dolly to Puerto Rico, where they began to raise their family.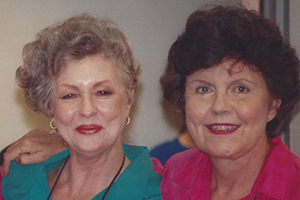 The couple relocated to Dallas in 1965 when he accepted a faculty position in the radiology department at UT Southwestern Medical Center. For the next fifteen years, she kept busy raising their four children, supporting her husband and being active in the Faculty Wives organization. Then, in 1980, Edward Christensen died suddenly at this home. He was 51 years old.
Shortly afterward, Dr. Parkey found he needed to hire a director of postgraduate education and visiting fellowships. Dolly Christensen was right for the job.
"My degree from the University of Wisconsin was in teaching and I have always loved interacting with different people," she said.
"The position allowed me to connect with people from all over the country and world when they were applying for visiting fellowships. With postgraduate education, I remember Jeff Weinreb and I were once able to convince Dr. Sprague to let us plan a meeting outside of Texas. We chose Jamaica."
She retired in 2009 after nearly 30 years with the medical center. Reflecting on her time at UT Southwestern, she was grateful her family's history would always be closely associated with the Department of Radiology.
Irma Dobbins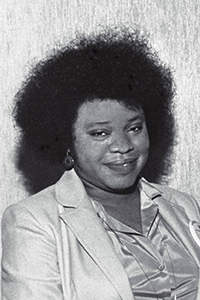 At the time Irma Dobbins started her career at UT Southwestern, she didn't even have an office chair, let alone an office. When she retired in 2009, after 37 years of service, her office was filled with mementos reflecting a rich career and personal life.
A biology graduate of Texas Southern University in Houston, Dobbins started as a research technician in the radiology department under future chairman Dr. Parkey. Several years later, she was recruited to help reorganize and restructure the medical center's radiation safety program.
"I didn't want to leave the department, so I asked Dr. Christensen to promise once the safety program was on track that they'd bring me back," she said. "The first Radiation Safety Handbook was published in 1979, and if you look closely you'll find my name in the cover design."
Dobbins returned to the department as a data coordinator for the Multicenter Investigation of Limitation of Infarct Size program under Dr. Parkey and James Willerson, acting as a liaison between the medical center and other clinical and basic science research departments across the country.
In her later career, Dobbins became an senior administrative associate for the Advanced Radiological Sciences Division and the Graduate Program in Radiological Sciences. She also managed the Radiology Grants Resource Office and assisted Dianna Otterstad in the Education Division.
"Throughout my career I had the opportunity to meet individuals from different parts of the country and the world," she said.
"Meeting new people is what I enjoyed the most and I still hear from students who graduated from UT Southwestern. It's been a wonderful experience to have worked with so many great people."
Dorothy Smith
In 1973, Dorothy Smith started her career at UT Southwestern as a research technician and photographer. A biology graduate of Spalding University in Louisville, Kentucky, one of her first big projects was assisting Dr. Bonte and Dr. Parkey with their research on viewing and imaging myocardial infarction.
Smith remembered those early days at the medical center well; particularly one incident when Dr. Christensen gave her career advice that remained with her for 40 years.
"I was having a very difficult day, everything was going wrong with the research," Smith said. "Dr. Christensen saw me in the hallway and could tell I was flustered and frustrated. We talked, and I clearly remember him saying, 'I find the solution to having a bad attitude towards work is to work harder.' And I did."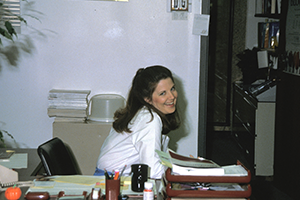 Later in her career, Smith looked after the department's unofficial lab "mascot," a guinea pig named Molly Brown. By then, she was responsible for the research labs and illustration services. She personally touched untold numbers of medical and scientific conference posters, clinical papers, books, and other materials produced by the department's faculty members.
"I grew up with a lot of the folks in the department and we shared our happiest and saddest moments through the years," she said. "There was always support for each other and we got done what needed to be done, no matter the challenges."
Following her departure from UT Southwestern in 2008, Smith became a consultant for Close to My Heart, a scrapbooking and stamping company. She joked that all the years assembling medical posters provided perfect training.