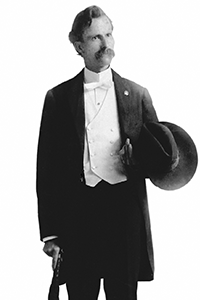 James Martin's extraordinary life took him from the small town of St. James, Missouri, to the burgeoning city of Dallas. After attending the Vichy Normal and Business Institute in Vichy, Missouri, he completed studies in general medicine at St. Louis College of Physicians and Surgeons. After graduating, in 1892, Dr. Martin visited an uncle who owned a Texas ranch. He decided to stay and eventually established a medical practice in nearby Hillsboro.
There, in 1903, he met George Bond, M.D., at a hitching post, where the two discussed the X-ray and their mutual interest in its use. Dr. Martin soon traveled to the St. Louis World's Fair, where he attended a meeting of the American Roentgen Ray Society. Not only did he become a member, he also purchased and transported home the latest X-ray equipment. His interest in using X-rays against skin cancer had been piqued by one of William Allen Pusey's first articles on treating the disease.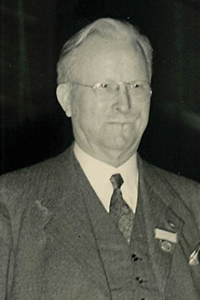 In 1906, Edward H. Cary, M.D., invited Dr. Martin to become a professor of Roentgenology at Baylor College of Medicine. After moving to Dallas, he also taught at Southern Methodist University and authored the textbook, Practical Electro-Therapeutics and X-Ray Therapy.
In 1914, Dr. Martin and Bond established the Texas Radiological Society (TRS). Dr. Martin not only served as its president, but also as president of the American College of Radiology, the Dallas Radiological Society, the Physicians Club of Dallas, the Dallas Southern Clinical Society, and the Dallas County Medical Society.
He and wife, Emma, had one son, Charles.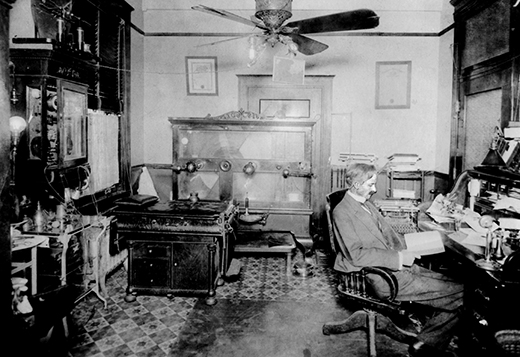 Charles "Charlie" Martin had not planned to be a second-generation radiologist. He initially earned a degree in electrical engineering from the University of Texas at Austin. But after losing interest in engineering, the younger Dr. Martin pursued a medical education at Harvard Medical School in Boston. While there, he enrolled in the Student Army Training Corps and began a residency program in radiology at Massachusetts General Hospital.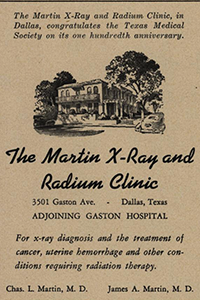 Following his 1919 graduation, Dr. Charles Martin returned home to practice at Baylor College of Medicine with his father. Together they also established the Martin X-Ray and Radium Clinic in Dallas. In 1943, the younger Dr. Martin became the unpaid chair of the new radiology division at UT Southwestern Medical Center, a position he held until 1956.
During his distinguished career, Dr. Charles Martin served as president of the TRS, the American Roentgen Ray Society, the American Radium Society, and the Dallas County Medical Society. He authored more than 103 scientific papers and, with his son, James, wrote the textbook Low Intensity Radium Therapy.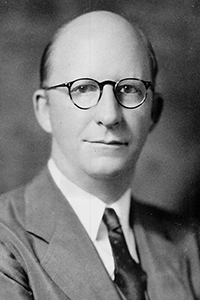 James "Jimmy" Martin, son of Dr. Charles Martin and his wife, Mabelle, received his bachelor's degree from Rice University in Houston before heading to Harvard Medical School. The newly minted Dr. Martin then completed his internship and residency training at Massachusetts General Hospital.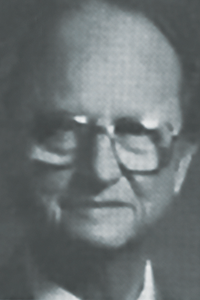 In 1950, James became co-director of the Martin X-Ray and Radium Clinic in Dallas, then director from 1970 to 1981. From 1982 until his retirement in 1986, the youngest Dr. Martin served as chief of radiology at Gaston Episcopal Hospital in Dallas. He was also a faculty member of the radiology department at UT Southwestern for many years.
Dr. James Martin died in 1988. He and his wife, Glenna, had four daughters.