New Windows Into the Body
In 1986, UT Southwestern Medical School reached a milestone in its history when Ervin Addy, M.D., became the school's first graduate to reach retirement age.
"It never occurred to me that the medical school would reach such heights," Dr. Addy said in a Center Times article marking the occasion. "It truly has come to the forefront of attention as one of the significant medical schools in the country."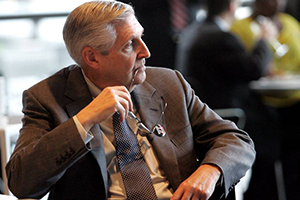 That same year, Kern Wildenthal became UT Southwestern's second president. The institution's annual budget was $185 million; with research grants totaling $55 million, clinical earnings approaching $30 million, and total space extending to 1.8 million square feet. The Howard Hughes Medical Institute opened a research facility on the campus, concentrating on molecular biology. Completion of the facility would lead to the establishment an X-ray crystallography laboratory.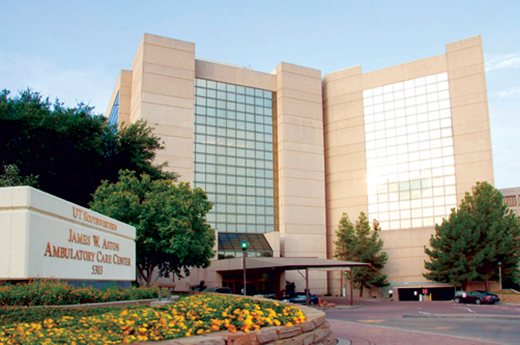 Additionally, the new James W. Aston Ambulatory Care Center began providing a range of diagnostic and therapeutic radiologic services, including computed tomography (CT) scans, magnetic resonance imaging (MRI), and low-dose radiation and Xerography for procedures such as mammograms.
Researchers continued investigating how powerful magnets could monitor certain aspects of human body metabolism. Magnetic resonance spectroscopy (MRS) allowed UT Southwestern doctors to analyze patients who had experienced a stroke and lost their ability to speak; perform intricate baseline studies on the beating hearts of normal individuals; better detect tumor response to radiation therapy when treatments were combined with injections of the artificial blood substitute fluosol; and monitor babies who had experienced oxygen deficiency at birth. MRS also was used to describe certain childhood metabolic disorders, such as rickets.
"We have a window on the biochemistry of the body that we never had before because the technology hadn't existed before," said Ray Nunnally, then director of the Biomedical Magnetic Resonance Center where the research took place.
Using MRI to Monitor Tumor Response
MRI was also having an impact on diagnosing and treating cancer. David Ranney, M.D., a pathologist at UT Southwestern, collaborated with a team of radiology researchers, including Peter Antich, Ph.D., Padmakar Kulkarni, Ph.D., William Erdman, M.D., Jesse Cohen, M.D., and Jeffrey Weinreb to devise a new strategy for locating and monitoring hidden tumors. The method improved upon existing technology by generating high-quality images that could locate tumors with a mass about the size of a pinhead — 100 times smaller than those detected by previous techniques.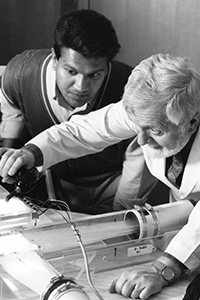 The researchers injected laboratory animals with a special dye that is detectable by MRI scanners. The polymer remains in the bloodstream except around tumors, which have leaky, porous blood vessels. When the dye reaches the tumor, it seeps through the blood vessels and is revealed by the scanner. After tumor tissue dies, its blood vessels become even more porous and ooze more dye, appearing even brighter on the scanner.
"Our report is the first to document that an MRI contrast agent can be used to monitor tumor responses to drugs," Dr. Ranney said at the time. "Indeed, it is the only method at present that can quantify acute drug and radiation effects on tumors in the body at submillimeter resolution. It has the potential to contribute to earlier detection and improved clinical management of human breast, lung, colon and prostate cancers, as well as other solid tumors which metastasize to liver, lung and brain."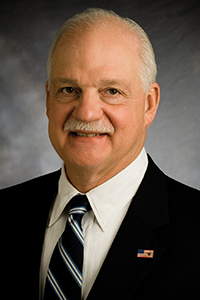 Dr. Erdman remembered coming to UT Southwestern specifically to pursue MR. The New York native was unaware of UT Southwestern before applying for a fellowship in the radiology department.
"Back then, few places were doing anything with MR and hardly anyone was using it on a regular clinical basis," he said. "I came down to interview and was blown away by the size of the place. Then I realized Fred Bonte is here. The Curry brothers are here. Helen Redman is here. Bob Parkey is here. I was like, 'Holy Mackerel! This is the place to be.' And Jeff Weinreb became a great mentor."
Because there were no positions available in MR at the time, Dr. Erdman took over the nuclear medicine division after completing his fellowship. He also became director of the nuclear medicine residency program. Regarding teaching, he credited Drs. Parkey, Jack Reynolds, William Kilman and George Curry as exemplary role models.
"When I started lecturing to students, I frankly wasn't very good," Dr. Erdman said. "So I started going to my colleagues' lectures and took notes on how they were teaching. Dr. Reynolds in particular was phenomenal and he took me under his wing. When he retired he gave me his course materials. It took several years to develop my own style, but with time I hit my stride and was even recognized with teaching awards."
Dr. Weinreb left Texas in 1986 to accept an appointment at the Columbia University College for Physicians and Surgeons in New York. He then went on to New York University Medical Center, where he became chief of MR and a mentor for the radiologist who would become the fourth chair of UT Southwestern's radiology department, Neil M. Rofsky, M.D.
Philip Purdy Becomes Neuroradiology Chief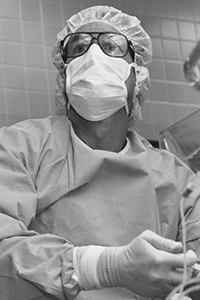 In neuroradiology Phil Purdy, M.D., took over the division from Kenneth Maravilla, M.D., who moved to the University of Washington in Seattle. A Missouri native, Dr. Purdy first came to UT Southwestern in 1979 for a three-year residency program in neurology, and stayed for a three-year residency in radiology. He went on to become a professor of both radiology and neurological surgery at UT Southwestern, as well as vice chair of finance and clinical operations.
Dr. Purdy invented several devices — UT Southwestern holds the patents — that have increased the success with which physicians slip a spaghetti-thin catheter into a patient's groin and thread it to the brain, enabling drugs to be injected to dissolve blood clots, plug vessels and treat other abnormalities — without the more traditional and more invasive neurosurgery.
As state support of higher education plateaued in the mid-1980s, philanthropic gifts became essential to ensuring the institution's continued growth and development. Between 1987 and 1996, the school received donations of $25 million or more from the Harold C. Simmons Foundation, the Perot Foundation, the Excellence in Education Foundation, as well as individual donors, such as Nancy B. Hamon, and Sarah M. and Charles E. Seay.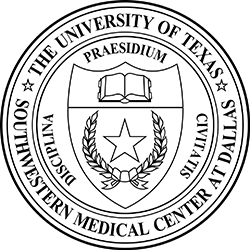 In 1987 the medical center was renamed The University of Texas Southwestern Medical Center at Dallas.
That same year, Nancy Rollins, M.D., returned to Dallas after completing fellowship training in interventional radiology and angiography at the University of Texas MD Anderson Cancer Center in Houston. At UT Southwestern, she completed a second fellowship program, in pediatric radiology, under the mentorship of Guido Currarino. She then stayed at Children's Medical Center, becoming the youngest director of a pediatric radiology division in the nation and holder of the Charles Cameron Sprague, M.D., Chair in Medical Science.
"When Guido retired, I chose Nancy to be his successor," Dr. Parkey said. "I caught hell for that decision, but within six months all the pediatricians were begging me to do whatever I could to keep her. Everyone across the country wanted her. Children's quickly understood how valuable she was and gave her all the resources needed to make that division one of the best in the country."
Dr. Rollins was equally complimentary of Dr. Parkey.
"Dr. Parkey was a wonderful chair and always had my back," she said. "He was very supportive of women. When we were going to buy the new MRI for pediatrics, one of the contenders was Toshiba. The representatives came to Children's and all the questions they had were directed to Dr. Parkey. They weren't really caring what I had to say. Then Dr. Parkey tells them, 'You need to understand, Dr. Rollins is the one making the decision on which vendor we're going to buy from.' All 12 Japanese men turned to face me and bowed."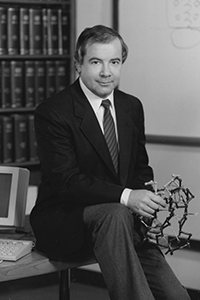 Dr. Rollins' areas of expertise and specialization involved pediatric vascular and neuroendovascular interventional radiology, including non-invasive treatment of complex intracranial and extracranial vascular malformations, stroke, dural venous sinus thrombosis, and complications of solid organ transplants. Her areas of clinical expertise involved advanced MR imaging in neuroimaging with a focus on white matter maturation and connectivity in normal and diseased states affecting children.
A year after Dr. Rollins' return, UT Southwestern celebrated both its 45th anniversary and a third Nobel Prize. Johann Deisenhofer, Ph.D., received the award for chemistry in 1988 in recognition of his work identifying the three-dimensional structure of a large membrane-bound protein molecule.
At Parkland hospital, the world's first single-photon emission computed-tomography (SPECT) system was acquired for three-dimensional imaging of blood flow or metabolism in the human brain or heart. The unit was co-developed by UT Southwestern faculty in the Nuclear Medicine Center in collaboration with Ohio Imaging, and was the only clinical device at the time capable of delivering image resolution similar to positron emission tomography (PET).
The North Campus Expansion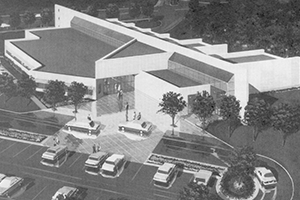 By the end of the decade, UT Southwestern was ranked as one of the top 15 medical schools in the nation, and research had increased more than 20 percent a year since 1984. Continued expansion would be essential to sustaining momentum. Recognizing this need, the John D. and Catherine T. MacArthur Foundation gave 30 acres of land to begin what was to become the north campus.
A master plan for the site was developed that included 13 major buildings, with construction of the first starting in 1988. Groundbreaking for the Mary Nell and Ralph B. Rogers Magnetic Resonance Center took place on November 2.
"The initiation of UT Southwestern's expansion on our new North Campus comes at a propitious time — just as we have had our third Nobel Prize winner in three years," Dr. Wildenthal said. "Our research activities are growing rapidly in size and in quality, and it is vital that we construct new facilities for our major programs, such as magnetic resonance."
The $4.8-million Magnetic Resonance Center would house the three powerful magnets stationed at the Record Crossing location. In total, the one-story center would become home to six research magnet units and one clinical magnet.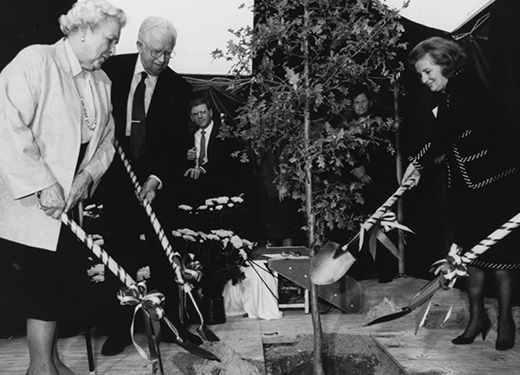 Dr. Wildenthal paid tribute to Ralph Rogers' vision and vigor in championing state-of-the-art MR research programs at the building's groundbreaking.
"Ralph is one of the people who raised our sights from seeing 'big' as limited to Dallas to seeing 'big' as meaning the whole world," Dr. Wildenthal said.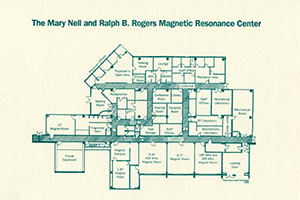 Chronicling the history of the MR effort at the Dallas campus in 1988, Dr. Parkey reported that more than 10,000 clinical MR exams had been performed at UT Southwestern since 1983. He predicted the number of such diagnostic exams administered nationwide would soar.
"Over 90 percent of the techniques we'll be using in medicine 10 years from now are just offstage, waiting in the wings, waiting to be discovered," he said in a Center Times article. "We hope to develop our fair share of these at the Mary Nell and Ralph Rogers MR Center."