No Longer Behind the Screens
On April 12, 2012, UT Southwestern president Daniel Podolsky announced that the new state-of-the-art university hospital would be named to honor former Texas governor William P. Clements Jr., in recognition of his 2009 gift of $100 million to the Southwestern Medical Foundation — the single largest gift in the institution's history.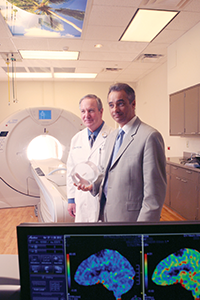 In addition to Clements' gift, UT Southwestern's "Building the Future of Medicine" campaign (in conjunction with its philanthropic partner Southwestern Medical Foundation) exceeded its goal of raising $200 million in support of the new facility.
Clements University Hospital was envisioned as a building that would support and facilitate the delivery of high-quality care for patients and families. The collaborative design process included nurses, physicians, support staff, and patients and their family members offering perspectives and ideas about quality, safety, efficiency, and the patient experience.
Michael Medina, UT Southwestern's associate vice president of clinical ancillary services at the time of this publication, participated in several planning work groups.
"People on the committees were very engaged because we knew the architects and our leaders were listening to us," he said. "They wanted our perspective. They wanted to hear our ideas about making the building patient-centered. And they listened to our thoughts about providing wonderful views, enabling caregivers to get to the patient quicker, and designing spaces that promote the best possible care. Those were our priorities."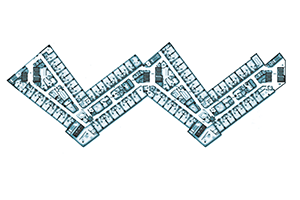 The hospital's W-shaped design is distinctive and functional. Dispersed workstations place nurses in close proximity to their patients, while rounding rooms and "touchdown areas" tucked away on patient care floors allow care teams to come together — moving conversations out of hallways and into more private areas. Caregivers can now discreetly meet with family members or confer with colleagues on how to best meet the needs of patients.
Regarding radiology, the hospital's design placed the vast majority of imaging equipment in direct proximity to the Emergency Department for easy access. Medina noted the new hospital had four computed tomography (CT) rooms equipped with the latest models, which could handle overflow when the emergency room got exceptionally busy. He also pointed out that the days of radiologists meeting with other specialists, residents or fellows in darkened rooms at the bottom floor of a hospital were at an end.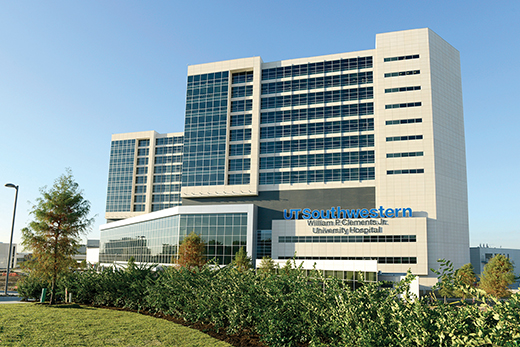 John Warner, M.D., chief executive officer for UT Southwestern University Hospitals and Clinics at the time of this publication, agreed.
"More and more, radiologists are not just involved in producing and interpreting the images that guide therapy, they are an integral part of the team delivering the therapy — and assessing the response to treatment in real time," he said. "With an increasing number of procedures and surgeries becoming image-guided, the role of radiologists as key members of the care teams will only increase."
On December 6, 2014, patients were successfully transported from St. Paul University Hospital to the new facility during a single-day transfer. The hospital's opening marked a new era in clinical care for UT Southwestern and the North Texas community. At its opening, the hospital had two magnetic resonance imaging (MRI) machines, six X-ray suites, two nuclear medicine rooms and the four CT scanners.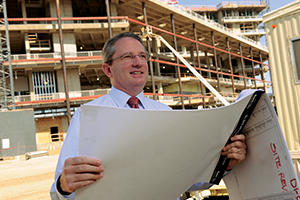 "One of the real differences in imaging at Clements University Hospital is the availability of the high-resolution images and the many opportunities for collaboration as care is delivered," Warner said. "Images can be accessed on high-definition monitors in all patient rooms, as well as in the operating rooms and procedural environments. This allows patients, families and their entire team of healthcare providers enhanced opportunities to collaborate in delivering care. As a hospital that treats the most complex patients in the region, often with advanced disease which has not responded to conventional therapy, having the very best, most advanced imaging techniques and equipment allows UT Southwestern providers to deliver cutting-edge therapies often not available at other hospitals and clinics. Our team-based approach to delivering care includes training students and physicians for success in what will be the true paradigm shift in medicine — one in which patients do not see a series of specialists in a series of encounters; rather, they are treated in one setting by a team of providers with specific roles and expertise."
Newest Parkland Officially Opens
Less than a year later, on August 20, 2015, the new Parkland hospital officially opened its doors. The old hospital had already become one of the busiest public hospitals in the nation, with more than 1 million patient visits annually. The new building eclipsed the old, nearly doubling capacity. Moreover, the Parkland Health & Hospital System included 20 community-based clinics, 12 school-based clinics, and numerous outreach and education programs.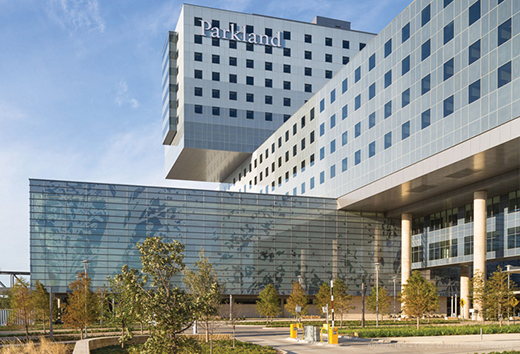 More than 141,000 square feet was devoted to imaging in the new building — the equivalent of nearly two and a half football fields. Four of the 10 trauma and resuscitation rooms at the new hospital were equipped with built-in, individual X-ray systems to allow immediate viewing of images.
Dedicated space within the Emergency Department also housed technology to provide diagnostic, CT, and ultrasound imaging, along with equipment for emergent ear and eye exams. A new positron emission tomography (PET) CT scanner, a technology that Parkland had not owned before, was also among the upgrades, as were four new MRI machines.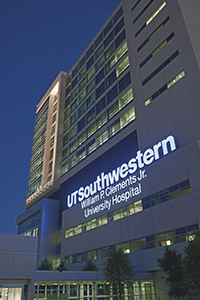 The hospital also included two stress echocardiogram suites, two endoscopy suites, and five nuclear medicine rooms. To ensure care providers had quick access to necessary images, advanced diagnostic imaging technology was strategically located throughout the hospital.
"The accuracy of the diagnosis depends both on the skill of the radiologist and the quality of images they view," said Travis Browning, M.D., an associate professor of radiology at the time of this publication, in a news release at Parkland's opening. "That's why access to the most advanced imaging technology is so important."
Additionally, Dr. Browning said the X-ray modalities in the trauma bays of the emergency department (uncommon in most hospitals) allowed patient X-rays to be performed in the same room where urgent care is provided. Having a new CT scanner in the Neuro ICU also meant critically ill patients would not have to travel through the hospital for imaging services.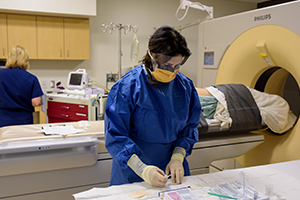 Michael Jones, a 70-year-old Farmers Branch dentist, was the hospital's first emergency department patient and the first to have a CT scan and MRI in the hospital. Doctors were quickly able to identify a small clot in his brain. He would be discharged the following day and make a full recovery.
Dr. Lori Watumull shared another story on how the new hospital impacted one of its first patients.
"Several faculty members had the opportunity to visit a top floor of Parkland during its first weekend," she said. "The view was incredible, and as we stood there a patient walked by wheeling his IV pole. He said, 'What do you guys think?' and we replied it was obviously beautiful. I asked if he liked the new place and he said yes, then shared he had actually been born at old Parkland."
'You Get the Feeling Anything is Possible'
With the opening of Clements University Hospital, Zale Lipshy University Hospital began to be transformed into the region's first dedicated, freestanding neuroscience facility — one of only a few in the nation and among the world's premier neurological diagnostic and treatment centers.
John Leyendecker, M.D, professor and vice chair of clinical operations at the time of this publication, knew joining the radiology department during such growth was a once-in-a-lifetime opportunity.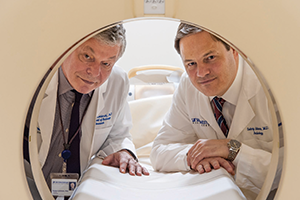 "This period of time will be seen as a quantum leap for both UT Southwestern and the department," he said. "Having Dr. Rofsky here, a chairman with a strong vision for the future and one willing to make necessary tough decisions to ensure we realize that vision, to me was absolutely huge. The clinical operation is massive with multiple moving parts, but we have great leadership and a department of strong people working together."
"You get the feeling anything is possible."
Dr. Warner agreed with Dr. Leyendecker's assessment of Dr. Rofsky.
"Dr. Rofsky has done a fantastic job of integrating his faculty with the multidisciplinary care teams," Dr. Warner said. "That is a longstanding UT Southwestern tradition, but he has really taken it to a new level. Pairing imaging faculty with disease-specific clinicians and surgeons has not only produced better care, but has also helped cultivate relationships that foster the exchange of ideas and information, ultimately leading to more innovation."
The possibilities are what inspired Suhny Abbara, M.D., professor of radiology and chief of cardiothoracic imaging at the time of this publication, to contact Dr. Rofsky about joining the radiology faculty. Having made extensive contributions to the field of cardiovascular CT and MRI, Dr. Abbara knew he had to be part of the medical center's unprecedented growth.
"Learning about the rich history of this department really convinced me to come to Dallas," he said.
"It all comes down to how our actions will positively impact patient care and I am very passionate about teaching through publishing. Consider Dr. Christensen's Introduction to the Physics of Diagnostic Radiology, the perfect example of how a textbook can improve training and influence radiologists around the world. The patient care, research and teachings going on right now in this department, I'm confident they're all going to be just as significant for current and future radiologists."
Cyclotron Construction Begins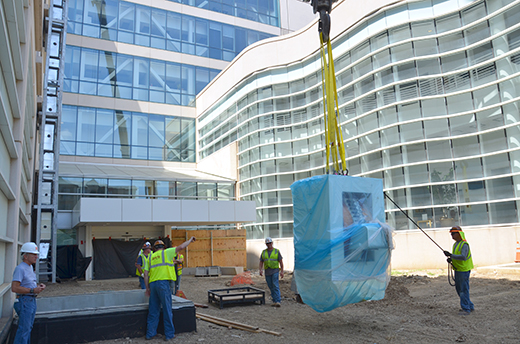 In 2015, a long-held dream of former chairs Dr. Frederick Bonte and Dr. Robert Parkey was realized when the radiology department launched its 4,000-plus-square-foot cyclotron facility as part of the Bill and Rita Clements Advanced Medical Imaging Building on the north campus. The facility was established under the auspices of UT Southwestern and the Cancer Prevention and Research Institute of Texas (CPRIT), which had awarded the university $4.2 million for the facility's set-up.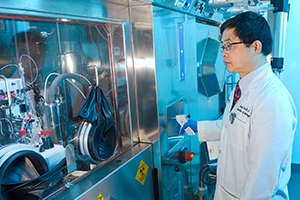 Dr. Xiankai Sun, principal investigator of the high-end instrumentation grant, said a goal of his recruitment to UT Southwestern 11 years earlier was to spearhead an institutional effort to establish a cyclotron and radiochemistry program.
"While the cyclotron is proposed primarily for translational and clinical research use, our long-term goal is to develop new PET tracers and imaging technology, which will ultimately enable precision medicine for better patient care," Dr. Sun said. "It is important North Texans have access to this type of imaging, there is a great need for it. And of course we want to improve and always stay at the forefront of the technology. There are so many unknowns for us to explore and goals to achieve to ultimately help patients."
Dr. Sun, who held the Dr. Jack Krohmer Professorship in Radiation Physics at the time of this publication, explained the cyclotron would make short-lived, biomedical radioisotopes readily available on campus, which were impractical to obtain from other locations. It would also aid in a variety of studies and clinical trials research across many disciplines, including radiology, the Advanced Imaging Research Center, the Harold C. Simmons Comprehensive Cancer Center, cardiology, immunology, psychiatry, biochemistry, pharmacology, and areas involving diabetes, Alzheimer's disease, and dementia.
"While there is strong emphasis on cancer applications, the products we create from the cyclotron will enable discoveries that span across multiple areas of medicine and physiology," Dr. Rofsky said in the same press release.
The department also continued making strides in the field of interventional radiology. Sanjeeva Kalva, M.D., associate professor of radiology and chief of the Vascular and Interventional Radiology division at the time of this publication, came to UT Southwestern in 2013 from Harvard Medical School. A Dr. Rofsky recruit, Dr. Kalva had years of experience with standard, underutilized, and cutting-edge interventional radiology techniques. He also helped establish standards of care for his peers in the field, including the use of inferior vena cava filters and the management of aortic disease. When Kalva arrived, more than 5,500 innovative, minimally invasive surgeries were being performed annually at the medical center.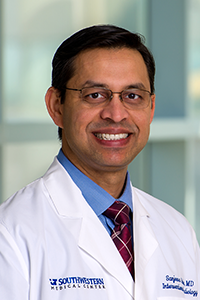 Dr. Kalva was also actively involved in education, teaching interventional radiology to medical students, residents, and fellows and offering interdisciplinary lectures to physicians whose specialties overlap with interventional radiology. Kalva said he was drawn to medicine because of the opportunity to serve others at a very close level. Noting interventional radiologists had always been "out from behind the screens," he encouraged future radiologists to remember the patient, not the image, should always be the center of their focus.
Dr. Rofsky also considered the doctor-patient relationship an imperative part to the future of the specialty. He noted Phil Evans as just one example of faculty members setting the bar high.
"I can't tell you the number of people who have told me, proudly, 'Phil Evans is my doctor and as long as he's here I will receive my care at UT Southwestern,'" he said. "That's not a traditional concept regarding patients' perceptions of radiologists and there is great value in that. It's a mentality we're working to increase throughout all the clinical divisions."
That conviction led Avneesh Chhabra, M.D., associate professor of radiology and chief of the Musculoskeletal Imaging Division at the time of this publication, to leave Johns Hopkins University School of Medicine for UT Southwestern. One of the world's leading experts in sports and peripheral nerve imaging, Dr. Chhabra's division frequently collaborated with the department's imaging scientists to develop new techniques to diagnose and treat a variety of musculoskeletal conditions.
"I was offered the chief position to build an exceptional clinical, teaching, and research service," Dr. Chhabra said.
"Following what M.K. Gandhi stated, 'Live as if you were to die tomorrow and learn as if you were to live forever,' I made the bold and right move to pursue my vision and passion at UT Southwestern."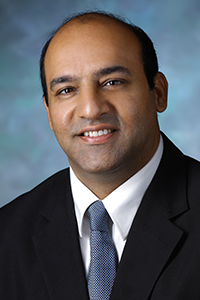 Dr. Rofsky compared radiologists to air traffic controllers. While pilots receive glory for their actions, nothing could happen without air traffic control. Similarly, without radiologists, other specialists would be in the dark on where disease or injury is causing bodily distress.
"Superb interpretations and great consultations make us vital partners," Dr. Rofsky said. "Our translational emphasis relies upon the close interactions of radiologists, imaging scientists, information technology specialists, and collaborating physicians — all leveraging the state-of-the-art, evolving technologies that are abundantly situated throughout our campus. We are currently in one the most exciting times in our department's history, with unprecedented expansion and opportunity that mirror the growth and opportunity afforded by the Dallas-Fort Worth area."
From a Top-Tier Medical Center, a World-Class Radiology Department
From its humble beginnings in makeshift quarters, UT Southwestern Medical Center has evolved into a top-tier medical center of unique distinction. It is now home to more than 2,000 distinguished scientists, physicians, and allied health professionals; 4,000 outstanding trainees; and more than 12,000 talented and dedicated employees. With more active Nobel Prize recipients than any other medical school in the world and over half of the medical members of the National Academy of Sciences and National Academy of Medicine (formerly the Institute of Medicine) in the Southwest region, UT Southwestern was positioned to lead the way through a new era of medical care and discovery.
Simultaneously, the radiology department had grown from a department of one to a prestigious department of more than 160 clinical and research faculty, 89 residents and fellows, and more than 100 support staff. At the time of the department's 60th anniversary, over 1 million inpatient and outpatient imaging exams were performed at the medical center. Offering state-of-the-art radiology services for patients with simple or complex medical conditions, demonstrated again and again Dr. Rofsky's mission "to grow and sustain a world-class department, characterized by its ability to translate innovations in imaging, information technologies and image-guided therapies to optimize patient outcomes."