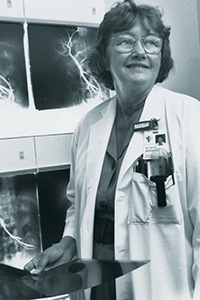 A pioneer in the field of vascular and interventional radiology, Helen Redman was born in Newton, Massachusetts. After graduating in 1957 with a bachelor's degree in biology from the University of Rochester in Rochester, New York, she received a medical degree at Columbia University College of Physicians and Surgeons in New York.
Dr. Redman completed her internship and radiology residency training at Palo Alto-Stanford Hospital in Palo Alto, California. She was the first woman resident to train under Herbert L. Abrams, M.D., and also served as chief resident. Dr. Redman received a James Picker Fellowship in Radiologic Research, which enabled her to study under Olle Olsson, M.D., at the Roentgen Institute in Lund, Sweden.
She worked at the University of Pittsburgh and the University of Michigan, before returning to California. In 1983, she was at the University of California–San Francisco when Robert Parkey recruited her to join the UT Southwestern radiology faculty.
Dr. Redman became chief of vascular and interventional radiology and vice chair for academic affairs. At Parkland hospital, she served as chief of special procedures and body imaging and chief of genitourinary radiology.
"Helen was an absolute best-of-class as an angiographer," Parkey said. "But more importantly, she was a master teacher and mentor. She brought an unparalleled level of class and competence to the university and hospital."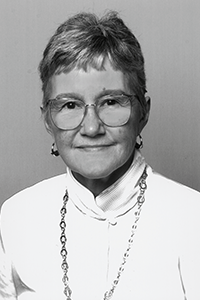 Dr. Redman published extensively and co-authored Gastrointestinal Radiology, which became required reading for a generation of radiologists. She also served on the editorial boards of the American Journal of Roentgenology, Radiology, and the Journal of Vascular and Interventional Radiology.
She was a fellow of the American College of Radiology and served on its board of chancellors. Dr. Redman was also a trustee of the American Board of Radiology. She served as the first woman president for both the Radiological Society of North America (RSNA) and the Texas Radiological Society (TRS).
In 1997, Diagnostic Imaging magazine named her one of the "20 Most Influential People in Radiology."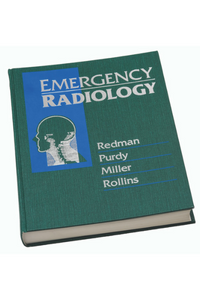 "Dr. Redman's political achievements should not detract from her status as respected physician, researcher and mentor in the field of interventional radiology — an area where lines for the women's room are particularly short," the editors wrote. "And if any young women radiologists do aspire to break gender barriers in any aspect of radiology, Dr. Redman's example will encourage them to pursue their goals."
Dr. Redman was a founding member of the American Association of Women Radiologists, which bestowed upon her its highest honor, the Marie Curie Award, in 1999. Additionally, she was the inaugural holder of the Dr. Fred Bonte Professorship in Radiology.
After receiving a cancer diagnosis, Dr. Redman underwent treatment at Zale Lipshy University Hospital. While there, she received gold medals from three separate medical societies: the RSNA, the Society of Cardiovascular & Interventional Radiology, and the TRS. Dr. Redman famously quipped that she felt like Mark Spitz, the Olympic champion swimmer who won nine gold medals. Dr. Redman, who was married to Marten Klop, died in 2000.