Collaboration and Cooperation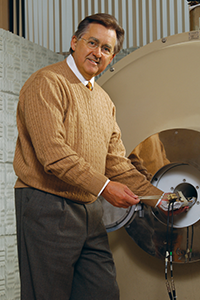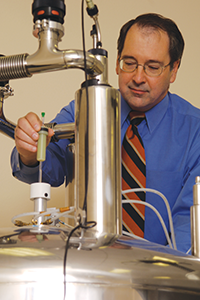 Upon arriving in Dallas, during the 1970s, Dean Sherry, Ph.D., encountered a logistical challenge when it came to conducting research. The University of Texas at Dallas had hired him as one of four chemists to start a chemistry department, which included a single building and no laboratory space. Fortunately, a UT Southwestern biochemistry professor, G. Larry Cottam, Ph.D., offered Sherry the space he needed. Sherry then spent several years shuttling between his classroom at UT Dallas and his lab at UT Southwestern.
Although he spent more time at the UT Dallas campus once his lab was built there, Dr. Sherry continued to collaborate with his counterparts at the medical center. That alliance led to his 1990 joint appointment as professor of chemistry at UT Dallas and professor of radiology at UT Southwestern. It was also the impetus for his meeting Craig Malloy, M.D., a professor of radiology who had joined the UT Southwestern faculty in 1984.
Dr. Malloy, who completed his residency training at Parkland hospital, and Dr. Sherry would go on to become the world's authorities on applications of stable isotopes and magnetic resonance. Understanding how metabolism functions in the heart and other organs became their primary focus.
Their collaborative partnership and their shared expertise made them ideal candidates to lead the Advanced Imaging Research Center (AIRC). Created in 2005, the AIRC brought together UT Southwestern and other North Texas institutions to conduct research in MRI and MRS, and translate scientific discoveries into clinical practice. A special appropriation championed by then-Texas House Speaker Tom Craddick from Midland, along with other members of the Dallas legislative delegation, guaranteed state funding for the center, with additional major endowments secured from Dallas philanthropists.
However, the AIRC needed one more financial boost to complete its new home. Enter former Texas Governor William P. "Bill" Clements.
Texas Governor Makes His Mark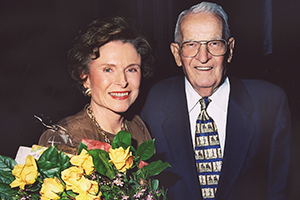 Mr. Clements had been a college classmate of Charles Sprague when the two studied chemistry together at Southern Methodist University. In 1967, he served on the search committee that convinced Dr. Sprague to return to Dallas from Tulane University School of Medicine to be dean of the medical school. Considering his classmate had gone on to become the university's first president, Mr. Clements was eager to provide the needed boost.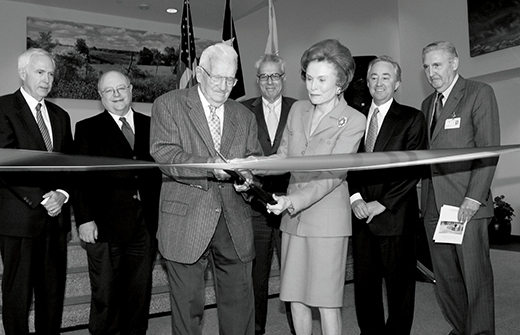 With a donation of $10 million to the Southwestern Medical Foundation, Clements ensured a new research and clinical building featuring the most powerful technologies in the world would be completed. The Bill and Rita Clements Advanced Medical Imaging Building was formally dedicated in November 2006.
"We have been supporters of UT Southwestern since its early years, and I've always been proud of my association with the medical center, which I regard as an important asset to the state of Texas," Clements said in a press release. "The new building is a great addition to the campus, and we're happy to be a part of the future of biomedical research in this way."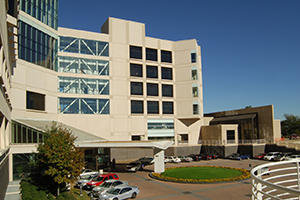 In the same press release, Dr. Kern Wildenthal referred to the Clements as "true champions of Texas, higher education and medical science," with Dr. Malloy adding, "This building will provide a dramatic expansion of imaging research and clinical capabilities at UT Southwestern."
Dr. Sherry was named director of the AIRC, while Dr. Malloy became its medical director.
The Clements Building houses the AIRC and also encompasses eight specially designed bays for clinical and research imaging devices, including a large area for one of the nation's first 7-Tesla MRI machines dedicated to human studies.
Made available to UT Southwestern through philanthropic donations, along with a special federal appropriation championed by U.S. Senator Kay Bailey Hutchison, the 7-Tesla device was roughly 140,000 times more powerful than Earth's magnetic field and capable of the highest-resolution imaging then available. MR images at 7-T allow investigators to observe anatomical structures never before seen in the human brain.
In addition to MRI, the building also housed the Positron Emission Tomography (PET) facility, which had two scanners producing maps of metabolic processes in the body. Optical imaging devices, powerful CT scanners, nuclear magnetic resonance spectroscopy devices and other advanced imaging instruments were also deployed throughout the Clements Building with a comprehensive ability to perform preclinical research.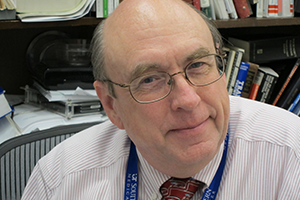 Dr. Jon Anderson recalled planning for the arrival of the PET device at its new home.
"Back then, UT Southwestern did not have a cyclotron, which is needed to get isotopes required for a PET scanner," he said. "But then it became possible to buy isotopes from companies with a cyclotron. They could ship material with large enough doses to administer to patients. Suddenly it was possible for a lot more medical centers to get into the PET game. The scanner was originally housed at Records Crossing because there was room after the MRIs moved to the [Mary Nell and Ralph B.] Rogers Imaging Center."
"It was such new technology I had to design the radiation shielding protocols and those writings actually have become part of the standard guidelines for PET facilities across the country."
One of the building's most important functions was housing offices and laboratories for UT Dallas, UT Arlington and UT Southwestern researchers working side by side on major cooperative projects. Other Texas universities and medical centers, both public and private, were also invited to access the unique capabilities offered at the facility.
"The far-sighted support of Governor and Mrs. Clements, other generous philanthropists, and state and federal leaders has enabled biomedical scientists, clinicians, engineers, physicists and computer scientists from UT Southwestern, UT Dallas, UT Arlington and other Texas institutions to join hands in using the most sophisticated technology available to solve the most complex problems of medicine for the 21st century," Dr. Wildenthal said.
At St. Paul University Hospital, physicians began conducting research with a new cardiovascular MR system. Made possible with gifts from Dallas philanthropists, the device allowed detection, identification and enhanced diagnosis of coronary artery disease in patients who had heart transplants.

Late 2007 marked the deaths of three longtime Radiology faculty members: Mary Esther Gaulden, the "Grasshopper Doctor," Edward Dowdy, Ph.D., coauthor of the Second, Third and Fourth Editions of An Introduction to the Physics of Diagnostic Radiology; and renowned teacher Jack Reynolds.
"When Dr. Reynolds decided to retire, he asked me to take over teaching medical students," recalled Wally Hooser. "He remembered me as a resident and that I loved to learn and teach. I actually almost didn't become a radiologist because, as a young man, I developed an autoimmune disease. It forced me to retire early from the Army Medical Corps and many resident programs simply wouldn't take me because they weren't sure I'd live long enough to finish. Then the people at UT Southwestern told me they thought I'd make a great resident and accepted me. Dr. Reynolds had a part in that."
An Ambitious Plan
By the year's end, the "Innovations in Medicine" campaign — the most ambitious fundraising effort in Dallas history — received gifts and pledges totaling more than $750 million from over 600 donors. Most of the funds raised in the campaign were directed toward endowments and projects focused on major diseases of particular importance for which breakthroughs were thought possible over the ensuing years.
In 2008, a partnership between UT Southwestern and UT Arlington led to the creation of the Optical Medical Imaging Center, consisting of four labs in the Clements Building. There, UT Arlington engineering professors began working with UT Southwestern physicians to test medical imaging projects in various stages of development.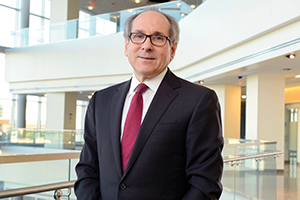 The joint effort marked the first time the medical school had dedicated space to an engineering school, although an affiliation between the two schools had existed since the 1970s when a joint biomedical engineering program was initiated. In 2008, that program had more than 170 graduate and doctoral students enrolled. It became an example of how joint efforts could grow substantially as science and health demands evolved.
The Optical Medical Imaging Center was funded through a Congressional appropriation, as well as peer-reviewed and competitive awards. Its opening, on Aug. 29, 2008, was attended by Wildenthal as one of his last official acts as president before retiring.
Daniel K. Podolsky Becomes University's Third President
On Sept. 2, 2008, Daniel K. Podolsky, M.D., became UT Southwestern's third president.
At the time, the university had more than 10,000 employees and an operating budget of $1.5 billion. There were 1,500 full-time faculty members, including four active Nobel Prize winners, more than any other medical school in the world. It was estimated that UT Southwestern physicians provided medical care in 40 specialties to nearly 97,000 hospitalized patients and oversaw 1.7 million outpatient visits annually.
The three degree-granting institutions — UT Southwestern Medical School, UT Southwestern Graduate School of Biomedical Sciences and UT Southwestern School of Health Professions — were training nearly 4,200 students, residents and fellows each year. Additionally, UT Southwestern researchers were involved in more than 3,500 research projects annually.
Dr. Podolsky, who had a long-term association with Harvard Medical School and had attained the level of professor in addition to key leadership positions in Partners Healthcare, said his decision to come to UT Southwestern was in large part based on the opportunity to build on the remarkable accomplishments made since UT Southwestern had been established nearly 65 years before, and its bedrock values of excellence in research, education and patient care.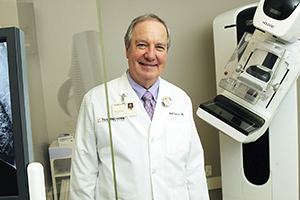 Those values also could be found at UT Southwestern's Center for Breast Care. UT Southwestern was the first site in North Texas to obtain the newest technology in breast imaging, a fully automated 3-D breast ultrasound machine.
In a 2008 press release, Phil Evans explained there were benefits to adding automated 3-D breast ultrasound to the array of screening methods available to detect breast cancer in women who were considered high-risk. Multiple images of breast tissue could be reviewed at a 3-D workstation with data being captured in three dimensions as opposed to a flat image. Physicians could then review images from any angle, uncovering areas that previously might have remained unseen. They could also review multiple views simultaneously.
Although ultrasound is more comfortable than mammography, Evans stressed mammography should not be eliminated. He advised individuals at high risk to alternate between ultrasound and mammography every six months.
"It's purely an additional tool for women who are high-risk, but their risk is not high enough for magnetic resonance imaging," he said.
Dr. Evans, who held The George and Carol Poston Professorship in Breast Cancer Research from 2003 to 2013, had decided to specialize in breast cancer during his time at Baylor University Medical Center. He was a just beginning his practice as a diagnostic radiologist when the chief of his department approached him about a new breast ultrasound machine.
"He said the manufacturer will let us try it for six months and why don't you check it out and see what you think?" Dr. Evans recalled. "And so I did. It looked pretty good, and I thought it was interesting. So we brought it back and installed it in our department, and then I realized what the implication of all this was: I was going to be the one who was the champion of it, saw all the patients, and interpreted all the exams. I said to my chief: 'You know, I am really getting involved in this. Are you sure you want me to do all this?' He said, 'Evans, he who mounts the tiger cannot dismount it at will.'"
Former Governor Makes Unprecedented Contribution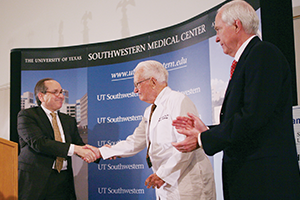 The following year, Clements made an unexpected and unprecedented $100 million gift to UT Southwestern through the Southwestern Medical Foundation — the largest single donation in the institution's history.
"This historic gift, especially noteworthy in his insistence that there be no restrictions on its use, allows us to create the William P. Clements Jr. Fund with our pledge to apply it strategically in truly transformative ways to advance and improve the human condition," Dr. Podolsky said in a press release.
In 2010, UT Southwestern once again became the first site in North Texas to launch the next-generation of CT scanners. A dynamic volume CT scanner, which could generate detailed 3-D images of an organ in real time, allowed doctors to image an entire organ in less than a second or to track blood flow through the brain or to a tumor — all with less radiation exposure to patients. Because the machine's technology could take continuous or intermittent images, UT Southwestern's radiologists anticipated better visualization in neurology, trauma, whole body, lung, cardiac, vascular and pediatric studies. Other applications included providing distinctive capabilities in orthopedic and joint studies, diagnosing renal function, and even vocal-cord analysis. For patients, the new technology meant less time in a scanner and less exposure to radiation.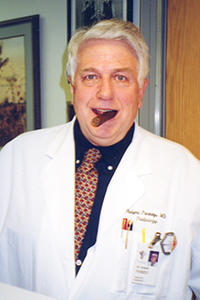 "This has the potential to impact the daily medicine we currently practice and help us identify future clinical pathways," said Dr. Evans, who was associate vice president for clinical imaging, in a press release. "UT Southwestern is fortunate to have clinical experts and forward-looking researchers who will really be the ones to determine its best uses. Technology, even the best technology, still depends on the expertise of those using it."
The year 2010 also marked one of the most significant changes the Department of Radiology had seen in decades: After 33 years as chair, Robert Parkey retired. His successor, Neil M. Rofsky, had distinguished himself as a professor of radiology and director of MRI at Beth Israel Deaconess Medical Center in Boston.
"In The Matrix movie the 'chosen one' is a guy named Neo," Dr. Parkey said. "It took two hours for the audience to find out for sure if he really was the one. It took me only 10 minutes to know Neil was 'the one' for this department."