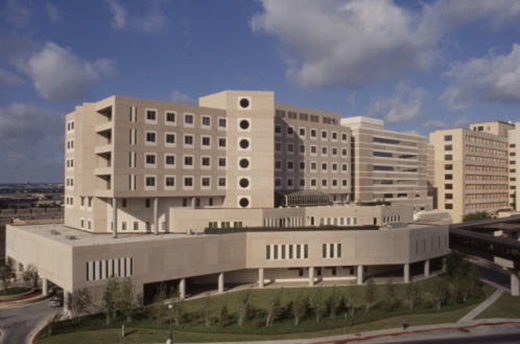 In the early 1980s, university administrators began taking steps to meet a critical unmet need: constructing a private referral hospital. At the time, the medical school was the only one in the nation without a private referral facility of its own. With support from the Zale Foundation and several other foundations and individuals, UT Southwestern opened Zale Lipshy University Hospital in 1989. The private, nonprofit facility would become one of the world's leading neurological diagnostic and treatment centers.
Ann Mootz, M.D., was Zale Lipshy's first medical director of radiology. A 1981 graduate of UT Southwestern (who also received her residency and fellowship training at the medical center), Dr. Mootz credited Robert Parkey with being ahead of the times when it came to hiring women.
"When I came out of training, it was common knowledge the head of radiology at a large Dallas practice wouldn't even interview women," Dr. Mootz said. "There were no women there, no women at a lot of places. The fact he was willing to hire a lot of us made a huge difference in my life and many others."
Dr. Mootz left UT Southwestern for several years, serving on the Medical Advisory Board for Susan G. Komen Foundation. She eventually returned to the medical center, where, at the time of this publication, she was a clinical associate professor of radiology and practicing in the Breast Imaging Division under the leadership of Phil Evans, M.D., who had also served as a Komen advisor and president of the American Cancer Society.
"An immeasurable strength of this department has been one generation passing its knowledge on to the next and then to the next after them," Dr. Mootz said. "One of my cherished possessions is a textbook Dr. Frederick Bonte gave me about trauma and the chest that he had coauthored in the 1960s."
After Dr. Mootz's departure, Dr. Parkey recruited Mary Ann Mullican to take over imaging at Zale Lipshy.
"When I was a resident we basically had general radiology with plain films, fluoroscopy and nuclear medicine," Dr. Mullican said. "There was no ultrasound, CT or MRI. Endoscopies were much less common than they are today. If you found something, you had to be very sure about it because you were often committing a patient to open surgery. Now there are so many ways to do things less invasively."
Zale Lipshy's neuroangiography suite became a renowned high-tech exam room. Led by Phil Purdy, the suite was the first in the nation to utilize biplane fluoroscopy and biplane digital angiography. Dr. Purdy often used angiography to prepare patients for surgery when they had blood vessels in danger of rupturing and bleeding uncontrollably in the operating room. Part of the hospital's national reputation in neurosurgical vascular disorders was built on Dr. Purdy's unique ability to provide primary treatment for some whose life-threatening disorders made surgery impossible.
Ron Peshock and James Fleckenstein Make a Discovery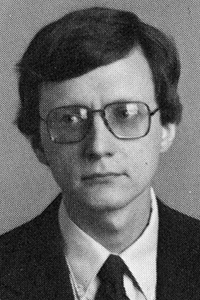 The same year Zale Lipshy opened, Dr. Ron Peshock and James Fleckenstein, M.D., then assistant professors of radiology, discovered that injured muscles continue to "light up" on MRI scans for three weeks after athletes no longer experience pain.
"Abnormalities revealed by MRI are evidence that clinical evaluation alone, without MR imaging to verify the location and extent of injury, may lead to an incomplete assessment of muscle damage and recovery," Dr. Fleckenstein said in a press release. "More research needs to be done to determine if the bright signal that remains means that the muscle needs more healing time before it is safe to reuse the muscle."
The investigators used MR imaging techniques to evaluate painful muscle strains and delayed-onset muscle soreness. In cross-sectional MR images obtained while athletes were experiencing muscle pain, the researchers found that primary muscles used in exercise were not necessarily the ones that remained bright later on. Often the bright areas, from which pain emanated, were in adjacent muscles.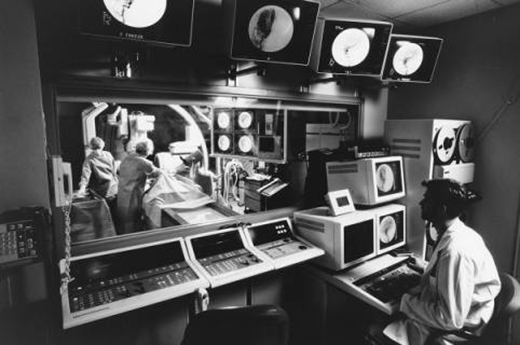 Also in 1989, The Meadows Foundation of Dallas awarded UT Southwestern $1.5 million to complete funding for construction of an advanced inpatient imaging center. The Algur H. Meadows Diagnostic Imaging Center, adjacent to the Charles C. Sprague Clinical Science Building, served patients at both Zale Lipshy and Parkland hospitals. The university and its hospitals, as well as Parkland, shared additional funding or in-kind resources for the center.
At its opening, university president Kern Wildenthal commented on the center's importance for the hospitals' patients.
"The shared Meadows Diagnostic Imaging Center will make the most advanced diagnostic MRI technology available to all patients — those at Parkland as well as those referred to UT Southwestern from all over the world," he said. "Given the demands on Parkland's tax-supported budget, it is clear that the center's advanced instruments would not otherwise be available for the benefit of Parkland's patients. Moreover the small size of University Hospital would not justify the purchase of these instruments for those patients alone. Thus, a shared facility is essential to bring the best technology to the benefit of the patients from both institutions."
The building contained four bays for housing MRI units. Additional space was devoted to viewing rooms, classrooms, patient exam rooms and administrative areas. Initially two devices were installed at the center — including a fast-speed cardiac MRI unit. A magnet for the center (to measure metabolic processes as well as images of anatomical structures) was purchased as part of an imaging equipment package that included a computerized axial tomography scanner, a gastroenterology X-ray suite, an ultrasound suite, and the Zale Lipshy neuroangiography suite.
In 1992, the medical center acquired an MRI device equipped with high-performance coils that enabled images to be made 10 to 20 times faster than conventional MRI machines. UT Southwestern radiologists had partnered with the device's manufacturer to explore potential clinical applications. Patient testing was conducted at Meadows. Additionally, engineers at The University of Texas at Arlington began a collaboration to develop computer software and hardware for compiling the device's high-speed signals into images.
The following year, the Department of Radiology marked 10 years since the first MRI scan was performed at Record Crossing. "In only a decade we saw a technology existing in a few places become a routine part of medical care across the country," Dr. Peshock said. More than 15,000 people had been imaged at the Rogers Center since it opened in 1990.
Ultrasound Starts Gaining Ground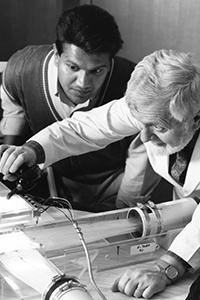 Ultrasound was also making waves. Peter Antich developed a scanning device to measure bone strength and elasticity. Based on ultrasound, the scanner gave further evidence of the therapeutic value of slow-release sodium fluoride with calcium citrate — an osteoporosis drug developed by Charles Pak, M.D., chief of mineral metabolism. Before Dr. Antich's device, assessment of bone strength could only be achieved by applying force to determine how much damage occurred.
"The most important aspect of osteoporosis treatment is to provide sufficient bone strength, not merely to increase mineral density," Dr. Antich explained. "We want to know how resilient or elastic the new bone is, how well it is mineralized and how strongly it is bound in several directions. Since some bone is connected better structurally than other we want to know whether the bone being formed is just more weak bone or strong, good bone"
The vibration of the ultrasound signal was used to "stress" the bone, allowing its elastic properties to be measured as sound waves bounced off fibrous structures. The elasticity was then depicted as a line graph on a video screen. The research was conducted at the General Clinical Research Center, which was funded by the National Institutes of Health.
Dr. Antich also led a collaborative effort to produce a new tomographic imaging device developed by UT Southwestern and University of Dallas researchers. The device performed two types of functional nuclear imaging: Single-photon emission computed tomography (SPECT) and positron emission tomography (PET). Both could be used in different ways to enhance scientists' understanding of diseases.
"Not only is the resolution better, but this new technology uses isotopes that are not only less costly and more readily available, but also permit a greater range of applications," Dr. Parkey said in a Center Times article.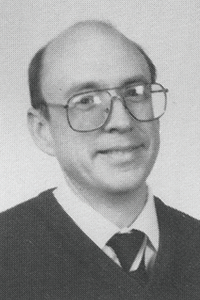 In addition to Dr. Antich, the collaboration involved Dr. Parkey and Jon Anderson, Ph.D., a professor of radiology and chief of Medical Physics at the time of this writing.
As a UT Southwestern resident, Dana Mathews wrote a paper describing SPECT scanning as an integral part of any temporary arterial occlusion study. The Journal of Nuclear Medicine published the paper, and Mathews, a professor of radiology at the time of this writing, vividly recalled presenting the study at the Society of Nuclear Medicine and Molecular Imaging.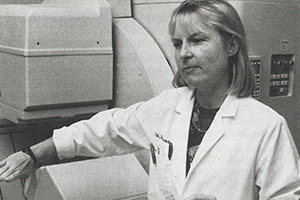 "Dr. Bonte had the idea for a research paper and I jumped on it," she said. "I had to physically get all the films out of storage at Zale and for a long time there were big piles of scans on my desk at Parkland. The paper got accepted and I was invited to give the first presentation of the day at the annual meeting. Two days before the talk I came down with some sort of flu. I was on the airplane, wrapped in a blanket with a fever. I kept thinking to myself, 'I have to do this. Dr. Bonte is going to kill me if I can't stand up.' Of course he wouldn't, I was just being silly. Luckily the fever went away, but I was so wiped I wasn't nervous about presenting at all. I was just thrilled to have made it."
Using Imaging to Understand Brain Blood Flow
Dr. Bonte, then director of the Nuclear Medicine Center at UT Southwestern, was also using SPECT as a possible tool for diagnosing Alzheimer's disease. At the time, only biopsies or autopsies of patients' brains were accepted as confirmation of the disease. In a study presented at the Radiological Society of North America's 78th scientific assembly, Bonte and his colleagues revealed brain blood flow imaging correlated almost 100 percent with autopsy verification of the illness. Plans were underway to work with other institutions to study more patients faster.
In a medical center press release, Dr. Bonte stressed it was the technique, not the machine, that mattered.
"Even primitive equipment in a small hospital can show abnormal brain blood flow patterns if the physicians know how to interpret them," he said.
Two years earlier, Dr. Bonte became the inaugural holder of the Effie and Wofford Cain Distinguished Chair in Diagnostic Imaging. The Cain Distinguished Chair had also been established to advance UT Southwestern's pioneering work in diagnostic imaging.
In 1994, Dr. Bonte also became first holder of the Dr. Jack Krohmer Professorship in Radiation Physics, which was created by Bob and Lola Sanford. Dr. Bonte began working with Bob Sanford, who was an employee of the Gilbert X-Ray Co., when he became chair of the radiology department in 1956.
"The Sanfords were always friends of the department when the department needed friends," Dr. Bonte said. "Long before Bob was president of Gilbert X-Ray, he was encouraging the company to support UT Southwestern. He's the one who persuaded Mr. Gilbert to establish fellowships for graduate students in the radiological sciences."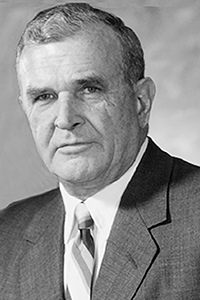 Dr. Krohmer had been one of Bonte's first recruits to the fledgling radiology department and was its first post-doctoral researcher. After leaving the medical center in 1963, he became chief of physics at the Roswell Park Cancer Institute in Buffalo, New York.
Dr. Krohmer eventually joined Wayne State University in Detroit as a professor of radiology and radiation oncology and as director of its radiation physics programs. He started a graduate program at the school in medical physics, which today is the largest of its kind in the nation. In 1981, he was elected to the American Board of Radiology, the first non-physician to be a trustee of any certification board sponsored by the American Board of Medical Specialties.
The Sanfords also established the Dr. Fred Bonte Professorship in Radiology to honor Bonte. Helen Redman, was its first holder.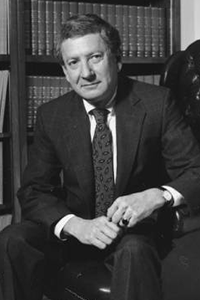 "We wanted to put something to work that will be there forever," Mr. Sanford said in a news release. "It's the best investment we could make in the future."
Mr. Sanford and other medical center supporters had good reason to believe in their investments. Prior to the Sanfords' gift, Alfred Gilman, M.D., Ph.D., then chairman of pharmacology at UT Southwestern, won the 1994 Nobel Prize in Physiology or Medicine for his discovery of G-proteins, a key determinant of how cells receive and communicate signals and respond to external stimuli.
"Southwestern has come to the point it has because of the efforts of a lot of people," Mr. Sanford later reflected. "Big things grow from small beginnings. It's been a part of my life, and I'm grateful to have been a part of it. There's something happening there to be winning Nobel prizes and those people are willing to stay when other schools would like to lure them away. We've got a good brand of medicine in Texas, and we want to see it continue."