Innovations and Expansion
By the mid-1970s, friends and former residents began contributing funds to a project that would serve as a token of their esteem for their former radiology department chair. On June 25, 1976 the Frederick J. Bonte, M.D., Library officially opened on the ground floor of Parkland hospital. It included a complete radiological reference library, a learning file and a student study area. The learning file consisted of 1,200 cases containing 3,600 full-size reproductions of original radiographs that made up an instructional system for basic education in the interpretive aspects of the radiological examination.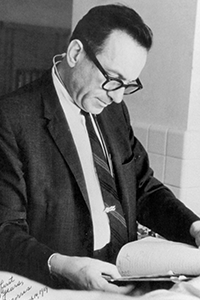 In November of the same year, Robert Berk wrote a letter to Morris Ziff, M.D., then chair of the promotions and tenure committee, in which he commented on the mentor relationship between Drs. Bonte and Robert Parkey, while also acknowledging that Dr. Parkey's talents should be recognized with promotion to full professor.
"Dr. Parkey is chief of nuclear medicine, a position he has held since Dr. Bonte left the Radiology Department to become Dean," Dr. Berk wrote. "In fact, Dr. Bonte wisely recognized Dr. Parkey's genius while Dr. Parkey was a resident and, in the Seldin tradition, he carefully nurtured Dr. Parkey's early academic career. Dr. Parkey has proved himself to be an able administrator, having created an efficient and respected nuclear medicine service."
"With remarkably little support from the administration of Parkland hospital in terms of space and equipment, Dr. Parkey has built one of the busiest nuclear medicine departments in the country and under his guidance the service continues to burgeon. This is testimony to Dr. Parkey's ability to attract and to keep excellent technicians, residents and fellows and evidence of his remarkable personal charm used in negotiating for equipment and grants from a number of outside sources."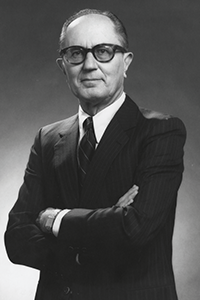 Dr. Donald Seldin, to whom Dr. Berk referred in his letter, was the acclaimed chair of UT Southwestern's Department of Internal Medicine. He was known for his ability to recruit distinguished physicians and researchers, and guide the development of the brightest of his own students into brilliant faculty. The comparison was fitting, as Parkey would later prove.
During his brief tenure as radiology chair, Dr. Berk reorganized diagnostic radiology, encouraging senior faculty to focus primarily on their particular interests. Then, three years after his arrival in Dallas, he received an offer to return to his beloved southern California, as chair of the University of California–San Diego's radiology department.
"The faculty was excellent and it was wonderful to work with them all," said Dr. Berk, reflecting on his time at UT Southwestern. "One person I remember in particular is Edward Christensen. He was such a nice person and a big help to reorganize the department. He was also a superb radiologist, one of the best I've ever known."
Dr. Parkey assumed the role of acting chair in June and a search committee was formed to find Dr. Berk's replacement. James Willerson led the recruitment effort.
Robert Parkey Becomes the Third Department Chair
"The committee interviewed me, but I wanted to do research," Dr. Parkey said. "They then recruited a fellow from Michigan, but wouldn't give him the money to fix all the holes in the department. As acting chair, I knew what the holes were, so when they came back to me I negotiated and took 24 hours to consider. I realized it would be crazy not to take it."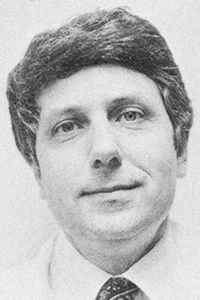 In August 1977, Dr. Parkey became the third chair of the Department of Radiology. He was not yet 40 years old.
"The committee feels that Dr. Parkey is one of the most exciting and capable young men in the field of radiology and that he will provide the necessary leadership and direction for the radiology department," said Dr. Willerson in an appointment announcement. "And while maintaining the extremely talented teaching and diagnostic reputation that exists at present, we believe that Dr. Parkey will further stimulate research efforts, not only in his specialty but broadly."
Less than then three months later, Dr. Parkey and Willerson discovered "dynamic blood pool imaging," a technique involving injection of a chemical compound that tagged red blood cells with a small amount of radioactivity as they circulated throughout the bloodstream. With the bloodstream illuminated, scientists could look through a patient's chest wall with a radiation sensing gamma camera and see the chambers of the heart pumping blood. The test demonstrated the functionality of the normal and diseased heart and was useful for determining the impact of a heart attack on the heart's performance.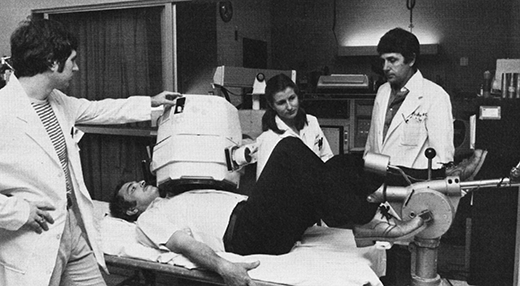 The gamma camera was connected to a computer, which processed the images and produced a "moving picture" of the heart beating that could be displayed on a television monitor. A videotape machine provided "instant replays," like those seen on televised football games. The computerized system made it possible to analyze the movements of heart walls in great detail and to measure the volume of blood pumped by the heart with each beat.
"We can see if a section of the heart wall is not working correctly, and we can tell if the heart isn't pumping the amount of blood that it should," Dr. Parkey said at the time in a UT Southwestern press release.
In contrast to cardiac catheterization, a relatively complicated, invasive and expensive procedure, dynamic blood pool imaging proved to be fast, accurate and safe. Another advantage was the radioactive label remained in the bloodstream for several hours, allowing for additional physiological analyses, such as exercise stress tests and assessments of the effectiveness of various drugs.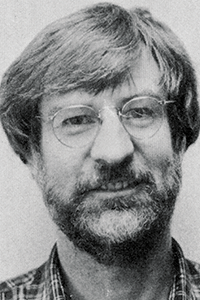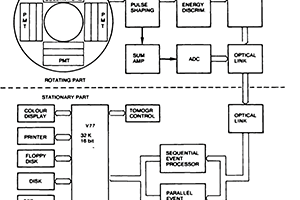 Also in 1977, while serving as a visiting adjunct professor at the University of Copenhagen in Denmark, Ernest Stokely became lead designer for a computer-based dynamic scintillation tomograph that measured brain blood flow.
"Measuring blood flow to the brain in cross section had never been done before," Dr. Stokely recalled. "We built a prototype machine that produced three cross-sectional images of blood flow in the brain. The tracer used was radioactive Xenon gas. It created exciting images, and Dr. Bonte was instrumental in getting one of these instruments into the radiology department at Southwestern."
For the Dallas Veterans Administration hospital, Parkey selected UT Southwestern classmate Ann Parker, M.D., as its new chief in 1978. They worked diligently to upgrade radiology services at the VA, and Dr. Parkey credited Parker for "helping turn things around" during her years on the job.
The field of nuclear cardiology was in a period of rapid expansion. But the mere mention of "nuclear" made people nervous. In March 1979, a partial nuclear meltdown occurred at Three Mile Island, a nuclear reactor facility in Dauphin County, Pennsylvania. At the time, it was the worst commercial nuclear power plant accident in the U.S., prompting calls for the closure of disposal sites for low-level radioactive waste.
"I can understand the concern over burial of fuel rods from a reactor, a high-grade hazard," said Dr. Bonte in a UT Southwestern press release. "I can understand concern of disposal of waste from a reactor that produces plutonium for weapons. That's highly lethal stuff. But in nuclear medicine we're not talking about a radiation hazard or a biologically devastating material. We're talking about mildly radioactive refuse from research and everyday medical practice. And if there is no way of disposing of this material, research and medical management will be seriously impaired and for no good reason."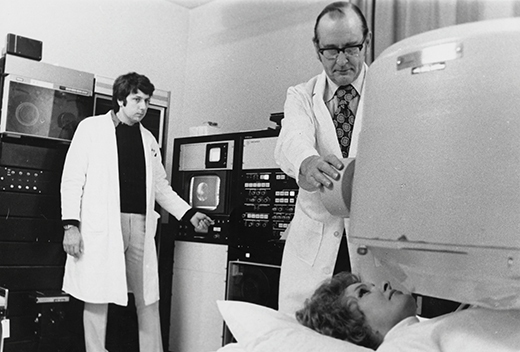 At the time disposal sites in Nevada and Washington had been shuttered by their governors because of perceived threats to humans and the environment, leaving only South Carolina as the single disposal site for all low-level waste. All three sites had once again opened, but were subject to closure at the time of Dr. Bonte's comments.
"The disposal sites must remain in operation," Dr. Bonte argued. "If medicine is to move ahead or even stay where it is. These diagnostic techniques are too important in everyday health care to be lost in the shuffle and scare over imagined dangers."
Mary Esther Gaulden's Research Improves Patient Safety
The department's nuclear medicine section was not the only one in the headlines. Starting in the 1970s, Parkland led the nation in performing abdominal X-rays on a regular basis. Under the guidance of Christensen and Mary Esther Gaulden, protocols were put in place to prevent damage to unborn babies. Specifically, abdominal X-rays were postponed if female patients were beyond the first 10 days after onset of their last menstrual cycles.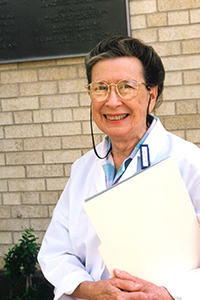 Dr. Gaulden had conducted her own research supporting why such protocols were necessary.
"I feel too many women are receiving postponable X-rays at a very early and especially vulnerable stage of embryonic development — the first six weeks — generally way before the person realizes she is pregnant," she said in a 1977 UT Southwestern press release. "We found that 5 percent of 2,000 women whose X-rays we delayed at Parkland were, in fact, pregnant. We know that diagnostic X-rays to the child at any time during pregnancy increases by a small amount the chances of leukemia and other types of tumors after birth."
Dr. Gaulden, who then held the Emma Freeman Professorship of Radiology at UT Southwestern, emphasized she was referring only to abdominal X-rays — not those involving chest, dental or other locations. She also noted that there were certain emergency situations in which the need for X-rays outweighed the risks to the developing fetus.
Dr. Gaulden issued a warning to the National Bureau of Radiological Health, which was tasked with alerting women to the possible dangers of radiation in early pregnancy so patients could inform their physicians when such a possibility existed. Her work led to Parkland's protocols being adopted nationwide and the use of lead aprons as a standard for women in diagnostic radiology.
Dr. Gaulden also had an influence on women medical students, residents, faculty and staff at UT Southwestern.
"She was a big supporter of women in science," Dr. Bonte said. "There hadn't been much leadership for women at Southwestern, and then, suddenly, there's Mary Esther. She was leader of this crop of women employees, some of them in secretarial positions, others graduate students, and others among the few female faculty members. When I came to Southwestern, there had only been one female faculty member, pediatric cardiologist Gladys Fashena. It was tough for women to get the recognition they deserved. However, Mary Esther began to plume for women to be recognized around the medical center and she ran finally into people who would listen to her."
In 1978, the Women's Action Group awarded Dr. Gaulden its outstanding achievement award for her service to UT Southwestern. In a campus story about the honor, Suzanne Ahn, M.D., noted that Gaulden provided moral support and guidance for many issues concerning women and had the respect of her department, others on campus and the community.
Jack Reynolds Recognized as 'A Gifted Teacher'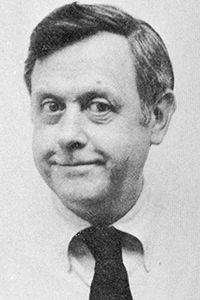 In addition to Dr. Gaulden, Jack Reynolds also continued making a lasting impression on future generations of physicians.
In May 1976, the Minnie Stevens Piper Foundation, a nonprofit charitable corporation based in San Antonio, named Reynolds one of the state's 10 outstanding teachers. The foundation cited Reynolds for his scientific and scholarly achievements, and for his dedication to the teaching profession, naming him a Piper Professor.
"Of the members of our faculty, I can think of no one more deserving of this recognition," Dr. Charles Sprague said in a press release. "The medical students perceive Dr. Reynolds as both a gifted teacher and a warm, personal friend. Although it is difficult to document or quantitate this aspect of his teaching efforts, it is surely a major contribution to the success of our medical school."
At Parkland hospital, its School of Radiologic Technology (which closed in 1996) was educating technologists to assist radiologists with performing diagnostic imaging and administer radiation therapy treatments. Judy Cooper, Ph.D., a 1975 graduate of the program who served as director of ambulatory imaging at the time of this publication, had been unsure of the direction she wanted her life to take. At the suggestion of her sister's husband, she applied to the school to become a technologist.
"After graduating I immediately began working at Parkland," she said. "It was a real eye opener; I hadn't realized how involved radiology was in every aspect of medicine and don't think there's a disease that imaging doesn't touch. Back then the technologist did everything, even mammography, with Kodak printers."
Two years later, Dr. Bonte recruited cardiologist Charles Mullins, M.D., to act as a liaison between the medical center and Parkland hospital. He would become chief executive officer of Parkland from 1979 to 1981, before leaving to serve as Executive Vice Chancellor for Health Affairs of The University of Texas System.
Dr. Sprague called Dr. Mullins appointment, "an important step in trying to create the optimal interaction between the medical school and the hospital district."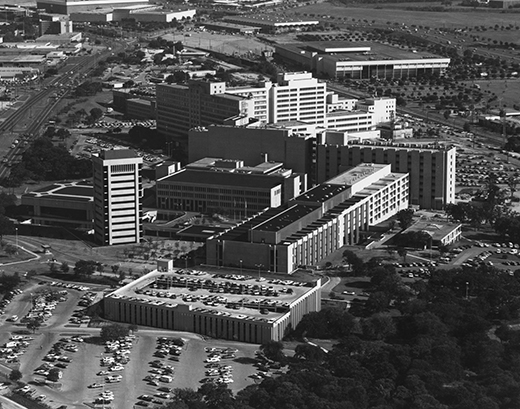 But Parkland was facing immeasurable challenges. In the late 1970s, the hospital was described as "physically falling apart." A 1978 patient care committee reported serious deficiencies, including code violations, outdated technology and inadequate staffing and funding in 77 areas. Recommendations to address the shortfalls were ignored until longtime Dallas civic leader Ralph Rogers became chair of the Dallas County Hospital District Board of Managers.
Not only would Mr. Rogers lead the campaign that resulted in an $80 million bond package for Parkland's renovation, he made possible a center to house one of the radiology department's greatest (and largest) advancements during the 1980s: magnetic resonance imaging.