Groundbreakers, Growth, and Grasshoppers
With its new identity, the Southwestern Medical School of the University of Texas made steady progress. In 1952, Donald Seldin, M.D., was appointed chairman of the Department of Internal Medicine, beginning a long and distinguished career as one of the institution's builders and guiding forces.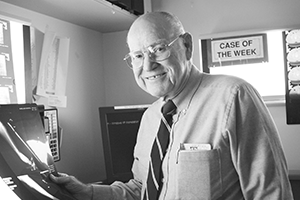 Lee Radford, M.D., an assistant professor of radiology at the time of this publication, graduated from the medical school in 1956. He attended classes in the barracks and saw patients at old Parkland Memorial Hospital on Maple Avenue.
"Southwestern was and is a very fine place to train," Dr. Radford said. Calling Dr. Seldin "a brilliant man," he recalled the time, as a medical student, when Seldin asked him a question during a conference. "I gave him what I thought was the correct answer, and he said, 'Radford where did you get that?' I told him I'd gotten the answer out of Harrison's Principles of Internal Medicine. He said, 'Oh, Radford, you got to get out of that and get into the literature.' My junior year he instituted the first written quiz for internal medicine, which was made up by all the sub-specialists of internal medicine. It was a booger bear, but we got through it."
The new Parkland hospital on Harry Hines Boulevard opened its doors in 1956 and became the medical school's primary teaching facility. Medical care was also provided at the Bradford Memorial Hospital, Richmond Freeman Memorial Clinic, and Children's Hospital of Texas.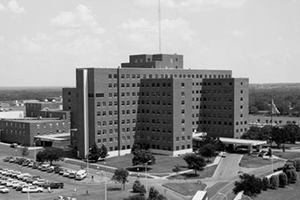 Additionally, an affiliation with the Dallas Veterans Administration hospitals was developed during the 1950s, providing important additional sites for medical education, research, and clinical care.
In 1954, the medical school's name was changed to The University of Texas Southwestern Medical School. The first building on the new campus, Basic Science Hall, was dedicated in 1955. It was later renamed Edward H. Cary Basic Science Hall, and was followed by the Hoblitzelle Clinical Science Building. The deteriorating "shacks" were finally vacated in 1958.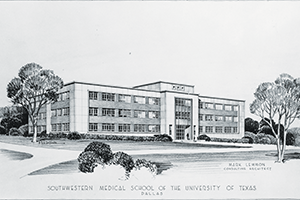 But while the medical school flourished, the radiology division experienced some growing pains. Since 1943, radiology had been a division of the Department of Surgery. At the medical school, under Dr. Charles Martin, the radiology faculty was made up of clinical radiologists from the Dallas-Fort Worth area. However, radiologists practicing at Parkland hospital were employees of the Department of Surgery.
After Dr. Jarrell Miller left in 1949, the surgery department hired Ralph Clayton, M.D., to become director of radiology at Parkland hospital and join the faculty at UT Southwestern. He was to work with John Wilson, M.D., also a faculty member. By several accounts, however, the two did not get along. Dr. Clayton ultimately fired Dr. Wilson, but Dr. Wilson refused to accept the decision.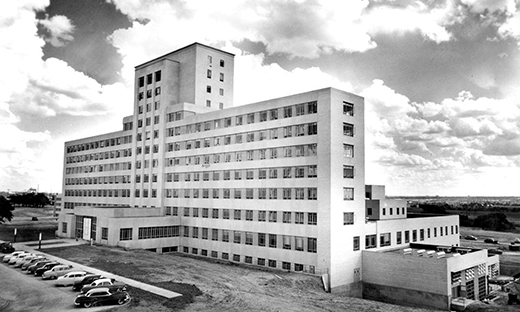 Dr. Martin supported Dr. Clayton, which upset Dr. Wilson and his older brother, Ben Wilson, M.D., who happened to be chair of surgery at UT Southwestern. The brothers approached Lee Hudson, M.D., chief of surgery at Parkland and chair of the hospital's board.
In his essay for the book Selected Recollections of The University of Texas Southwestern Medical School, James Robinson, M.D., wrote, "Charles Martin supported Clayton, which produced a battle royal with legal action. The result was devastating to the school, for sides were taken by sundry and all. Wilson was defrocked and left for Johnstown, Pennsylvania. Clayton also left. Hudson, as a member of the Parkland Board, fired Martin."
A Division Becomes a Department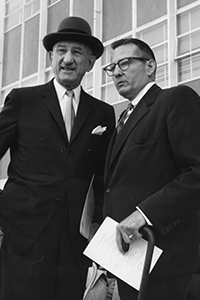 As the situation escalated politically and legally, two deans of the medical school, George Aagaard, M.D., (dean from 1952 to 1954) and Atticus J. Gill, M.D., (dean in 1951, and again from 1954 to 1967), intervened. It was determined that a radiology department should be created. But because many of those embroiled in conflict had left the medical center, as well as nearly every resident, it was left to Dr. Miller, now at Baylor Medical Center in Dallas, and his colleagues to step in and temporarily handle care and teaching. The arrangement could not last.
After conducting a nationwide search, Dr. Gill reached out to Frederick J. Bonte, M.D., to determine his interest in becoming chair of the radiology department. At the time of his recruitment, Bonte was chief of radiation therapy and nuclear medicine at Case Western Reserve University School of Medicine in Cleveland, Ohio.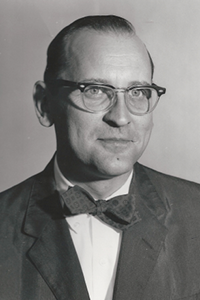 "Don't look at the buildings," advised Jack Pritchard, M.D. "Talk to the people." Pritchard and Bonte had been classmates at Case Western, and because Pritchard was now UT Southwestern Medical School's chair of obstetrics and gynecology, he was the first person Dr. Bonte called when approached about the position.
"August was when I had my interview," Dr. Bonte recalled. "I knew from my Army days that Texas could be hot, but I still came down wearing my only black suit, made of flannel, and, embarrassingly, nylon underwear. Unfortunately my host, Dr. Don Seldin, did not have air-conditioning in his car. It was joked that if I could visit every professor in the medical school, a whole lot of people in Dallas and Fort Worth, and survive it all in heated flannel and nylon, then I could stand anything."
On July 1, 1956, Dr. Bonte became the Department of Radiology's first chair.
During his inaugural year, he was often a one-man show. Dr. Bonte did all the diagnostic radiology and radiotherapy with the assistance of only one third-year resident. Dr. Martin assisted, having been reinstated as a clinical professor, as did other radiologists in the community.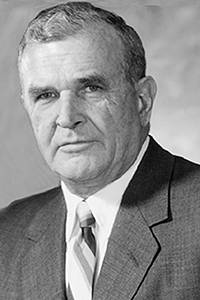 "He was a tough old bird and we became very good friends," said Dr. Bonte of Dr. Martin. "When I moved to Texas, he invited me to visit his home. He had all his radium cases documented on colored slides, a whole wall. We'd go through them, case by case. He had more radium experience than anybody else in the world. And he was marvelous at explaining why he did what he did. He could show film of someone suffering from tumors on the tongue and neck and how they'd been treated to become a nice-looking individual singing tenor in the choir. He was a remarkable guy."
In time, Dr. Bonte persuaded Jack Krohmer, a physicist in the Western Reserve University Atomic Energy Medical Research Project, to complete his doctorate at UT Southwestern and become a professor of radiology in physics.
Together, Dr. Krohmer and Dr. Bonte founded the nuclear medicine division within radiology and established one of the first laboratories for nuclear medicine in the southwest. Using parts ordered from catalogs, they built a radioisotope scanner, the first such device at the medical school.
Jack Reynolds Begins Teaching 'As Nobody Else Could'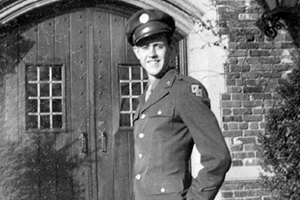 "One day my secretary told me a young man from New York City had arrived looking for work," Dr. Bonte said. "In walks this bright looking kid who told me he'd been born in Houston, but had grown up in New Jersey after his parent relocated the family when he was six months old. He said he'd been too young to oppose the move, but he'd been trying to get back to Texas ever since. Hiring him was the smartest thing I did in my 17 years as department chair."
"Jack Reynolds was a superb diagnostic radiologist who could also teach the specialty as nobody else could."
Dr. Reynolds became chief of diagnostic radiology. Together, he and Dr. Bonte revolutionized how radiology was taught throughout medical students' four years of classes. During their first year, students learned how to read normal X-ray films. Sophomores then viewed more exotic or abnormal images, learning to identify disease. Third-year students confronted "mystery cases," which also was an elective course for seniors. The senior elective became so popular students simply dubbed it "Jack Reynolds."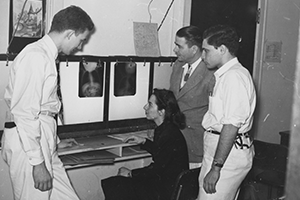 The same year Dr. Reynolds was hired, the medical school received a cineangiocardiograph — the first X-ray machine in the U.S. capable of capturing simultaneous front and side views of a beating human heart. The device captured images from two fluoroscopic screens at the rate of 60 frames per second. Although it was located on Parkland hospital's ground floor, the machine belonged to the medical school.
"When I was considering the job at Southwestern, the cardiologist Dr. Carleton Chapman called to say he was working on getting a cineangiocardiograph. He needed a place to house it and we made a deal he could use space in Radiology if we got 50 percent interest in using the machine," Dr. Bonte said.
Dr. Bonte and Dr. Reynolds, along with Carleton Chapman, M.D., and Orland Baker, M.D., used a biplane cinefluorography technique to discover a method for measuring the heart's ventricular volume. It permitted construction of volume curves and estimation of stroke volume of the left ventricle for several successive contractions in both animals and humans.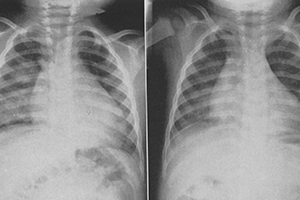 The cineangiocardiograph also demonstrated the threat of hydrocarbon pneumonitis. Households unable to afford electricity often relied on kerosene as a source of light and heat. Unfortunately, drinking or breathing the substance was poisoning young children. Using the cineangiocardiograph, Dr. Bonte and Reynolds took images of canines that had kerosene injected into their bronchial tubes. Their results, when compared to X-rays of children who'd been brought in due to suspected poisoning, confirmed kerosene as the culprit.
"It encouraged philanthropists to get involved and provide electricity to those in poverty, thus eliminating the kerosene threat," Dr. Bonte recalled.
Construction Begins on St. Paul Hospital
In 1958, the Southwestern Medical Foundation began a building campaign for St. Paul Hospital. Groundbreaking took place in 1959, with the first patients being admitted on December 22, 1963. The following year, the medical school had 100 full-time faculty members, 400 students, and more than 100 clinical residents.

Additionally, with the help of Frank Harrison, M.D., associate dean of the graduate school, a graduate program in radiation biology was founded, with Dr. Krohmer as its director. At the time, it was the only such program in the Southwest, and it launched the department's reputation as a first-class academic unit.
Among the distinguished students who graduated from the department during the 1960s was William Hendee, Ph.D. He had gone to Tulane University in New Orleans on a football scholarship, but his real passion was physics. After his coach wouldn't allow him to play football and take required physics courses, Hendee left Tulane to attend Millsaps College. From there he went to Vanderbilt University in Nashville, Tennessee, for an atomic energy commission fellowship. Shortly afterwards, he and his wife were expecting a child.
"I was making $2,500 a year on my fellowship," Dr. Hendee said. "Not enough to support a wife and a child, and she would not be able to continue work as an elementary school teacher because back then women could not teach in public schools once they began to show they were pregnant. Serendipitously, as part of my fellowship, I attended a meeting of the Health Physics Society in Boston. It was there I came across an advertisement for a fellowship in medical physics that paid $6,000 a year. Back in those times, that was an amazingly generous fellowship."
Unbeknownst to Hendee, Dr. Krohmer was behind the notice. Thanks to generous support from the Gilbert X-Ray Co., and its representative, Robert Sanford, Dr. Krohmer had been able to post the lucrative offer for the radiology department's first graduate student.
"Going to Dallas was a wonderful experience," Dr. Hendee said. "At that time I was the only graduate student, which was a privilege. I got to work closely in the laboratory with Jack [Krohmer] and Fred Bonte."
"They were instrumental in my career," Dr. Hendee said. "Especially Jack, who became a lifelong mentor and friend.
"Jack was a great teacher and I learned so much about teaching from him," Hendee continued. "He could really teach a class of students, have them interested, and get them involved with asking questions. And it wasn't just lecturing; I learned things from him that have served me well my entire career. He was one of the great presences in my life."
Dr. Hendee graduated in 1962, receiving a doctorate in medical physics, and went on to enjoy an illustrious career, which included becoming professor and chair of radiology at the University of Colorado. At the time, Dr. Hendee was the only physicist known to have chaired a radiology department in North America.
The same year Dr. Hendee graduated from the medical school, Dr. Bonte was awarded a general research support grant from the National Institutes of Health (NIH). Throughout the decade, he began winning grant support from not only from the NIH, but also from private granting agencies. Dr. Bonte recalled one of the first NIH training grants given in radiology was awarded to the department in recognition of its productive research environment. It was around this time the nuclear medicine division pioneered placing nuclear test data on magnetic tape, and took a role in developing a series of widely copied nuclear medical tests for detecting heart disease.
A Dark Day in Dallas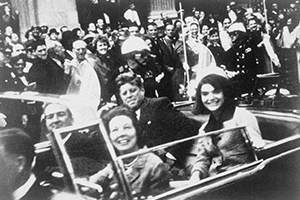 On November 22, 1963, Dr. Bonte was in the midst of a radium case in an operating room at Parkland hospital when a technician entered and told him President John F. Kennedy had been shot.
"I told him that wasn't very funny, because I knew he was downtown," Dr. Bonte remembered. "The technician said, 'No they shot him.' And sure enough you could start hearing the sirens. Then the technician told me they were bringing him to Parkland."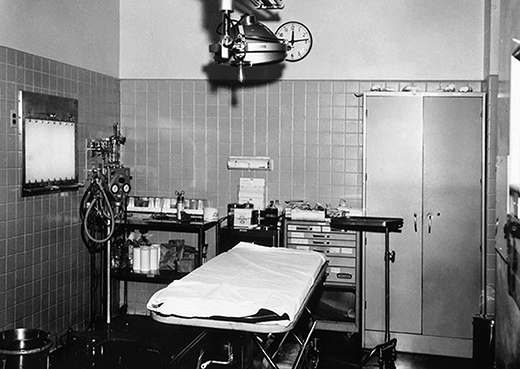 "By the time I finished my case and took the elevator down to the emergency room, the Secret Service and FBI had sealed off the entire facility. Thereafter, the only people from radiology allowed to go back to the hospital's core were myself and the mobile X-ray technician who took films in all the operating rooms."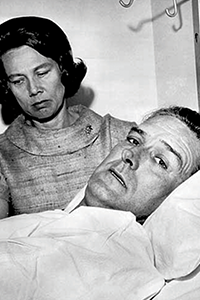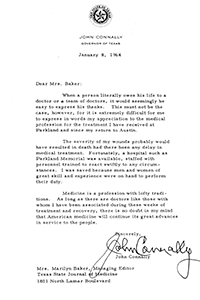 At 1 p.m. that day, Kennedy was declared dead.
After the president's body had been transported to Air Force One, Dr. Bonte was asked to go to the recovery suite where Texas Governor John Connally was recuperating after having been shot in the same motorcade.
"They wanted a chest X-ray, so the technician and I were allowed to touch the governor," Dr. Bonte said.
"We were supervised by two Texas Rangers. The law required they be in constant attendance with one of them on his feet at all times."
"They kept a sharp eye on us while we got film of the governor. The technician and I were asked to come back daily to take X-rays for as long as the governor remained at Parkland."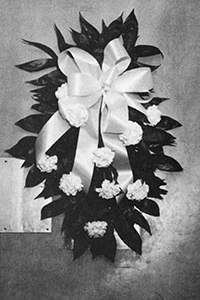 The department's ties to that fateful day did not end with Connally's return to Austin. On November 24, Lee Harvey Oswald, who had been charged with Kennedy's murder, was rushed to Parkland's emergency room after being fatally shot by Dallas nightclub owner Jack Ruby in the basement of police headquarters as he was being transferred to the more secure Dallas County jail.
Throughout Ruby's imprisonment for first-degree murder, he received medical treatment at Parkland, and it was there that he received his cancer diagnosis.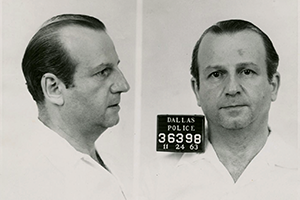 "The films on Ruby were all read by Jack Reynolds," Dr. Bonte said.
"I had one encounter with him. I was walking down the hall and there's a fellow lying on the cart, obviously Jack Ruby, waiting for an X-ray exam. And he has by his pillow this little portable radio, which he's listening to. It's turned on very loud. I went over to say, 'Hello, how are you doing?' and he said, 'Hey doc, you know, that's me they're talking about.' That was our exchange."
A Period of Rapid Growth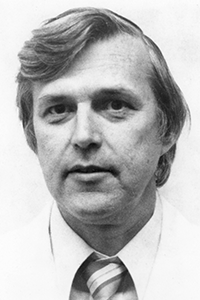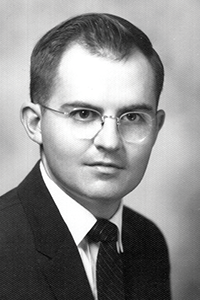 Also in 1963, Dr. Krohmer was recruited to the Roswell Park Memorial Institute in Buffalo, New York. Dr. Bonte hired several faculty members, including Alvin Greenberg, M.D., and Edward Christensen, M.D.
"The Parkland residency program really got its start in 1957, and in succeeding years the resident staff grew, first to a total of six, then to 12, and finally to the ultimate size it was to attain during my tenure as chairman, 18," wrote Dr. Bonte in a personal letter dated June 10, 1982. "Dr. Reynolds and I were fortunate enough to add Dr. Edward Christensen to the staff and within months after his arrival he became the chief of the residency program.
The department began to attain its present-day solidity in both teaching and patient care with the rapid development of young faculty finding in our own resident staff such present-day leaders as Tom and George Curry, Bill Kilman, Geral Dietz."
In 1965, Dr. Reynolds published The Roentgenological Features of Sickle Cell Disease and Related Hemoglobinopathies, a landmark textbook that focused on how X-ray films reveal the effects of sickle cell disease.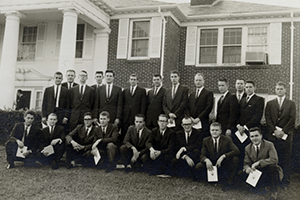 That same year, Dr. Bonte hired Mary Esther Gaulden, Ph.D., who led the radiation biology graduate program. Dr. Gaulden's research focused on the effects of low-dose radiation, using grasshoppers as her experiment model. She went on to serve for 10 years as a member of the National Research Council Committee on Toxicology, which studied the effects of deep space radiation on astronauts.
"I have always been interested in science and scientific research," Dr. Gaulden recalled in a 1975 interview published in The Dallas Morning News. "I had an undergraduate professor — a woman — who took each student and pushed our good points. She told me, 'You can do it, if you want to.'"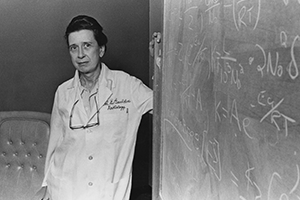 Dr. Gaulden earned a doctorate in biology from the University of Virginia, where she remembered having a male professor who had two daughters.
"He was all for pushing women," she said.
In 1966, she helped found the National Organization for Women.
"She was a lovely person and the first real feminist I ever knew," said Mary Ann Mullican, M.D., an associate assistant professor of radiology, who started her residency at Parkland in 1967. "She was a role model for women who pursued careers in science and medicine. I do remember one story where she became quite irate because Neiman Marcus would not give her a charge card in her own name. They insisted the card be in her husband's name."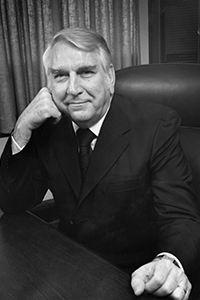 In May 1966, the Board of Regents elected to change the medical school's name to the University of Texas Southwestern Medical School at Dallas.
On July 1, Dr. Bonte celebrated his first 10 years as chair of the department. One year later, Charles Sprague, M.D., became dean of the medical school.
Five years after that, upon the school's reorganization as a comprehensive academic medical center with three distinct schools (medical, graduate biomedical sciences and allied health sciences), Sprague became the institution's first president. Unbeknownst to Dr. Bonte, this reorganization would angle his career in a direction he never envisioned. He would also become involved in one of the medical center's most significant discoveries during the 1970s.