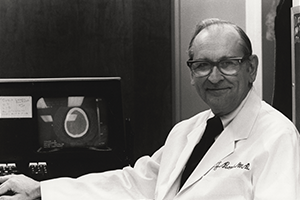 Young Frederick Bonte spent his early years in Reading, Pennsylvania, yet he moved often with his family because his father, a metallurgical engineer, was assigned to various steel plants during the Great Depression. Dr. Bonte graduated from high school in Canton, Ohio, and attended the University of Southern California before receiving a bachelor's of science degree, in 1942, from Western Reserve in Cleveland.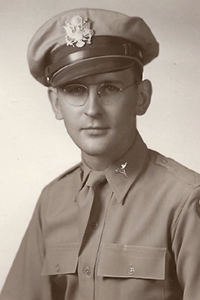 He did not intend to become a radiologist. After enlisting in the Army during World War II and graduating from Western Reserve School of Medicine in 1945, he received his commission as a first lieutenant. Following a civilian internship, he went to Percy Jones Hospital in Battle Creek, Michigan.
"My first day I reported in uniform, as required, and was invited to the executive office of the hospital," Dr. Bonte recalled. "A colonel confirmed my name was Dr. Bonte and matched the paperwork on his desk. He then said, 'You are assigned to the department of radiology.' We shook hands and I never had the opportunity to speak with him again."
Dr. Bonte spent the next three months learning about diagnostic radiology and radiation therapy. He then attended the Army School of Roentgenology at Fort Sam Houston in San Antonio. Dr. Bonte's next assignment took him to the U.S. Army Air Corps and Colorado's Lowry Air Force Base, where he served as a captain and chief of X-ray service. It was there, after a one-day course on the new and mostly unknown field of nuclear medicine, that his legendary career took flight.
Returning to Western in 1948, Dr. Bonte received fellowship training in nuclear medicine in the U.S. Atomic Energy Commission's Atomic Energy Research Project. The project director, former Manhattan Project scientist Hymer L. Friedell, M.D., Ph.D., is widely credited with being a pioneer in the field of nuclear medicine.
Dr. Bonte began a radiology residency program at the school and, afterwards, became a faculty member. He was chief of radiation therapy and nuclear medicine at Western Reserve when Atticus J. Gill, M.D., then dean of The University of Texas Southwestern Medical School, invited him to become chair of its radiology department.
Dr. Bonte accepted Gill's offer in 1956. He also became director of radiology at Parkland Memorial Hospital and chief of radiology service at Children's Medical Center, the Veterans Administration Hospital of Dallas, and Presbyterian Hospital of Dallas — appointments he held until 1973, at which time he was elected dean of the medical school by his fellow department chairs.
"I was convinced that UT Southwestern was the place for me," Dr. Bonte said. "At the time I was a one-man show, but the radiology community rallied around and with good luck I was able to find some extraordinary individuals to help me build the department."

During his 17-year tenure as chair, the Department of Radiology grew from one to 23 faculty members. Graduate degree-conferring programs in radiological physics and radiation biology were established, as was one of the nation's first academic nuclear medicine laboratories. It pioneered the method of placing nuclear test data on magnetic tape and took a leading role in developing a series of widely copied nuclear medical tests for detecting heart disease.
Additionally, Dr. Bonte and his associates received national attention for their innovations in linking computers with isotope scanning to measure blood flow. In 1971, he helped establish the American Board of Nuclear Medicine, serving as the organization's chair and president from 1977 to 1980.
After 1973, Dr. Bonte retained his faculty appointment in the Department of Radiology and continued participating in nuclear medicine research. He discovered a nuclear scanning technique that allowed the viewing and imaging of a heart attack. This method of putting heart attacks "on camera" played an important role in the growing field of nuclear medicine.
As dean, Dr. Bonte was active in national health policy issues involving changes in healthcare services, reimbursements for teaching hospitals, and improving medical care at UT Southwestern's teaching hospitals. One colleague described him as displaying "the wisdom of Solomon" during his tenure. Dr. Bonte was honored when a library at Parkland Memorial Hospital on Harry Hines Boulevard was named for him.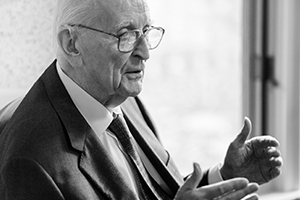 However, he missed working in the clinical and laboratory settings. In 1980, Dr. Bonte relinquished his post as dean to become director of the newly created Nuclear Medicine Center at UT Southwestern. He and his associates began using a single-photon emission computer-assisted tomographic scanner (SPECT), to "see" whether a patient had suffered a stroke by analyzing brain blood flow.
In 2004, this same technique showed SPECT could identify a characteristic sign of Alzheimer's disease and distinguish it from a group of illnesses known as frontotemporal diseases, which make up the second-leading cause of dementia in the elderly.
Dr. Bonte officially retired from UT Southwestern in 2012. Throughout his career he authored numerous publications and was a member of many national committees and organizations. He served as president of the Southwestern Chapter of the Society of Nuclear Medicine from 1964 to 1965 and as president of the Texas Radiological Society from 1974 to 1975. In 1986, Dr. Bonte was honored with the organization's highest honor, the Gold Medal. He also served as president of the Dallas County Medical Society in 1980 and received its Max Cole Leadership award in 1993. Several years later Dr. Bonte was awarded the American College of Nuclear Physicians highest honor, The President's Award. He served 23 years in the Texas Medical Association House of Delegates and represented the Society of Nuclear Medicine as its American Medical Association delegate for many years.
From 1990 to 1994, he held the Effie and Wofford Cain Distinguished Chair in Diagnostic Imaging and, from 1994 to 2012, the Dr. Jack Krohmer Professorship in Radiation Physics. Robert and Lola Sanford, who were major contributors to the Department of Radiology, created the Dr. Fred Bonte Professorship in Radiology in his honor.
Of all his accomplishments, Dr. Bonte says his greatest were the people he surrounded himself with during his time at UT Southwestern.
"I am most proud of our success in attracting some of the most talented and remarkable residents, graduate students and faculty throughout the years," he said.
At the time of the Department of Radiology's 60th anniversary, Dr. Bonte celebrated his 56-year association with the department along with his wife, Cecile, their six children and numerous grandchildren. He died on November 28, 2016, at the age of 94.