Chair's Message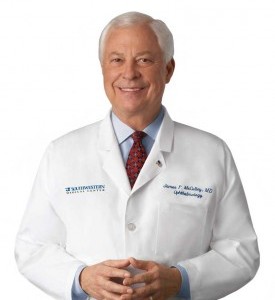 UT Southwestern Medical Center is home to one of the premier centers in the world for the study of ophthalmology and patient care. We are dedicated to improving the treatment of eye disease and preventing blindness.
More than 50,000 patients receive care at our outpatient clinics each year where we offer "one stop" comprehensive, coordinated eye care covering all ophthalmic subspecialties. In this respect, our Department is unique in North Texas, as we work with patients' physicians across all clinical departments at UT Southwestern. Integrated and coordinated care, with one electronic medical record for the patients, facilitates a team approach to improving our patients' health.
We have been at the forefront of groundbreaking advancements in ophthalmology. Our Department is looking forward to the future and to expanding ophthalmic knowledge and its applications.
James P. McCulley, M.D.
Professor and Chair of Ophthalmology
The David Bruton, Jr. Chair in Ophthalmology