Department of Ophthalmology clinical and laboratory scientists continue to contribute to the overall body of ophthalmic knowledge through research and patient-oriented investigation.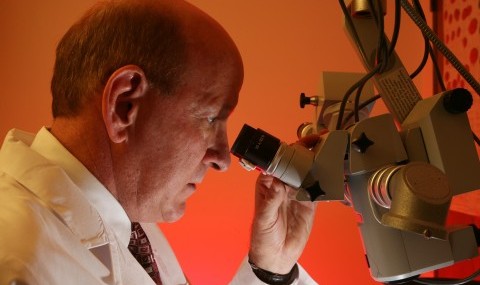 Ongoing Research Projects
Investigating the causes of blepharitis and associated conditions such as dry eye
Using multi-dimensional time-lapse imaging techniques to investigate how the biomechanical behavior of living corneal fibroblasts is regulated by both biochemical and biophysical stimuli
Studying the effects of contact lens wear with special attention to the prevention of infection
Examining wound healing responses to laser refractive surgery
Establishing the cellular and molecular mechanisms that control normal corneal homeostasis
Prevention and treatment of Acanthamoeba corneal infections
Elucidating the molecular signaling pathways regulating corneal epithelial renewal. This involves investigating the role of specific isoforms of the transcription factor ∆Np63 and downstream apoptotic proteins in growth down regulation, differentiation, and surface cell desquamation. This has implications for understanding the impact contact lens wear has on the basic renewal mechanisms of the eye's epithelial surface.
Developing a pathophysiologically-relevant animal model of age-related macular degeneration, in order to study the roles different components of the immune system play in the disease
In mice, inserting or deleting key genes influencing age-related macular degeneration in order to study the etiology and pathophysiology of, and new treatments for, this disease
Providing a gene-based explanation for the exceptionally high success rate of corneal transplants in low-risk patients without donor-typing and matching
Deciphering how angiogenesis is regulated at transcriptional and post-transcriptional levels, to find a therapeutic solution to vascular retinopathy
Developing new technologies to create "stealth" corneal transplants that escape detection by the immune system, and therefore reduce the risk for corneal graft rejection
Exploring the molecular and genetic basis for corneal graft failure caused by allergic diseases. Our researchers were the first to formally demonstrate that individuals with atopic diseases, such as allergic conjunctivitis and asthma, have a greater risk for corneal graft failure than the general population. Department of Ophthalmology scientists will use this information to develop strategies for reversing the risk of corneal graft rejection in atopic patients.
Evaluating the role of unique immune elements called natural killer (NK) cells in controlling the spread of intraocular melanoma to the liver. Other related research focuses on characterizing the various strategies that intraocular melanoma cells employ to disable NK cells and disarm the immune system. Reversing these effects might be a crucial strategy for treating this form of eye cancer.
Developing and evaluating new drugs, devices, and therapies, many of which are available only at UT Southwestern Medical Center. Clinical studies are being conducted for research participants with common diseases such as glaucoma, conjunctivitis, blepharitis, adult macular degeneration, and Graves' disease, among others.