UT Southwestern Chain Gang rides again for national MS society
By Julie Kirchem, Department of Neurology and Neurotherapeutics
DALLAS - March 25, 2011 - The UT Southwestern Chain Gang bike team rides again on the last weekend of April to raise awareness and funding for the National Multiple Sclerosis Society. The Chain Gang includes patients, several neurologists, and other staff from UT Southwestern. The team has participated in the MS 150 Sam's Club Ride since 2004.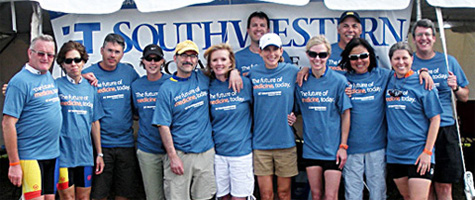 The MS 150 is a two-day fundraising bike ride organized by the National MS Society, South Central Region. This year, riders will bike from Frisco to Fort Worth over two days –April 30 to May 1. In 2010, the event raised more than $2 million for MS.
The driving force behind The Chain Gang is Jeff Chase, a patient at the UT Southwestern MS Clinic, and his wife Christel Chase. They are co-captains and have been involved since the Gang's first ride.
"This ride is not just about having a blast on a bike for two days," Christel said. " It's about fighting the wind, and possible rain for people that wake up each day fearless and look MS in the face and say, 'I am stronger than my disease, it does not define me.'"
Multiple Sclerosis is a complex neurologic illness characterized by its variable and unpredictable nature. It is the most common disabling disease in young adults. Multiple sclerosis affects adults and children. The MS Program at UT Southwestern has a demyelinating disease clinic at Children's Medical Center.
There are many ways to be involved in the event and make a difference in the lives of people who have MS. You can join The Chain Gang, volunteer to help with the event, or donate online. The National MS Society provides money for direct services to people who have MS, as well as education, camps, and research towards finding a cure and better treatments for patients.
"I have been working with people who have MS for almost nine years now, and they give me the inspiration to ride," said Katherine Treadaway , LCSW, UT Southwestern MS Center and member of The Chain Gang.
"Ten years ago I would have never imagined I would be riding 150 miles to beat MS. I am riding for our patients who can't ride themselves, but also for those that are riding beside me."
Read more about the The Chain Gang and the MS150 to learn how to participate. You can also contact Katherine Treadaway at 214-645-0562.