Cerebrovascular disease specialist Ty Shang, M.D., Ph.D., joins department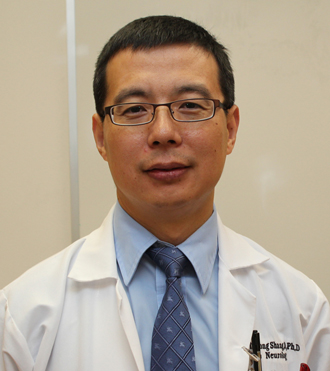 Ty Shang, M.D., Ph.D., has joined the Department of Neurology and Neurotherapeutics' Stroke Program. He recently completed a fellowship in cerebrovascular disease at Jackson Memorial Hospital, University of Miami.
Dr. Shang is a researcher and clinician whose specialties include acute stroke treatment, stroke prevention, and other cerebrovascular diseases.
Dr. Shang was attracted to UT Southwestern's Neurology program because of the research potential and emphasis on therapeutics, as well as UT Southwestern's reputation for excellent patient care and research.
"It is an exciting time to practice neurology, especially in the field of stroke, because neurology is evolving from traditional observing and diagnosis to being more therapeutics-oriented," he said.
Dr. Shang is interested in translational stroke research in the areas of small vessel diseases, moyamoya disease/syndrome, delayed cerebral ischemia in aneurysmal subarachnoid hemorrhage, and cerebral edema in malignant infarct.
"The opportunity to perform clinical or translational research at UT Southwestern to improve stroke patient care is enormous," Dr. Shang said. "I am very happy to be part of it and make my own contributions."
Dr. Shang's training includes earning a Ph.D. in the Neuroscience Program at Medical College of Wisconsin, and completing a postdoctoral fellowship in neuroscience at the National Institutes of Health National Cancer Institute.