Student neurology group provides real-world look at neurology
By Julie Kirchem, Department of Neurology and Neurotherapeutics
DALLAS - April 8, 2011 - UT Southwestern's Student Interest Group in Neurology (SIGN) put together a successful week of student events for Brain Awareness Week held in March. SIGN gives medical students exposure early in their training to clinical and research aspects of the neurosciences that they might not get in the classroom.

"I think the classroom is removed from the broader picture of neurology. We get pieces of it but that picture has a lot of missing stuff as you get through your first year and even your second year," said Philip Edmundson, second-year medical student and SIGN officer.
To fill in the picture, SIGN hosted a variety of events during Brain Awareness Week. Members were able to meet and talk with neurology patients on Patient Day, toured the Advanced Imaging Research Center, and learned about careers in neurology. They also attended a lecture by Department Chair Mark Goldberg, M.D.
Shilpa Chitnis, M.D., Ph.D. and Puneet Gupta, M.D. are SIGN's faculty sponsors. Dr. Gupta was a member of SIGN when he attended UT Southwestern.
"It definitely was an integral part of my education and helped me decide which field in the neurosciences to pursue," Dr. Gupta said. "I was also able to find a mentor and a research project through SIGN."
Edmundson said membership in SIGN is growing every year and he believes it may be because of new therapies being developed for neurological diseases.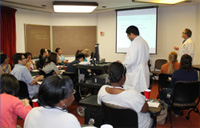 "Previously, neurology has had a bad rap for not being able to take care of a lot of the diseases that are diagnosed, but the pharmacology and the therapeutics are starting to become really competitive, so there are a lot of things we can treat," he said.
SIGN holds monthly meetings and a week-long series of events for Brain Awareness Week, and promotes local academic neurology conferences, charitable events, and neurology talks.
For more information, or if you would like to participate in SIGN as a lecturer or a member, please contact Dr. Puneet Gupta, SIGN faculty advisor.
puneet.gupta@utsouthwestern.edu