Dr. Steven Vernino's expertise in rare disorder gives new hope to former baseball player
By Julie Kirchem, Department of Neurology and Neurotherapeutics
DALLAS - July 12, 2011 - One morning in December of 2009, Ray Peters woke up with two numb toes and pain across his back. But the former professional baseball player was not too concerned because after years of taking the pitcher's mound in the minor leagues and for a brief stint in the majors, Peters had often suffered from back and shoulder pain. Now 63 years old, Peters chalked it up to his baseball years.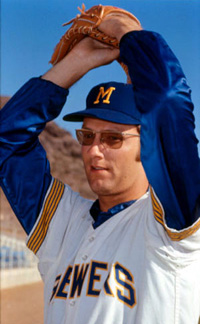 But when the back pain did not subside, he decided to consult a chiropractor near Hot Springs Village, Arkansas where he and his wife Janis had retired. The chiropractor was alarmed when he checked Peters' blood pressure and found it to be abnormally low—the chiropractor advised him to see a physician as soon as possible. That started Peters and his wife on a series of visits to doctors as his condition worsened by the day.
Over the next few weeks, Peters could barely stand because of severe dizziness. Automatic bodily functions started to shut down. He suffered from constipation, bladder problems, nausea and dry mouth. He also lost the ability to sweat.
"I felt if I could just get up and move and walk around a little bit in the house in the afternoon I would have been fine with that," Peters said. "I couldn't stand up, I couldn't get out of bed, couldn't eat, it was very disheartening."
For six months, Peters and his wife searched for answers. He was given medication for his low blood pressure but no one could tell him what was wrong. Finally, he called his college roommate and dear friend for more than 45 years, Dr. Vernon Horn, a cardiologist in Dallas. Dr. Horn recommended that he visit Dr. Benjamin Levine, a cardiologist at UT Southwestern Medical Center and the Institute for Exercise and Environmental Medicine who specializes in autonomic function.
The Peters made the five-hour drive to Dallas to meet with Dr. Levine who quickly recognized the symptoms of autoimmune autonomic ganglionopathy (AAG)—a rare disorder characterized by failure of the autonomic nervous system. AAG is caused by antibodies directed against a specific receptor in the autonomic ganglia. Dr. Levine told Peters to see his colleague, Dr. Steven Vernino, who has studied AAG for the past decade and was instrumental in developing a test for the disease.
Photo: Dave Gresham, UT Southwestern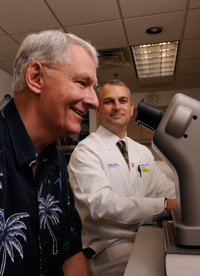 Peters visited the autonomic clinic at UT Southwestern where Dr. Vernino conducted tests of autonomic function. He agreed with Dr. Levine that Peters' symptoms matched those of AAG. A blood test revealed the presence of ganglionic acetylcholine receptor antibodies and confirmed the diagnosis.
"Mr. Peters had a lot of trouble in terms of getting dizzy when he stood up," Dr. Vernino said. "At the same time, he had a lot of other symptoms that were hard to put together affecting his bowel and bladder function, ability to tolerate heat and so on."
Dr. Vernino, who is a professor in the Department of Neurology and Neurotherapeutics at UT Southwestern, studies the mechanisms of autoimmune disorders of the nervous system. He had also been part of a team at the Mayo Clinic that developed the test for AAG.
"When I was at the Mayo Clinic we developed a test to look for antibodies against a particular receptor in the nervous system. When these antibodies bind to that receptor, they block the control signals that need to get to the autonomic nerves. When that happens, the body can't regulate the blood vessels, the heart, the stomach and the sweat glands to have them operate normally," Dr. Vernino said.
After six months of searching, Peters had a diagnosis. Now that he had an answer, a treatment plan was clear. Dr. Vernino prescribed steroids and a drug that suppresses the antibodies. Peters' turnaround was nothing short of remarkable.
In June of 2011, a year after starting treatment, Peters walked into Dr. Vernino's office feeling grateful and lucky. He hopes his story will help others who are suffering with autoimmune autonomic ganglionopathy recognize the symptoms and get the help they need.
"I don't know what happens to most people who are out there who have these symptoms," Peters said. "I truly, truly feel like I am one of the luckiest persons on earth because the symptoms of this disease are very similar to a lot of other diseases. If you don't pinpoint the cause you're going to be just bedridden basically. If I hadn't called my roommate, who just happened to be a colleague of Dr. Levine, who just happened to be a colleague of Dr. Vernino...Let's just say that I am extremely fortunate to be under the care of one of the true experts in the world for this disorder."
Photo: Dave Gresham, UT Southwestern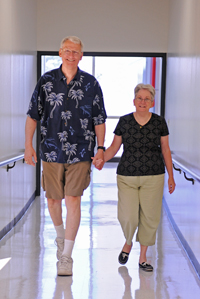 Up until ten years ago, doctors didn't really know about AAG. All they could do was manage symptoms, but patients often had a poor quality of life. Now with the recognition of this disease and a diagnostic antibody test, doctors can pinpoint the disorder and in most cases, get people back up on their feet.
"A year ago, we came here to see Dr. Vernino and my wife had to push me in here with a wheelchair. I basically couldn't stand. I had lost 20 pounds. I was not feeling very well at all," Peters said. "After 12 months, it's been a miraculous recovery and I'm incredibly grateful."
AAG affects people of all ages and both sexes. Research studies on AAG are being conducted by Dr. Vernino and his colleagues. A therapeutic trial in autoimmune autonomic ganglionopathy is being developed by the Autonomic Disorders Consortium.