Parkland Neurology Clinic and National Multiple Sclerosis Society partner to improve patient care
By Julie Kirchem, Department of Neurology and Neurotherapeutics
The Parkland Neurology Clinic was officially recognized as a Neurologic Partner in MS Care with the National Multiple Sclerosis Society (The Society) in a ceremony held at Parkland Hospital on May 22, 2015.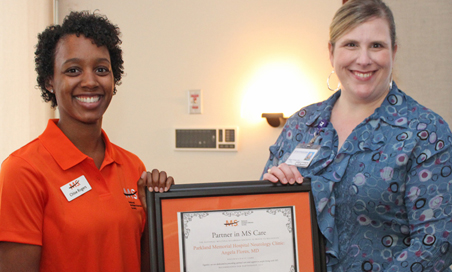 Dr. Angela Flores, Assistant Professor of Neurology and Neurotherapeutics, identified the need for more resources for her multiple sclerosis patients as well as more educational opportunities for residents and other care providers.
"This is sorely overdue for our Parkland patients and I'm very excited about the potential benefits it will have on improving the patient care and clinician training for the Parkland Neurology Clinic," said Dr. Flores.
Dr. Flores trained at Parkland as a resident and fellow and received a fellowship through The Society, so she knows firsthand the need for enhanced patient care.
"Because I trained here, I really have a heart for Parkland patients," she said. "So much has changed in the treatment of MS in the past few years that it's vitally important for all of who provide care to be kept up to date on therapies and research and that's something the National Multiple Sclerosis Society can help us do."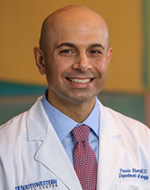 Dr. Pravin Khemani, Assistant Professor of Neurology and Neurotherapeutics and Medical Director of the Parkland Neurology Clinic, facilitated the process of getting the partnership approved. He is also a graduate of the UTSW Neurology Residency Program and trained at Parkland.
"This would not have happened without Dr. Khemani's persistence in ensuring that we had all the pieces in place to make this happen," said Dr. Flores.
Chloe Rogers, Coordinator for Access to Care for The Society's South Central Region, presented a certificate to the clinic marking the beginning of the long-term partnership.
"The alliance between health care professionals within Parkland Hospital's Neurology Clinic and The Society will provide optimal care and support to individuals living with multiple sclerosis," said Rogers.
Specific benefits for patients include:
Care Management - legal assistance, financial and long-term care planning, respite care, medical equipment, employment assistance and transportation, emotional support.
Educational scholarships for children who have MS or whose families are affected by MS.
MS education and up-to-date information on research.
Building a sense of community by participating in Walk MS, Bike MS, advocacy, volunteerism, philanthropy, MS camps and recreational programs.
Just as important will be the educational opportunities and resources that The Society can provide to neurologists, residents, nursing staff, physical therapists, occupational therapists, speech language therapists, and mental health specialists. Opportunities include webinars, CME activities, impact grants, MS Flash Drives, MS App, and a Professional Resource Center.
The first order of business for the new partnership will be to identify metrics and patient-centered outcomes for the MS clinic at Parkland and start to meet the educational needs of trainees and clinic staff.