Parkland Memorial Hospital recognized for stroke care
By Julie Kirchem, Department of Neurology and Neurotherapeutics
DALLAS - Dec. 6, 2010 - Parkland Memorial Hospital has earned recognition from the American Heart Association/American Stroke Association for the high level of care that Parkland doctors, nurses, and residents give to stroke patients.
The hospital received the Gold Plus Performance Achievement award in November.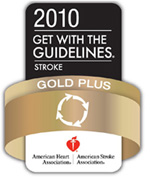 The award indicates that Parkland achieved 85 percent or better on all "Get With The Guidelines Stroke Performance Achievement Indicators" for 12 consecutive months and 75 percent or higher compliance with six of 10 "Get With The Guidelines Stroke Quality Measures" to improve quality of patient care and outcomes.
Parkland will be recognized by the AHA/ASA at the International Stroke Conference.
According to the AHA/ASA, most hospitals that implement the guidelines realize measurable results. One four-year study of 790 participating hospitals showed a 29 percent increase in the number of eligible patients who received clot-dissolving drugs within two hours of hospital arrival, a measure that can minimize the extent of damage to the brain and prevent permanent disability.