Drs. Richard Dewey and Dwight German will conduct study to find biomarker for Parkinson's
By Jeff Carlton, UT Southwestern News and Publications
UT Southwestern Medical Center has received a grant from the National Institutes of Health aimed at identifying a biomarker that changes in proportion to the severity of Parkinson's disease.

Under the five-year grant, worth nearly $3.5 million, UT Southwestern researchers and physicians will recruit 240 participants with Parkinson's disease and follow them at six-month intervals. UTSW physician-scientists hope to find biomarkers that are useful both for tracking the disease's progression and measuring its severity.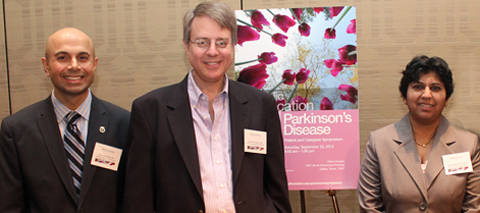 Discovery of such a biomarker would greatly speed identification and testing of therapies that may slow or halt the progression of Parkinson's disease. The lead investigators are Dr. Richard Dewey, professor of neurology and neurotherapeutics, and Dr. Dwight German, professor of psychiatry.
"This represents a new wave of clinical research in Parkinson's, a sea change in how we approach the disease," said Dr. Dewey, who also is chief of movement disorders in the department of neurology and neurotherapeutics. "We ultimately want to find a way to slow down, stop or reverse Parkinson's. No drug does that right now. All existing drugs work to improve symptoms and have no proven ability to retard disease progression."
The project consists of two separate parts: a clinical operation that involves collecting blood, cerebrospinal fluid (CSF), and other clinical information at baseline and at periodic intervals for up to 5 years from trial participants with Parkinson's, and a research group that analyzes serum samples looking for a biomarker.
Dr. Dewey, along with Dr. Shilpa Chitnis, associate professor of neurology and neurotherapeutics, and Dr. Pravin Khemani, assistant professor of neurology and neurotherapeutics, will conduct the clinical portion of the project.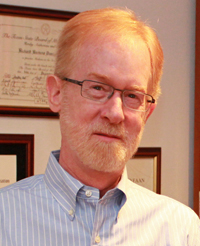 Dr. German, who leads the project's basic research component, will use these blood samples for comparison against samples taken from age- and gender-matched control subjects from UTSW's Alzheimer's Disease Center.
Dr. Dewey established the Clinical Center for Movement Disorders when he joined UT Southwestern in 1994. The center sees nearly 1000 new patients a year and actively follows more than 2,000 patients with Parkinson's. The upcoming trial will include participants from that patient group, as well as those referred to UT Southwestern from other practices.
About 1 million people in the U.S. have Parkinson's, a number expected to rise as the population ages. The disease occurs when brain cells that make dopamine, which helps control muscle movement, slowly die. The disease causes tremors, slowness of movement, cognitive problems and a host of other symptoms.