First nurse fellows complete research conducted with Neuroscience Nursing Research Center
Now in its second year, a UT Southwestern program that encourages nurses to engage in and apply research recently celebrated completion of the first research projects from its inaugural class while welcoming its newest class of six fellows.
"The Neuroscience Nursing Research Center (NNRC) at UT Southwestern is a bridge between good nursing ideas, and great nursing research," said Dr. DaiWai Olson, Associate Professor of Neurology and Neurotherapeutics and Neurosurgery and Director of the NNRC.
The NNRC is dedicated to ensuring that nurses are able to provide vital research contributions to the science of caring for patients with neurological illness. The NNRC provides guidance to nurses who are interested in research by leveraging and coordinating existing research-related resources.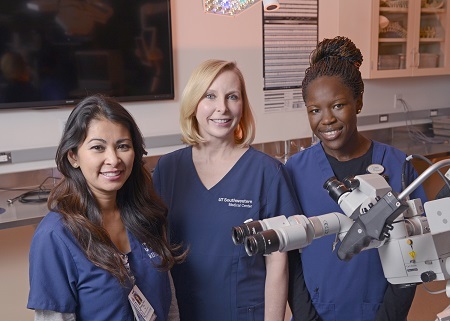 Any nurse at UT Southwestern can individually initiate a research project. However, few do so because but the majority of work and training is focused on patient care. For nurses involved in the NNRC program, benefits can include career advancement; a professional and personal pride of accomplishment; and helping UT Southwestern grow its reputation of excellence.
The NNRC was established in 2012 in the Department of Neurology and Neurotherapeutics. The fellowship program is open to all UTSW nurses, but with a particular focus on neurology, neurotherapeutics, and neurosurgery. Candidates apply to the program by submitting a proposed research project.
The program's first graduate fellows to complete their research, all RNs, include Hlaing "Sue" Thu, who researched waiting room anxiety for MRI patients; Lilian Omburo, who researched the use of different light sources to examine pupil reactivity after neurosurgery; and Amy Weaver, who researched the impact of sleep deprivation on perceived errors in emergency department staffs.
The incoming class includes RNs Jose Rozo and Holly Ware at William P. Clements Jr. University Hospital and Michael Rogers, Annamma Steaphen, Kaylan Carter, and Maureen Le Danseur at Zale Lipshy University Hospital.
Having a recognized research program for nurses is a major step toward achieving "Magnet Recognition," which UT Southwestern has applied for through the American Nurses Credentialing Center, according to Victoria England, RN, Magnet Program Director.