New neurology residents start training; second-years experience revamped introductory course
By Julie Kirchem, Department of Neurology and Neurotherapeutics
DALLAS - July 20, 2011 - Seven adult and five pediatric neurology residents started their training in UT Southwestern's Department of Neurology and Neurotherapeutics this summer.
The seven adult residents will spend their first year as members of the UT Southwestern Internal Medicine Residency Program. Child neurology residents enter the three-year pediatric residency program at UT Southwestern after two years of pediatric residency training at an accredited program.
Photo: Julie Kirchem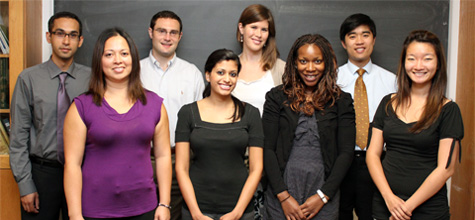 Residents from all over the world apply to UT Southwestern's training programs. They are drawn here by a variety of factors including faculty who are experts in their fields and the large and diverse patient population in the Dallas-Fort Worth area.
"We are going to see a lot of variety in terms of conditions because this is a tertiary care center and it draws patients from all over the region," said pediatric resident Simon Kayyal, M.D.
Photo: Julie Kirchem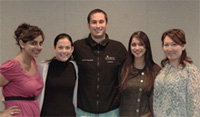 Andrea Lowden, M.D., a pediatric neurology resident, said she chose UT Southwestern after interviewing on campus and meeting faculty and staff.
"In my interview, everybody seemed approachable and very happy to be here," she said. Lowden, who is Hispanic, is also enthusiastic about working with the large Hispanic population in the Dallas-Fort Worth area.
Second Year Residents Benefit from Revamped Course
Photo: Julie Kirchem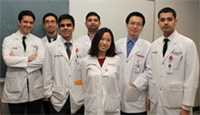 Second-year adult residents started their training at UT Southwestern in June, a month earlier than in previous years. The reason is a new and more rigorous Introduction to Neurology program. Pediatric neurology residents take the course in July.
Drs. Srikanth Muppidi and Shilpa Chitnis revamped the program which now includes approximately fifty hours of didactic lectures.
"We redesigned this program and added new topics including an emphasis on neuroimaging," said Dr. Muppidi. "The highlight of the intro course was a new ICU boot camp which included both didactics and practice in a simulation lab."
Another new addition to the course was a series of lectures that covered the "approach" to various neurological systems, for example, "Approach to neuromuscular diseases" or "Approach to epilepsy."
UT Southwestern faculty, who are experts in their fields, delivered the lectures. Thirty-five hours of the talks were recorded and are available online through WebEx.
During the second two weeks of June, adult residents rotated in subspecialty neurology clinics at Aston or the Multiple Sclerosis Center. The adult residents also did one "on-call" as an observer to get a taste of what it's like to be on-call for neurology.