Neuroscience on six-year winning streak as "favorite course" of first-year medical students
By Julie Kirchem, Department of Neurology and Neurotherapeutics
DALLAS - June 3, 2012 - For six straight years, first-year medical students at UT Southwestern have chosen Neuroscience as their favorite course.
Neuroscience consists of sixty lectures with Dr. Steve Cannon and Dr. Dennis Burns, Professor of Pathology, delivering about two thirds of those lectures. [Dr. Burns was co-director of the course up until this year. Dr. Ben Greenberg is now co-director.]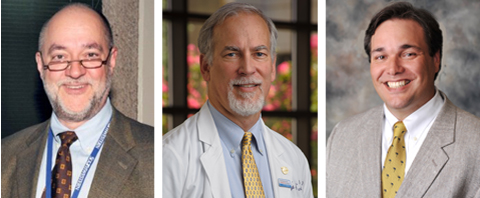 When Dr. Cannon took over as course director in 2003, Neuroscience was one of the lowest rated courses in medical school.
"I formed a committee and we worked that whole summer reviewing the material, reorganizing it and making sure that we brought out the relevance of neuroscience to clinical medicine," said Dr. Cannon.
The course quickly started to get positive feedback from students and became a perennial favorite by 2008.
Improving the course is an ongoing process for the directors and the faculty. Dr. Cannon and Dr. Greenberg review the content of all the lectures to ensure there isn't redundancy. They also seek feedback from students.
"Students respond well to our attention to the fact that there is always room for improvement -- some from student feedback and some from our own impressions," said Dr. Cannon. "Something else we do is sit in on other lectures to try and make the neurology lectures better."
The course directors mentor faculty on their presentations and assist with organizing content for the handout.
Getting students excited about neuroscience in their first year has resulted in important benefits for the field of neurology.
"We had a big surge in numbers for the Student Interest Group in Neurology (SIGN) and we've also seen an increase in the number of graduates deciding to train in neurology," said Dr. Cannon.
Neurology faculty recognized by students
In addition to the attention paid to the course as a whole, neurology has some of the strongest lecturers at the medical school.
Neurology faculty won four of the ten student choice awards for MS1.

Elliot Frohman, M.D., Ph.D., and Steve Vernino, M.D., Ph.D. received awards in the category of Low Exposure Lecturers (4 lectures or less).
Steve Cannon, M.D., Ph.D., and Ben Greenberg, M.D. were student favorites in the category of High Exposure Lecturers (4 lectures or more).
"Students are responding to faculty who they perceive as caring about them and caring that they understand these concepts,"said Dr. Cannon. "At the end of the course, they have usable knowledge and can make conclusions about patients."