Multidisciplinary team succeeds in gaining accreditation for Neuro-Oncology Fellowship
By Julie Kirchem, Department of Neurology and Neurotherapeutics
DALLAS - Aug. 1, 2012 - The Neuro-Oncology Fellowship at UT Southwestern has received national accreditation from the United Council of Neurological Subspecialties.
The UCNS's approval brings national recognition to the fellowship and means that physicians who complete the program will able to practice anywhere in the country.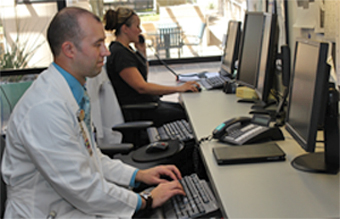 James Battiste, M.D., Ph.D., who is currently the neuro-oncology fellow at UT Southwestern, said developing the Program was spurred by advancements in neuro-oncology that have lead to longer life expectancy and better quality of life for brain tumor patients.
"There is a growing need nationwide for physicians trained to treat brain tumors," Dr. Battiste said. "In the past, there were no treatments and the prognosis was dismal, but over the last two decades there have been a lot of advances," he said.
Some of those promising treatments include advances in surgery, radiation, chemotherapy and the combination of all three modalities. Patients benefit from physicians with special training to diagnose and manage brain tumor cases.
Dr. Elizabeth Maher, Dr. Bruce Mickey, and many others in several other departments worked together to develop the curriculum and gain accreditation.
Fellowship Committee
Program Director:
Bruce Mickey (Neurosurgery)
Internal Medicine/Hematology-Oncology:
Elizabeth Maher
Neurology:
Robert Bachoo
Steven Vernino
Neurosurgery:
Christopher Madden
Samuel Barnett
Neuropathology:
Kimmo Hatanpaa
Jack Raisanen
Radiation Oncology:
Robert Timmerman
Neuro-Radiology:
Dianne Mendelsohn
Pediatric Neuro-Oncology:
Daniel Bowers
Laura Klesse

Dr. Battiste began his fellowship in 2011 and is now in his second year. While a resident in the Department of Neurology and Neurotherapeutics, he found his niche in neuro-oncology.
"I found Dr. Maher and Dr. Bachoo, did some rotations with them, and I was hooked," he said. "I love the patients and even though brain tumors can be devastating, we have some tools now to make an impact both clinically and with our research."
The UT Southwestern neuro-oncology group including Dr. Battiste will soon publish several new papers. One stems from a collaborative study with scientists at UT Arlington looking at how brain tumor cells move in the brain.
He is also involved with clinical trials of a new imaging technique to diagnose brain tumors.
"Dr. Goldberg has given me a great opportunity to do the fellowship and research at the same time," Dr. Battiste said.
There will be more fellows following in Dr. Battiste's footsteps. He is helping to recruit physicians for spots in this fellowship.
With the accreditation, UT Southwestern joins a short list of medical centers offering nationally-recognized training in neuro-oncology.