Neurology residents and fellows celebrate years of hard work and dedication on graduation night
By Julie Kirchem, Department of Neurology and Neurotherapeutics
DALLAS - June 17, 2011 - Nine residents and seven fellows graduated from their programs in UT Southwestern's Department of Neurology and Neurotherapeutics on Friday, June 10, 2011.
(Scroll down for Photo Gallery.)
Faculty and family members joined them to celebrate completion of intensive training in neurology. The ceremony, held in the T. Boone Pickens Biomedical Building (ND) on North Campus, was the culmination of years of hard work and dedication. There were more than 150 people in attendance including several new neurology interns who had just arrived in Dallas to start their training.
Photo: Dave Gresham, UT Southwestern

Planning for the special night began several months ago with residents and faculty taking on different tasks to create a great show for the graduates. Dr. Shilpa Chitnis, Associate Residency Program Director, organized the evening and served as the master of ceremonies while residency coordinators took care of intricate details such as the caterers, photographer, audio-visual personnel, and invitations.
The program started with a meet-and-greet reception for all attendees followed by a sit-down dinner. Dr. Mark Goldberg, Professor and Chair of the Department of Neurology and Neurotherapeutics, welcomed the attendees and provided a beautiful and entertaining perspective for the graduating residents. Dr. Steve Vernino, Residency Program Director, addressed the graduating residents and their families and presented an overview of our program and what it means to learn and practice neurology at UT Southwestern.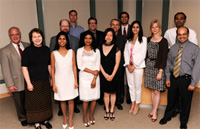 Dr. Chitnis and Dr. Vernino presented the adult neurology residents with their diplomas, an indication that they are now fully trained and competent to practice neurology independently. Dr. Rana Said, Residency Program Director for Pediatric Neurology, welcomed the attendees and spoke about the pediatric neurology residents and their contribution to the program. She then presented the certificates. Each of the graduating residents spoke a few words about their experiences during training and thanked the people who contributed to their success.
Next, fellowship directors welcomed their graduates and presented their graduating diplomas. Everyone spoke about their personal involvement with their trainees and what they have meant to them over the course of the year, their contributions to the fellowship program, and their future plans.
No celebration is complete without fun and entertainment. The residents displayed their artistic skills by acting in and producing three short videos. Drs. Puneet Gupta (neurology faculty) and Cherian Abraham (graduating movement disorders fellow) kicked things off with a high-energy tribute to the graduates. A crack team of PGY2 and PGY3 neurology residents poked some fun at the unique characteristics of our graduating adult neurology residents as they attempted to figure out the challenging case of "Anita Dilaudid." Despite their many clinical responsibilities, these residents took time away from their grueling schedules to not only envision this skit but also shoot and edit a professional presentation. The child neurology residents and faculty created a similarly entertaining show about the effects of drinking the delicious but powerful "pediatric neurology water."
The entertainment was followed by the presentation of awards honoring various individuals who have contributed to the clinical, educational, and research missions of the Department.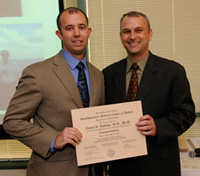 "It was a great way to acknowledge our hard-working residents and fellows for their commitment and dedication to patient care, education, teaching, and research," Dr. Chitnis said. "Ours is a diverse Department with incredibly intelligent and talented individuals, and it is a great honor to help train the future leaders in our field."
A great residency and fellowship program requires a team effort. Special thanks go to the Neurology Residency Program Directors (Drs. Steve Vernino, Shilpa Chitnis and Rana Said), our hardworking Program Coordinators, Joyce Mohler and Kellie Shaw, and all the faculty.
"Our residents, present and future, know that in addition to caring about their training and education, we genuinely care about their success in life," said Dr. Vernino. "This graduation evening was an opportunity to demonstrate our pride in the neurologists who begin their careers at UT Southwestern."