Neurology resident Isaac Marin-Valencia wins grand prize for brain tumor research poster
By Julie Kirchem, Department of Neurology and Neurotherapeutics
DALLAS - April 7, 2011 - Isaac Marin-Valencia, M.D., a postdoctoral researcher in pediatric neurology, won one of three poster grand prizes at UT Southwestern's 2011 Postdoctoral Research Symposium. Marin-Valencia was awarded $1,000 for his poster titled "Does the Warburg effect exist in vivo? Analyzing glucose metabolism in FDG-PET positive tumors using 13C-NMR spectroscopy." The symposium showcases the cutting-edge research of postdoctoral scholars at UT Southwestern.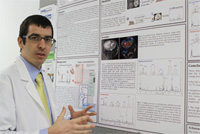 For Marin-Valencia, the award represents the culmination of two and a half years of work in collaboration with a wide group of experts in metabolism and neuro-oncology, including Robert M. Bachoo, M.D., Ph.D., Assistant Professor of Neurology, Ralph DeBerardinis, M.D., Ph.D., Assistant Professor of Pediatrics, Elizabeth Maher, M.D., Ph. D., Associate Professor of Internal Medicine and Neurology, Craig Malloy, M.D., Ph.D., Professor of Internal Medicine, and Juan M. Pascual, M.D., Ph.D., Assistant Professor of Neurology, Physiology and Pediatrics, and Marin-Valencia's mentor.

"With this award, the scientific community is recognizing the high impact of our research on brain physiology and, particularly, on brain tumor metabolism," Dr. Marin-Valencia said.

Dr. Marin-Valencia's research is focused on understanding the underlying problems of metabolic and cognitive brain disorders. His work is inspired by his younger brother, Abimael, who is autistic. Abimael exhibited unusual behaviors during his infancy, and Dr. Marin-Valencia remembers his mother being away much of the time visiting doctors and looking for ways to help him. Finally, Abimael was diagnosed with autism at two years of age.

"My mom always reminds me that God sent us Abimael because He does not want man to forget his feelings," he said.

Dr. Marin-Valencia, who grew up in the Canary Islands (Spain), decided at the age of six to become a doctor so he could help his brother and other children like him. He attended medical school at the University of Las Palmas de Gran Canaria and then did a four-year residency in Pediatrics at Sant Joan de Deu Hospital of Barcelona. Dr. Marin-Valencia is currently a researcher in the lab of Juan M. Pascual, M.D., Ph.D., and a pediatric neurology resident at UT Southwestern Medical Center.
"I want to thank Dr. Pascual for giving me the opportunity to join his lab and therefore to focus my research on brain physiology and metabolism," Dr. Marin-Valencia said. "I consider him my "scientific father.""

In the future, Dr. Marin-Valencia hopes to integrate basic research and clinical activity to understand the problems of neurologically disabled children and to design new therapeutic strategies.

"I would like to continue Hippocrates' legacy, 'Wherever the art of medicine is loved, there is also a love of humanity.'"