Neurology faculty host record crowd at Parkinson's Symposium
By Julie Kirchem, Department of Neurology and Neurotherapeutics
DALLAS - April 20, 2011 - More than 600 people attended this year's Parkinson's Disease Patient and Caregiver Symposium on Saturday, April 2, 2011. The event was held at the Doubletree Hotel in Dallas. The turnout was nearly three times the number of people who attended last year. Patients, their families, and anyone interested in learning more about Parkinson's Disease were invited.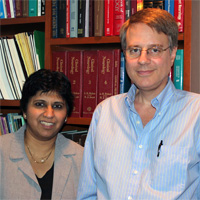 Faculty members from the Movement Disorders Division of UT Southwestern's Department of Neurology and Neurotherapeutics shared the latest developments and treatments in the fight against Parkinson's disease. Shilpa Chitnis, M.D., Ph.D., Richard B. Dewey, M.D., Padraig O'Suilleabhain, M.D., and Cherian Abraham Karunapuzha, M.D. educated attendees on topics such as clinical trials, new treatments, and do's and don'ts for patients.

"I think the more education the patient has, the better equipped they are to fight the disease," said Dr. Chitnis.
The four-hour symposium was also an opportunity for the doctors to build on their relationships with patients. Physicians and patients were able to talk one-on-one in a more casual environment than the doctor's office.
"Whatever counseling I do for them while they're in clinic is about medication," said Dr. Chitnis. "We don't have that much time for education."
Sometimes adult children of patients come in from out of town to meet their parent's physician.
"The patients and their families get to see that their physicians are human," Dr. Chitnis said.
Representatives from the Texas Voice Project, the Texas Department of Aging and Disability, Dallas Area Parkinsonism Society (DAPS), and the American Parkinson Disease Association (APDA) provided information about services and resources available to Parkinson's patients.
This was the fourth annual symposium about Parkinson's provided by the UT Southwestern Department of Neurology and Neurotherapeutics, Clinical Centre for Movement Disorders, and the Office of Public Education.