Neurology faculty, chair honored for teaching
By Julie Kirchem, Department of Neurology and Neurotherapeutics
DALLAS - Dec. 6, 2010 - Three members of the neurology faculty at UT Southwestern Medical School were recognized for their work in the classroom at the 6th annual Excellence in Education Awards. The ceremony was held at the A.W. Harris Faculty and Alumni Center on October 25.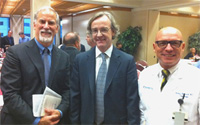 Dr. Worthy Warnack and Dr. Olaf Stuve received Clinical Teaching Awards for the Class of 2011. Dr. Steve Cannon won a Pre-Clinical Teaching Award for the Class of 2013.
Medical students provide input to a committee of faculty members which chooses the award winners. Honors are bestowed in all specialties.
Chairman of the Department of Neurology at UT Southwestern, Dr. Mark Goldberg, was recently honored with a Clinical Teacher of the Year Award from Washington University Medical School in St. Louis, MO.
Dr. Goldberg was the founding director of Washington University's Hope Center for Neurological Disorders prior to becoming chair of neurology at UT Southwestern.