Neurology Department redefines mission with name change
By Julie Kirchem, Department of Neurology and Neurotherapeutics
DALLAS - June 27, 2011 - UT Southwestern's Department of Neurology has launched a new initiative to seek effective treatments for brain diseases. In recognition of this mission, the Department has been renamed "Department of Neurology and Neurotherapeutics," the first neurology program in the country to be identified this way.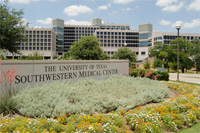 "The word neurotherapeutic means treatment for neurological disorders," said Dr. Mark Goldberg, Chairman of the Department. "In the past, physicians could diagnose most brain diseases but not treat them. Neurology has evolved as a discipline which offers an array of treatments to improve symptoms for many conditions, including epilepsy, Parkinson's Disease, and multiple sclerosis."
Still, children and adults remain without cures for these or other debilitating conditions such as amyotrophic lateral sclerosis, autism, traumatic brain and spinal cord injury, stroke, and Alzheimer's disease.
The Department of Neurology and Neurotherapeutics is building state-of the-art facilities for drug and device testing, and bringing current and new faculty together for collaborative research on brain disease therapy. Scientists will leverage historic institutional strengths in molecular biology, genetics, and neuroscience.
"Our goal is to accelerate the process of therapy development by providing leading scientists with well-validated animal models and testing methods," Dr. Goldberg said. "At the same time, neurological clinicians will have opportunities to quickly bring the most promising treatment approaches to initial trials in human disease."
The Department has already established the Neuro-Models Facility which specializes in using surgical techniques to produce animal models of neural injury, nervous system disease, and for related areas of neurological research. The NMF also provides model-appropriate behavioral testing, with an emphasis on sensorimotor function.
The neurotherapeutics theme signifies excellence in comprehensive clinical care, and in therapy-directed training provided to students, residents, and fellows. This initiative brings hope for a brighter future for the millions of Americans who suffer each year from devastating diseases of the brain, spinal cord, and peripheral nerves.