Neurology Clinic staff take part in team building and educational event
By Julie Kirchem, Department of Neurology and Neurotherapeutics
DALLAS - June 23, 2011 - The staff of the Neurology Ambulatory Clinic took part in an education and team building program on Saturday, June 18, at the Main Event in Grapevine. The day of education and fun was a reward for a recent honor.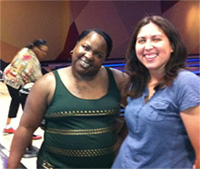 Clinic staff won a Meritorious Service Award for its performance on Press Ganey surveys that ask patients to rate clinic staff and customer service. The clinic received a Service Excellence Award from Press Ganey for the first quarter of 2011 by earning more than 95 percent in two of five categories -- Visit and Care Provider.
"The staff certainly have a genuine concern for patients and making sure that patients are taken care of, " said Clinic Manager Lewis Garrison.
Along with the honor came a $1,000 award that Garrison decided to use for the team building event.
"I think it meant a lot because often we work, work, work and we never come together except for meetings," Garrison said. "This was a an eye-opener to show that leadership does care, and we do things together as a team."
The program at Main Event included a presentation from UT Southwestern's Organizational Development and Training office. Pat Travis of ODT talked about issues such as the importance of getting clear instructions when receiving tasks and thinking outside the box.
Gil Wolfe, M.D., Professor of Neurology, provided an educational element to the program. He presented on topics such as demyelinating disorders, peripheral neuropathy, and non-medicated treatments for neurological diseases.
After the presentations, the staff enjoyed a lunch buffet and then took part in team building activities including bowling, laser tag, and billiards.
Garrison provides continuous training and education on patient care and is confident his staff will continue to be rated highly on Press Ganey surveys.
"My charge will be to encourage them do to well to get additional awards to have the funds to do activities like this," he said.