Dr. Myron Weiner retiring after 50-year career at UT Southwestern
By Jeff Carlton, UT Southwestern News & Publications

Although he acknowledges that Alzheimer's disease robs its victims of minds and memories, Dr. Myron Weiner long has seen hope where others see hopelessness.
Through interaction with the hundreds of patients he has followed in a 25-year association with the Alzheimer's Disease Center, Dr. Weiner said he has learned how the bonds of families can strengthen when met with the limits of modern medicine.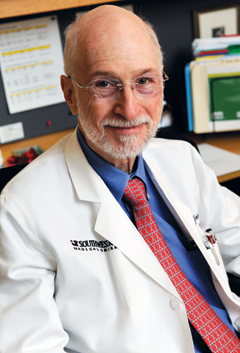 "Working with our patients, for me, is a chance to be with good families. And the people we see have really good families," said Dr. Weiner, Clinical Professor of Psychiatry and Neurology and Neurotherapeutics, who is retiring this spring after a 50-year career at UT Southwestern Medical Center.
Dr. Weiner was integral to the founding of the university's Alzheimer's Disease Center, a research and treatment effort that has roots in a mid-career geriatrics training program he undertook in the mid-1980s. Before that, Dr. Weiner spent two decades in psychiatry at UT Southwestern, wrote books on psychotherapy, and managed the psychiatric consultation service at Parkland Memorial Hospital.
Prior to the founding of the Center, UT Southwestern faculty physicians saw very few Alzheimer's patients and conducted little research into the disease. Sensing an opportunity to better serve patients in North Texas and surrounding areas, Dr. Weiner's department chairman suggested in 1983 that Dr. Weiner attend a one-year fellowship in geriatrics and adult medicine at Mount Sinai Medical Center in New York City.
"There I was at Mount Sinai Hospital, lined up with guys half my age and me saying, 'What am I doing here?'" said Dr. Weiner, who was then 50. "But it was a wonderful experience."
When he returned to UTSW, Dr. Weiner put his new training to use for North Texas patients. Working with three other faculty members, the group set up the Medical Center's first Alzheimer's disease clinic. By 1988, under the leadership of Dr. Roger Rosenberg, UT Southwestern had a federally funded center devoted to Alzheimer's disease.
Today, the Alzheimer's Disease Center is one of about 30 National Institute on Aging-funded centers devoted to helping patients and conducting research into the disorder. The Center provides subjects for research and makes its banks of data, body fluids, and brain tissue available to researchers at UT Southwestern and elsewhere.
Dr. Weiner spent 15 years as the head of the Center's clinical core, an area now led by Dr. Munro Cullum, Professor of Psychiatry and Neurology and Neurotherapeutics. Dr. Weiner also led the Center's outreach efforts to the Choctaw Nation in Oklahoma, with a monthly telemedicine clinic that he helped start in 2005. Dr. Kyle Womack, Assistant Professor of Neurology and Neurotherapeutics and Psychiatry, will take over those responsibilities.
Dr. Weiner's own clinical research over the years focused on Alzheimer's disease in American Indians, depression and Alzheimer's disease, and dementia with Lewy bodies, which is a common type of progressive dementia. He was senior editor of the third edition of "The Dementias: Diagnosis, Treatment, and Research," and senior editor of the "Clinical Manual of Alzheimer's Disease and Other Dementias," and with UT Southwestern colleagues he helped develop QUALID, a clinical tool used worldwide for measuring quality of life of patients with late-stage, dementia-related illness.
Dr. Rosenberg called his colleague "a master at evaluating and caring for patients."
"He has been a valued counselor and mentor to us all in implementing our clinical goals and coordinating our plans and efforts with laboratory investigators," Dr. Rosenberg said. "We hold Dr. Weiner in the highest of esteem and we are all grateful for his wisdom and dedication."
Dr. Weiner served as a captain in the U.S. Air Force prior to his residency in psychiatry at UT Southwestern. He has four children and seven grandchildren. Although he will retire from his clinical responsibilities, he said he hopes to continue working with doctoral students to help them develop their dissertations and clinical research expertise.
"I'm more interested now in asking questions than knowing answers," Dr. Weiner said. "When I was younger, I prided myself on knowing all the answers. I know better now."
Dr. Cullum holds the Pam Blumenthal Distinguished Professorship in Clinical Psychology.
Dr. Rosenberg holds the Abe (Brunky), Morris and William Zale Distinguished Chair in Neurology.
Dr. Weiner holds the Dorothy L. and John P. Harbin Chair in Alzheimer's Disease Research, and the Aradine S. Ard Chair in Brain Science.