Multiple sclerosis center gives Total Life Care to patients
The Multiple Sclerosis Program at UT Southwestern does much more than take care of MS patients' medical needs.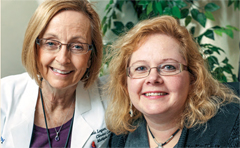 While providing excellent medical care, the staff at the MS Clinic also addresses all aspects of a patient's life.
The clinic's Total Life Care Program is spearheaded by Diana Logan, APN, and Dr. Elliot Frohman who established the MS program at UT Southwestern. Read about Susan Sides, a patient whose life changed dramatically for the better because of the TLC she receives.