Michael Rubin, M.D., neurointensivist, adds expertise in bioethics to neurocritical care team
By Julie Kirchem, Neurology Information Services
Michael Rubin, M.D., a neurointensivist, has joined UT Southwestern's Department of Neurology and Neurotherapeutics' neurocritical care team.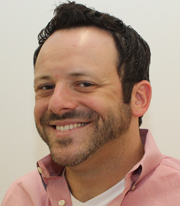 Dr. Rubin, who trained at UT Southwestern in neurology, was most recently an Assistant Professor of Neurology at Washington University School of Medicine. He also completed a fellowship at Washington University in 2010.
Dr. Rubin brings expertise in neuro-intensive care to UTSW as well as training in medical ethics.
"I want to help people who have questions about whether a decision they need to make about medical care is ethically appropriate for them," he said.
Dr. Rubin earned his Master's in Bioethics from Loyola University Chicago while a fellow in St. Louis.
His dual interest in science and the humanities has led him to investigate questions such as 'How do certain ethnic groups make decisions about life-sustaining measures?' and 'How do racial differences play a role in trusting physicians?'
Dr. Rubin will be collaborating with John Sadler, M.D., Director of the Ethics Program at Parkland Memorial Hospital.
"I will be working with Dr. Sadler doing patient consultations, program development and education," he said.
Dr. Rubin will also conduct clinical research in the Neuro-ICU with the goal of improving delivery of care.
"I've been looking at racial disparities in that regard. Certain ethic groups decide differently about life-sustaining measures. The Hispanic population, in particular, has been underserved in this kind of research."
The opportunity for ethics research and to work with a robust neurocritical care team convinced Dr. Rubin to return to UT Southwestern.
"There are people from different training traditions joining the team—Duke, Washington University, UT Southwestern, and that variety brings different perspectives," he said.
"Plus, UT Southwestern has a proud history in the neurosciences and offers an attractive combination of opportunity and potential."