Mehari Gebreyohanns, M.D., featured during African-American History Month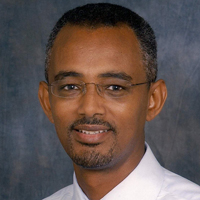 To celebrate African-American History Month, UT Southwestern spotlighted African-American faculty members each week in February. Dr. Mehari Gebreyohanns, Assistant Professor of Neurology and Neurotherapeutics, was one of those featured.
Some quick facts about Dr. Gebreyohanns:
He loves teaching at UT Southwestern. He also appreciates the collaborative environment and working with different professionals across varied disciplines, which he says allows for a continuous exchange of ideas. Dr. Gebreyohanns works to provide stroke education throughout the community. He delights in the inspiration of children when he tells them about his job while participating in career days at elementary schools. He aspires to inspire students to appreciate neurology and attract bright new minds to the field of neurology. He hopes to make a significant difference in stroke prevention.
If you had to name only one thing about your heritage that makes you proud, what would it be? The richness of our history and the contributions to human civilization spanning many centuries.
Why did you go into medicine? I was influenced at a very young age, noticing the impact health care professionals make in society. I looked up to my grandfather and mother, who weren't physicians but pivotal contributors. In Ethiopia, my grandfather worked in a hospital as a lower level health care worker although he had no formal education. My mother did not have a college education yet she was able to train and become a school nurse. They were both highly respected and valued in the community for their contributions. If they could accomplish so much with so little, it felt only natural for me to pursue medicine, having received a first class education in the U.S.
What exciting projects or research have you worked on? As the director of UTSW's Stroke Outreach Program, one of the most exciting projects that I oversaw was the launch of our Telestroke project. With installment of robot cameras in emergency departments of smaller hospitals, we have been providing access to acute stroke care in real time, many times delivering life changing thrombolytic therapy. Several hospitals in and around the DFW area have expressed interest in our Telestroke service –indicating the potential for real growth.
What do you think will be the big thing happening in your field in the next ten years? I hope that treatments for stroke which minimize neuronal injury while enhancing recovery will be as effective in human beings as they are in laboratory animals. This includes the promise of stem cell treatment.
Name a recent achievement within your department that makes you proud. It was recently announced that our stroke center has received an Advanced Comprehensive Stroke Center designation by the Joint Commissions, making our facility the only one with such designation in the North Texas region, and one of only two in the state of Texas. This is the fruit of tireless work and collaboration across several disciplines including Neurosurgery, Radiology, ED, and administration.
What personal achievement are you most proud of? My first job after completing my fellowship was Director of the Stroke Program at United Regional Hospital in Wichita Falls, TX. I oversaw the establishment of the Primary Stroke Center, only one of a few in the state; and later on its recertification and recognition by the American Heart Association.
How do you balance the demands of work and family? I try to get home before my kids go to bed, and make time for important things like reading with them and helping with homework. I coach my daughter's soccer team. I enjoy cooking. When possible, my family travels with me to conferences, etc.
What do you do for fun? Everything I do with my 12- and 10-year-old daughters is fun.
If you could meet anyone, who would it be and why? Pele, a Brazilian soccer legend. I grew up playing soccer and always heard great things about him.
If you could take a free trip anywhere in the world, where would you go? Egypt. I would love to see the pyramids and the Nile River.