Matt Stowe, J.D., promoted to department administrator
By Julie Kirchem, Department of Neurology and Neurotherapeutics
Mark Goldberg, M.D., Chair of the Department of Neurology and Neurotherapeutics, has named Matt Stowe, J.D., Department Administrator.
Stowe was previously Research Programs Manager for the Department. In that role, he helped UT Southwestern become a site in the NeuroNEXT clinical trial network and built the Neuroscience Clinical Research Center. The NCRC provides staffing support, space, and administrative services to help faculty pursue their clinical research goals.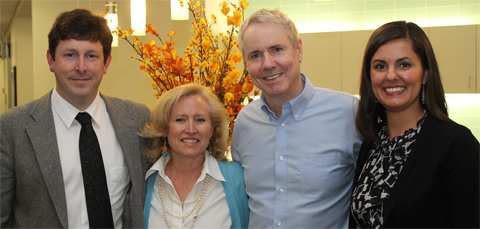 With his recent promotion, Stowe's oversight will expand beyond research to include all missions of the department.

"I'm looking at how can I help the faculty succeed, whether it's instruction, research, or clinical care, " he said.
Stowe will continue with ongoing improvement initiatives for the neurology clinic, finances, and research, while putting a focus on service.
"I would like our culture to be one where everyone is looking for ways to support our mission," he said. "I want our staff to take the approach of 'yes, I'll find a way to meet that need, not, this isn't the way things are done here. '"
Stowe's experience includes being Administrative Director of the Hope Center for Neurological Disorders in St. Louis, Missouri. He was also an assistant professor at the University of Kansas for nine years. Stowe's research was in bioethics and disability policy using legal analysis and social science research techniques.
"Matt brings a unique mix of skills to the position that will help move the department forward," said Dr. Goldberg. "He not only has experience in leadership roles, but also as a faculty member and researcher, so he has firsthand knowledge of what faculty need to succeed."
Stowe's promotion was effective July 11, 2012.