Haley Speed, Ph.D., wins fellowship for autism research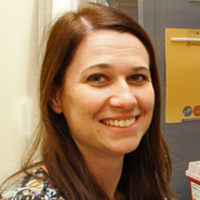 By Julie Kirchem, Department of Neurology and Neurotherapeutics
Haley Speed, Ph.D., a researcher in Dr. Craig Powell's lab, has won a two-year postdoctoral fellowship in translational neuroscience from Autism Speaks, the world's leading autism science and advocacy organization.
The fellowship is aimed at bridging the gap between clinical and basic autism research. Dr. Speed divides her time between studying mouse models of human autism in the lab and getting to know autism patients and their families in the clinic.
"I have observed interviews with parents and diagnoses of children and that has really opened up my eyes to what's on the other side," she said.
Combining basic research with exposure to patients has already informed her work.
"If you are a basic researcher looking at mice long enough, you lose that human side of it."
Dr. Speed says she is looking forward to more interaction with patients as she searches in the lab for answers that could one day lead to an effective therapy for autism.
"What I hope is to at least figure out how to treat people with Shank 3 mutations, that would be really great," Dr. Speed said. "I would like to be able to find one common mechanism or at least come close to finding one common mechanism that may be affected across the board."
Dr. Speed and her colleagues in the Powell Lab have identified two mechanisms of abnormal brain function in a mouse model of human autism that may lead directly to novel treatment for this form of autism.
"What we're doing is using drugs already approved by the FDA for other diseases to first treat animal models and then slowly move on to humans," she said.
Now that Dr. Speed has completed her graduate and postdoctoral studies, she finds she has time for her other passion in life.
"Art is a compulsion," she said. "I always loved it and as a child and as a college student, wasn't encouraged, but my idea was to get a job that could support my art habit."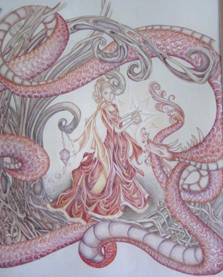 She keeps a sketchpad and colored pencils always at the ready in her apartment for when inspiration strikes. One of her creations received a first place award in UT Southwestern's "On My Own Time Employee Art Show."
Her drawing titled "Defiance" won first place in its category and was displayed on campus and at NorthPark Center.
"Each one of my works takes anywhere from three weeks to six months, so it's a huge time investment, but it's stress relief, it's creativity," she said. "I can't live without it."
Dr. Speed feels the same dedication to her projects in the lab and the people she is hoping to help.
"It's a nice little balancing act, you have to keep the patient in mind at the end of it."