Dr. Elliot Frohman receives two national honors, credits MS team at UT Southwestern
DALLAS – July 30, 2012 - Dr. Elliot Frohman has long held a national reputation for his expertise in multiple sclerosis and neuro-ophthalmology. He is the Director of the Multiple Sclerosis Program and Clinical Center at UT Southwestern. He and his wife, Teresa Frohman, PA, established the world-renowned program in 1995.
Dr. Frohman was recently recognized by U.S. News and World Report and the Accelerated Cure Project.
For the U.S. News survey, Dr. Frohman's peers ranked him in the top one percent of his specialty in the nation. But he makes it clear that being first with his patients is what is most important to him.
"My principal reason for becoming a physician and physician-investigator was to dedicate my life's work to making a difference for those who suffer from multiple sclerosis," he said. "Getting up everyday and doing something that matters for my patients and their families is a great honor and privilege. In my career, I have always been about trying desperately to "get it right" (not necessarily to be right), to never quit, and to recognize that being significant will always trump success."
But when the recognition comes, as it usually does, Dr. Frohman is quick to spread the credit to his colleagues.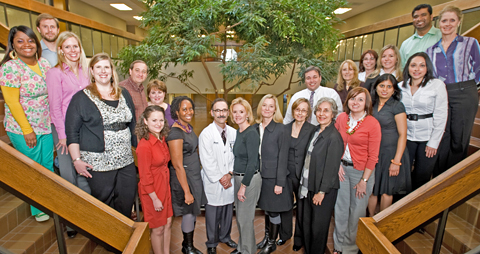 "Our program has always been about assembling the very best, energetic, and passionate team members, all of whom are focused on our primary mission -- to serve our patients and their families," Dr. Frohman said. "To me, this honor provides validation of the very special people who make up the UT Southwestern Multiple Sclerosis Program. No one personifies this more than my wife, Teresa. She has been my closest friend, colleague, and co-architect of the program."
The Accelerated Cure Project named Dr. Frohman its Physician of the Year for 2012. The ACP focuses on the systematic collection of complex details and materials concerning all aspects of MS to accelerate advances towards a cure. Dr. Frohman serves as a scientific advisor to the ACP.
"The recognition from the ACP is yet another confirmation of the enormously talented, energetic, and passionate group of people I work with," he said. "My work is their work, and vice versa. It's like Eli Manning having a great Super Bowl as the NY Giants quarterback. He could never win the game by himself. His team must all have their assignments clearly defined, and must be able to execute in a collective and coordinated fashion when the time comes to 'run the play.' In a similar sense, there are so many facets related to the delivery of outstanding multidisciplinary care to a patient with a chronic neurological disease like MS. My team of physicians, physician extenders, nurses, social workers, technicians, and support staff have all combined to make the MS Program at UT Southwestern a place of significance to patients and families with MS everywhere. The significance of this honor is all about recognizing the very special people I have the privilege to work with everyday."
Dr. Frohman is a Professor of Neurology and Ophthalmology. In addition, he is the Irene Wadel and Robert I. Atha, Jr. Distinguished Chair in Neurology, in Honor of Elliott Frohman, M.D., Ph.D., and holds the Kenney Marie Dixon-Pickens Distinguished Professorship in Multiple Sclerosis Research.
Since 2001, Dr. Frohman has received federal funding for a comprehensive multiple sclerosis treatment training program at the UT Southwestern Medical School in collaboration with the National Multiple Sclerosis Society. The program has trained more than 900 neurologists from all 50 states, so far.