Edward Pan, M.D., brings expertise in translational research to Neuro-Oncology Division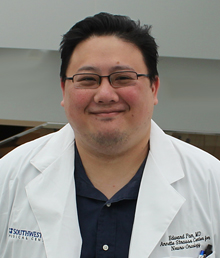 Edward Pan, M.D., has been named Medical Director for Neuro-Oncology at UT Southwestern. In that role, he will work closely with Drs. Elizabeth Maher and Robert Bachoo to bring potential therapies to patients through clinical trials.
"We want to determine which drugs are promising and that's what we will devote more time and resources to," he said.
Drs. Maher and Bachoo's bench research focuses on the diagnosis and treatment of brain tumors.
"They are doing incredible work in the lab," said Dr. Pan. "I will handle the majority of patient care so that they have more time to focus on their research."
Dr. Pan will increase the number of clinical trials in neuro-oncology and work hand in hand with Drs. Bachoo and Maher to determine which drugs are effective.
"A lot of drugs start out promising in the lab, but then end up failing in larger clinical trials," he said. "We need to find out quickly if a particular drug actually reaches the tumor and affects the intended molecular target sufficiently to potentially demonstrate efficacy."
Dr. Pan was most recently principal investigator for numerous clinical trials related to metastatic brain tumors , low-grade gliomas, and newly diagnosed and recurrent malignant gliomas at H. Lee Moffitt Cancer Center and Research Institute in Tampa, FL.
He says strong bench research coupled with an expanded clinical trials program is the most promising for patients.
"A clinical trial has become a standard of care recommendation. If a patient has access to a clinical trial versus standard treatment, individual patient outcomes can be better."
Dr. Pan says expanding the clinical trials program will be a slow process at first. He plans to approach pharmaceutical companies about the early phase testing of promising targeted therapies in the clinic and in the lab.
"The standard treatments we have are not good enough," he said. "Even with surgery, radiation, chemo, about 70 percent of glioblastoma patients will die within two years of diagnosis. There is a desperate need to find effective treatments."