Dowling initiates study at Children's Medical Center to diagnose and treat pediatric strokes
Dr. Michael Dowling is launching a critical stroke initiative at Children's Medical Center Dallas to diagnose and treat strokes in children. Pediatric stroke is a little-known condition that occurs as often as leukemia and brain tumors but often is not recognized by parents or physicians, despite the serious short- and long-term health consequences. As part of this effort, Children's will be one of four research sites in North America participating in this groundbreaking research.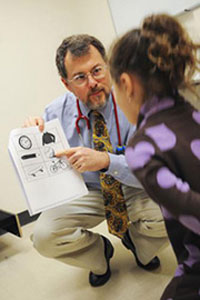 "Pediatric stroke research is in its infancy," said Dr. Michael Dowling, Medical Director of Children's Pediatric Stroke Program. "We've simply got to find out why children suffer strokes."
At the American Heart Association's International Stroke Conference in Los Angeles last week, Dr. Dowling presented his research on "silent strokes," episodes that present few, in any, obvious symptoms but cause patches of the brain to die.
Dr. Dowling is exploring a link between these strokes and anemia. Using diffusion-weighted MRI tests, he found evidence of acute "silent strokes" in four of 22 children with sickle cell disease and in two of 30 children without sickle cell disease when they arrived at the hospital with severe anemia, or low blood counts.
"There were a variety of reasons why they had such a severe anemia, but what was fascinating was that these brain attacks were occurring and weren't even suspected," Dr. Dowling said. "Clearly, we need to be on the lookout for these hidden brain injuries."
These brain attacks often don't remain "silent" – they're associated with some cognitive deficits and school difficulties. Research suggests that in some cases, children have been diagnosed as slow learners, when they've actually endured a serious medical problem.
Other key efforts at Children's include: * Taking part in a national research study to test the use of tissue plasminogen activator (tPA), currently an adult-only clot-busting stroke drug, in children who have suffered strokes. * Plans to launch just the fourth pediatric stroke fellowship program in North America, joining Harvard, The Children's Hospital of Philadelphia, and SickKids in Toronto.
"The fellowship will provide one to two years of additional training to pediatric neurologists to treat and study stroke in children," said Dr. Dowling, also Assistant Professor of Pediatric Neurology at UT Southwestern Medical Center. "Teaching parents to recognize signs of strokes quickly.
"Families know what a heart attack means," Dr. Dowling said. "We must get them thinking of a stroke as a 'brain attack,' and get to the hospital quickly when that happens."
Here are signs parents should watch for if they are concerned their child has suffered from a stroke:
* Walk – Is their balance off?
* Talk – Is their speech slurred or face droopy?
* Reach – Is one side weak or numb?
* See – Is their vision all or partly lost?
* Feel – Is their headache severe?
Contact: Laurie Holloway, laurie.holloway@childrens.com
Related Videos
Children's Medical Center Segment

View full story on PR Newswire →