Department of Neurology and Neurotherapeutics creates unique neuro-models facility for UT Southwestern community
By Julie Kirchem, Department of Neurology and Neurotherapeutics
DALLAS - January 25, 2011 - UT Southwestern's Department of Neurology and Neurotherapeutics is developing an innovative research facility on campus that will provide investigators with the resources to test new therapeutic strategies for nervous system disorders using rodent models. The Neuro-Models Facility (NMF) is an initiative of Chair Mark Goldberg, M.D. It is a first step in achieving the department's goal of expanding support for neurotherapeutics research at UT Southwestern.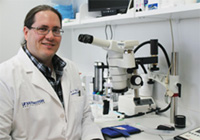 "For the first time at UT Southwestern, we have a facility dedicated to testing promising therapies in surgical models of neurological disorders like stroke and traumatic brain injury," said Matt Stowe, Research Programs Manager for the Department of Neurology and Neurotherapeutics.
The facility has the personnel, equipment, and supplies to produce neuro-models and measurements for investigators. Erik Plautz, Ph.D., Director of the Neuro-Models Facility, says he will specialize in using surgical techniques to produce animal models of neural injury, nervous system disease, and for related areas of neurological research. The facility features gas anesthesia and stereotaxic systems for precision neurosurgery. Investigators will also be able to utilize the NMF for model-appropriate sensorimotor behavioral testing. Procedures are currently intended for rodents, but projects could be developed for other species as well.
"We'll have some methods that we specialize in and offer as base services, but we can also develop any other kind of procedure that an investigator wants," Dr. Plautz said.
Dr. Plautz has investigated the problem of stroke recovery for the past eighteen years using a variety of research approaches and has been the co-investigator on several NIH grants and industry contracts. His broad experience includes utilizing behavioral, pharmacological, and bioengineering techniques to enhance therapeutic outcomes.
"What the service offers is the ability to try other things, to branch out, try a different approach, maybe answer some questions that investigators couldn't otherwise answer in the lab," Dr. Plautz said.
Dr. Plautz can also assist investigators with experimental design, grant writing, data analysis, and manuscript writing.
The Neuro-Models Facility, located on the fourth floor of the T. Boone Pickens Biomedical Building (ND4.202), is currently available for select services with additional services and equipment becoming available in the coming months.
For complete details, visit the Neuro-Models Facility's website.