Craig Powell, M.D., Ph.D., to hold the Rose Distinguished Professorship in Neurology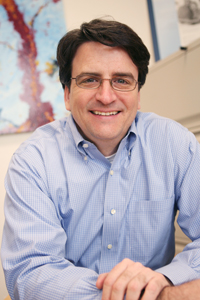 Dr. Craig Powell, Associate Professor of Neurology and Neurotherapeutics and Psychiatry, has been named holder of the Ed and Sue Rose Distinguished Professorship in Neurology. Dr. Powell, who arrived at UT Southwestern Medical Center in 2001, is also a faculty member of the Neuroscience Graduate Program.
In addition to his clinical work, Dr. Powell has conducted seminal research on the molecular mechanisms of cognitive disorders including autism, intellectual disability, and Alzheimer's disease. After earning his medical degree with honors and Ph.D. in Neuroscience from Baylor College of Medicine, Dr. Powell completed his residency and chief residency in neurology at the University of California, San Francisco. He was recently elected Chair of the Department of Defense Autism Research Program Integration Panel for 2013-2014.