Bert Vargas, M.D., FAHS, named director of new sports neurology and concussion program at UT Southwestern
By Julie Kirchem, Department of Neurology and Neurotherapeutics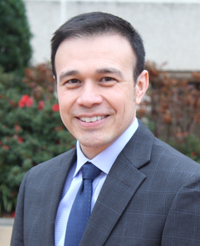 DALLAS - Feb. 9, 2016 - Bert B. Vargas, M.D., FAHS, joins the UT Southwestern Department of Neurology and Neurotherapeutics from the Mayo Clinic in Arizona. His primary role will be as director of the new sports neurology and concussion program and director of the sports neurology fellowship program.
Dr. Vargas, Associate Professor of Neurology and Neurotherapeutics, is an Arizona native who grew up in Tucson and attended the University of Arizona where he obtained his undergraduate degree in Molecular and Cellular Biology. He went on to medical school at the University of Arizona College of Medicine and then completed an internal medicine internship at Banner Good Samaritan Medical Center in Phoenix, Arizona.
The United States Air Force had paid for him to go to medical school, so Dr. Vargas served as a flight surgeon stationed at Travis AFB, California. While on active duty, he was deployed numerous times in support of Operations Northern Watch, Enduring Freedom, and Iraqi Freedom.
"Being a flight surgeon was one of the best jobs I have ever had. Not having any family obligations at the time, I was able to deploy frequently and experience a lot of memorable things and see a lot of interesting places," he said.
Not only did Dr. Vargas get a chance to see the world, the job of flight surgeon also gave him a glimpse of his future. As the flight surgeon specifically attached to the 9th Air Refueling Squadron, he worked and traveled with a group of elite pilots and other air crew caring for both them and their families. His responsibilities included a lot of time in the cockpit where he was able to directly observe the physical demands specific to their job and how it affected their physical condition.
"That way when any of my patients were recovering from illness or injury, I had first-hand knowledge of the specific requirements and physical needs required to perform their jobs safely and effectively. It was a way for me to practice a very individualized style of medicine," said Dr. Vargas.
He likens that kind of care with how he sees treating elite athletes in the sports neurology program. And he found that pilots and athletes have other things in common – both groups are in top physical condition and don't like seeing the doctor since it could mean getting grounded or put on the sideline.
Dr. Vargas' next stop was at New York University to train in neurology. From there, he went back to his native Arizona where he completed a headache medicine fellowship at Mayo Clinic.
After spending six years on the Mayo Clinic faculty, Dr. Vargas saw an opportunity at UT Southwestern that he could not pass up: build one of only five sports neurology fellowships and help put UT Southwestern on the map as a destination for comprehensive neurologic care for athletes at all levels.
The sports neurology program will encompass any neurologic injury as a result of participating in sports, for example, neuromuscular injuries, and traumatic injuries to the brain and spinal cord. The program will also address neurologic issues in athletes that are not sports-related such as migraine. Dr. Vargas also hopes to work with other individuals who require a level of elite physical performance for their jobs including police, fire, and military.
"Sometimes we don't recognize these individuals as being athletes, but they definitely require an athletic-level of physical fitness and abilities to perform their daily jobs."
Dr. Vargas will also treat headache patients in the neurology clinic.
"I almost feel like the union of headache medicine and sports medicine is a perfect combination, mostly because headache is the most common symptom of concussion," he said.
Dr. Vargas's research will focus on areas of post-traumatic headache, preventing headaches and treating acute headaches including migraine, and other headache disorders.
He is board certified in Neurology by the American Board of Psychology and Neurology and in Headache Medicine by the United Council for Neurologic Subspecialties and is a fellow of the American Headache society.
Dr. Vargas is on the Board of Directors of the American Headache Society and the Headache Cooperative of the Pacific. He is the chairman of the American Headache Society Post-traumatic Headache Special Interest Section and the Digital Strategy Subcommittee of the American Academy of Neurology. His clinical and research interests include concussion, chronic migraine, post-traumatic headache, and telemedicine.