Benjamin Williams, M.D., brings depth of experience in general neurology to department
By Julie Kirchem, Department of Neurology and Neurotherapeutics
DALLAS - July 25, 2012 - Benjamin Williams, M.D., recently joined the Department of Neurology and Neurotherapeutics as an Associate Professor. He is a general neurologist with interests in neurodegenerative memory disorders and sleep disorders.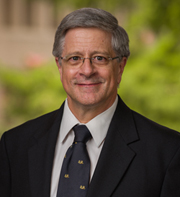 Dr. Williams was in private practice in Lubbock, Texas, for more than 20 years, and ran a solo practice for the last 11 of those years.
"The reasons for making this change in my career were numerous, but mostly came from a desire to de-emphasize spending my time running medical businesses and to re-emphasize patient care," Dr. Williams said.
Dr. Williams is currently making the transition from solo practice to being part of a large academic medical center.
"My thoughts for the last two weeks have been mostly trying to not feel overwhelmed by the size and complexity of UT Southwestern," he said.
But it's other factors about UT Southwestern that convinced Dr. Williams to make the move.
"I was motivated by UT Southwestern's strong reputation as a leading academic medical center and by the quality and reputation of the neurology department, specifically the patient care and research being done in memory disorders," he said.
Dr. Williams is also looking forward to the daily opportunities to interact and collaborate with faculty, residents, and students.
He will see patients at the neurology clinic and will conduct clinical research.